Another big mailbag this week. Thirteen questions. Use the "For The Mailbag" widget in the sidebar to send us anything throughout the week. I know it doesn't look like the question gets submitted, but trust me, it does.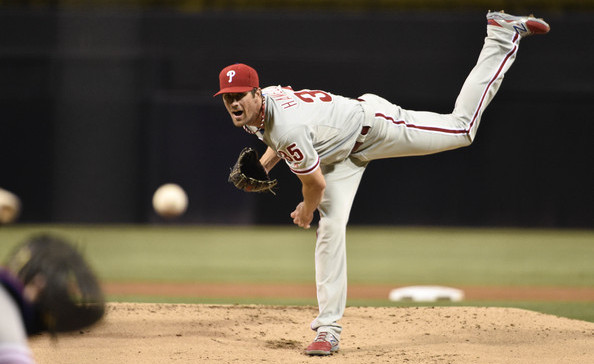 Alex asks: Which trade would you rather make: 2 of the top 3 Yankees prospects, plus another from the 4-10 range, and another from the 11-30 range for Cole Hamels, or that same deal plus another non top-30 prospect for Cole Hamels and Jonathan Papelbon (including his entire contract)?
I am anti-Papelbon on principle, so give me the first package. The four prospects for Hamels. And I don't think that is unreasonable at all. That's a package of, let's say, Luis Severino, Gary Sanchez, Eric Jagielo, and Ty Hensley. I like all four of those guys but Hamels is a bonafide ace and a difference-maker. When Jon Lester get six years and $155M, Hamels with four years and $94M left on his contract (plus a vesting option for a fifth year) is a damn bargain. Lester and Hamels are almost the exact same age (they were born eleven days apart), and at worst they're the same exact pitcher, though Hamels is a touch better. Yeah, I'd do that trade in the heartbeat (if the Yankees were willing to take on the money). The upgrade from David Phelps or Bryan Mitchell or whoever to Hamels is massive. Just no Papelbon.
Liam asks: In the wake of Matt Kemp's failed physical revealing he has arthritis in both hips, it got me thinking: What's the deal with doctor/patient confidentiality with players and teams? Do players waive their right to confidentiality when seeing a team doctor? I've never heard of an undisclosed injury to a player before (we're told for example, Player A has a Grade I Hamstring Strain). Does that violate any privacy?
Here's what the Collective Bargaining Agreement says about disclosing injury information:
(4) For public relations purposes, a Club may disclose the following general information about employment-related injuries: (a) the nature of a Player's injury, (b) the prognosis and the anticipated length of recovery from the injury, and (c) the treatment and surgical procedures undertaken or anticipated in regard to the injury. For any other medical condition that prevents a Player from rendering services to his Club, a Club may disclose only the fact that a medical condition is preventing the Player from rendering services to the Club and the anticipated length of the Player's absence from the Club. A Club physician or certified athletic trainer treating a Player pursuant to Regulation 2 of his UPC and any other physician or medical professional treating or consulting with a Player pursuant to Regulation 2 or Article XIII(D) shall be prohibited from making any public disclosure of a Player's medical information absent a separate, specific written authorization from the Player authorizing such public disclosure.
So the team can announce the nature and severity of the injury, the expected timetable for the player's return, and what kind of treatment he is receiving. The Kemp stuff is different because the Padres leaked the info about his bad hips even though he's not their player. He was still technically a Dodger at the time. Imagine if Brett Gardner pulled him hamstring running out a grounder in Fenway Park, the Red Sox team doctor looks him over and says he has a Grade II hamstring strain, then tells the media about it. That's wouldn't go over well. The Red Sox doctor has no business talking to the media about another team's player. Same with Kemp and the Padres.
Rooting for U.S. Steel: When a team's offer includes an invitation to spring training, what is the team's obligation? To merely allow the player in the gates? To guarantee the player will have at least one plate appearance or inning in the field? Varied by agreement with an individual player? Other?
I suppose it could vary by player, though the Collective Bargaining Agreement does have guidelines for Spring Training. Players don't receive salary in Spring Training, but the team must provide the player with a place to stay during camp (hotel room) and pay them a weekly allowance (it was $291.50 in 2012 but has since gone up due to cost of living adjustments). If they don't give the player a place to stay, they instead have to pay them a housing allowance ($51.50 base per week plus $40 per day back in 2012). Players also get per diem for food ($82.50 in 2012) unless the team provides meals. There's some stuff in the Collective Bargaining Agreement about allowing access to facilities for rehab in case of an injury, but I don't see anything about guaranteeing playing time during Spring Training.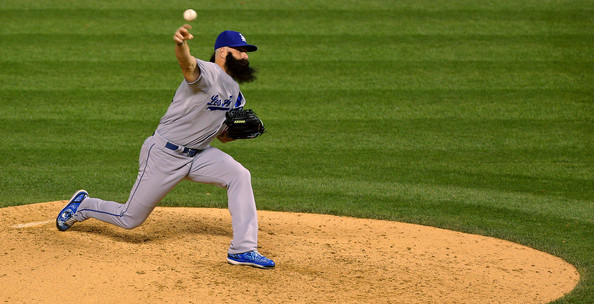 Jarrah asks: Brian Wilson was just DFA'd by the Dodgers this week. Any interest? A solid late-inning guy and he could be the closer we're looking for.
Wilson was pretty bad this past season. He had a 4.66 ERA (4.29 FIP) with a 13.0% walk rate while throwing nearly 60% sliders. The Dodgers are on the hook for his $9.5M salary in 2015, so any team will be able to sign him for the league minimum once Los Angeles releases him. I think Wilson's definitely worth a shot at that point, just to see if he improves as he gets further away from his second Tommy John surgery. He's a bit of an adrenaline junkie, so who knows, maybe you stick him in the ninth inning and he dominates while Dellin Betances and Andrew Miller handle setup work. He's so low risk because of the salary. That said, the Yankees looked into signing Wilson last winter, but he said he was unwilling to shave that stupid beard. Maybe that will change this offseason if he has trouble finding work.
Jack asks: Do any of the higher salary players NOT have a no-trade clause such that the Yanks COULD trade them (while eating a bunch of their salary) such as the Dodgers did with Kemp, even if it means getting very little in return other than salary relief?
Among players on the roster with guaranteed contracts (meaning not arbitration-eligible or pre-arbitration players), only Chase Headley, Brett Gardner, Martin Prado, Andrew Miller, Chris Capuano, and Brendan Ryan do not have any kind of no-trade protection. (Headley and Gardner both receive a $1M bonus if traded.) All the other players with guaranteed contracts either have a no-trade clause or ten-and-five rights. Keeping in mind that Kemp as well as other big money guys who were traded (Prince Fielder and Adrian Gonzalez) were actually good at the time of the trade. Good and no older than 30. Teams actually wanted them. No one wants broken down 34-year-olds like Mark Teixeira or CC Sabathia. Jacoby Ellsbury and Brian McCann are the only huge money players on the Yankees' roster other teams might actually want. Maybe Masahiro Tanaka too if they're confident in the elbow.
Don asks: It seems as though the Yankees are legitimately refusing to give Rob Refsnyder a chance to show that he can play everyday or at least make the varsity as a bench piece. Is there something that the Yanks know that we don't? According to the numbers, the guy can rake and there's always room for a big league bat on the team … so what gives?
Come on now. First of all, of course the team knows something the fans don't. Believe it or not, teams generally have a better idea of when their own prospects are ready for MLB than fans like us. Be careful not to fall in love with the numbers. They aren't everything. Signing Headley, who is one of only like 13 above-average third basemen on the planet, doesn't qualify as "legitimately refusing" to give Refsnyder a chance. Minor league slash lines aren't everything — it amazes me how everyone is so willing to overlook that Refsnyder went from an 82/84 K/BB in 2013 to a 105/55 K/BB in 2014, that should sound some alarms — Refsnyder has to work on his defense because he isn't a Major League quality infielder yet. There is nothing the Yankees would love more than to have Refsnyder come up and become an impact player right away, but that is so very unlikely. Giving him more time to work on his defense in Triple-A before calling him whenever someone inevitably gets hurt is a perfectly reasonable development approach for 2015. Let's not act like he's been in Triple-A for three years now. This isn't a Johnny Giovatella situation.
Steve asks: How do you pronounce "Axisa?"
Ax-ee-sa.
Joe asks: Assuming the last two 40-man spots go to FA Pitchers; a) Who & How many players start on the 60 day DL? (Nova for ex)  b) Who is likely to be added to 40-man (Refsynder?)? Thanks.
This was sent in early this week, so Capuano has since claimed one of those last two open 40-man spots. I'm guessing the Yankees will sign another pitcher at some point to fill that last spot. Nova is the only player right now who will definitely start next season on the DL, but remember, teams can only use the 60-day DL when they need it. They have to call a player up right away to fill the spot, and there's no sense in filling the spot before you have too (Nova will go on the 15-day DL for the time being). Refsnyder will presumably need a 40-man spot at some point next season but there's no reason to give it to him in April and waste an option year when he starts back in Triple-A. Refsnyder and relievers like Nick Rumbelow and Tyler Webb are the obvious non-40-man candidates to come up at some point in 2015, but they won't be added to the 40-man until they absolutely have to. Once a player is on the 40-man, there is no painless way to get him off. It's a commitment.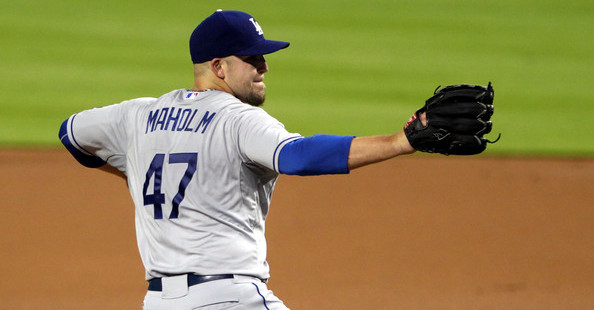 Paul asks: With Didi Gregorius and Headley wrapped up, who has the best ground ball rate currently on the market? Do you think having them on the left side will help in getting a ground ball pitcher?
Among unsigned starters (min. 300 innings), the best ground ball rates from 2012-14 belong to Paul Maholm (51.5%), Roberto Hernandez (51.2%), Hiroki Kuroda (48.7%), Kyle Kendrick (47.1%), and Joe Saunders (47.1%). James Shields (46.3%) is next. Among relievers (min. 120 innings), the leaders are Scott Downs (62.2%), Ronald Belisario (61.6%), the injured Matt Albers (59.4%), the perpetually solid Jamey Wright (58.4%), and Burke Badenhop (55.3%). Of all those guys, the only ones I would be happy to see in pinstripes are Kuroda, Shields, Wright, and Badenhop. I'm pretty sure free agent pitchers will focus on the money and not infield defense when picking a new team, so no, I don't think having Headley and Gregorius will lure ground-ballers to the Bronx.
Sandeep asks: A-Rod hits .500 in spring training. What happens? A-Rod hits .100 in spring training. What happens?
If he hits .500, he goes into the regular season as the regular DH and everyone writes articles saying he must be taking PEDs again. If he hits .100, he goes into the regular season as the regular DH and everyone writes articles saying he sucks because he isn't taking PEDs. That's about it.
Larry asks: With the lack of 3B available, what is Prado's trade value? Could he return a 4 or 5 starter?
Pete O'Brien. That's Prado's trade value. I doubt any clubs changed their evaluation of him after 37 good games with the Yankees. Maybe he can fetch an okay-ish fourth or fifth starter, but I think he's more valuable to the team in the lineup than as a trade chip. I know the rotation is shaky right now, but remember, the offense flat out stunk last year and they need Prado's bat.
Vinny asks: What does the Headley deal mean for Eric Jagielo?
I think it makes Jagielo more available in a trade, definitely. It shouldn't change anything as far as his development path — Jagielo should still go into next season as the regular third baseman for Double-A Trenton, and if he mashes, a midseason promotion to Triple-A Scranton could be in order. Jagielo's defense at the hot corner isn't great and there have been rumblings a move to the outfield or even first base could be in the cards, but he's not there just yet. But yeah, I definitely think the team will be more open to trading him now that Headley's locked up.
@NYYFan14 asks: Needed your opinion on this. What would Troy Tulowitzki get on the Open Market today? I'd give him 8/200 in a heartbeat. Am I crazy?
Yes, I do think eight years and $200M is crazy because of his injuries, especially the hip labrum surgery he just had. At the same time, I do think Tulowitzki would get a lot more than the six years and $118M left on his contract though. Ellsbury's seven-year, $153M would be the starting point, right? So maybe he would get eight years and $200M in this market then. What do I know. Either way, Tulo'd get much more than what's left on his contract right now. Yes, he's injury prone, but he's also by far the best shortstop in baseball when he's on the field.