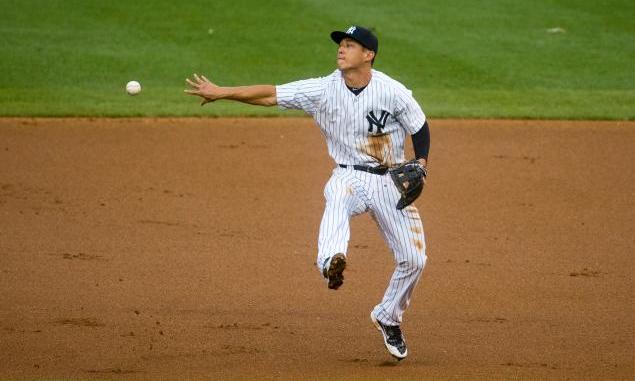 Disappointingly — and somewhat surprisingly — the Yankees demoted Rob Refsnyder to Triple-A Scranton yesterday when they needed to clear a roster spot for Carlos Beltran. Refsnyder played four games after being called up right before the All-Star break, going 2-for-12 (.167) with a homer while playing a not-so-natural second base. The team never did commit to him as the everyday second baseman.
"Just continue to improve," said Joe Girardi to Chad Jennings when asked what the team wants to see from Refsnyder. "Understanding the position, continue to make little adjustments. I thought he did a really good job considering the situation we put him in. In Fenway Park, that's not the easiest place to start. But we believe he's going to be here for a long time, and for right now, we're going to stay with the guys we got."
Brian Cashman said the move was made to maintain depth prior to the trade deadline — the obvious move to keep Refsnyder would have been designating Brendan Ryan for assignment — which makes sense but is disappointing. We're all sick of the unproductive Stephen Drew and the homegrown Refsnyder is the team's best chance for an upgrade from within. Four games with an All-Star break mixed in isn't much of an audition.
Now, here's the thing: Refsnyder wasn't going to get much of audition before the trade deadline anyway. There's nothing he could have done between the time he was called up and the July 31st trade deadline that could have convinced the Yankees or anyone else he was ready to be the everyday second baseman on a contending team. It's not enough time to evaluate a young player at all. He was going to get 40 at-bats at the most before the deadline. That's it.
The Yankees didn't make a mistake by sending Refsnyder down yesterday. The mistake was not bringing him up sooner. Drew hasn't hit all season — Girardi pointed out Drew had a good June (125 wRC+), but that month was three two-homer games and 11-for-83 (.133) in the other 21 games — and, as many have been saying, Refsnyder should have been up weeks ago, getting a longer audition to show what he can do, good or bad. They stuck with Drew too long.
"I think a lot of times people are going to have discussions about it, try to gather as much information as you can, and make the best decision you feel at the time," said Girardi to Jennings. "Sometimes as you look back, maybe you would have done it a little different, but I think the important thing is that you make the best decision at the time with the information that you have. Guys are very close here, and that's probably what's making this decision tough."
So the Yankees are in the same place they were a few weeks ago, in need of a new second baseman. Except now the Yankees have less time to evaluate Refsnyder before having to go outside for help, so in essence Refsnyder is a non-option. Well, that's not true, I just have a hard time believing the Yankees would throw him to the wolves as a starting middle infielder in the middle of a postseason race. Believe it or not, he could actually be worse than Drew.
The team's hesitancy to use Refsnyder tells us they don't quite believe he is ready for regular big league action, either offensively, defensively, or both. In that case, the Yankees will need to go out and make a trade for a second baseman at some point in the eleven days, because the last four months have told us their current options aren't enough. That was true even before Refsnyder was sent back down.