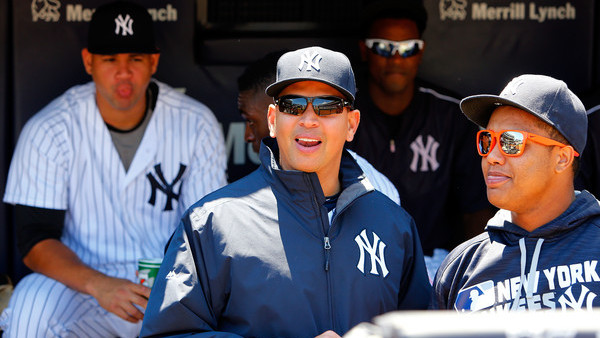 Yesterday morning Alex Rodriguez and the Yankees announced A-Rod will play his final game this coming Friday, at Yankee Stadium against the Rays. After that he will be released as a player and join the team in what is being called a "special advisor and instructor" role. Oh, and by the way, a few days ago Mark Teixeira announced he will retire at the end of the season. It's all happening so fast, isn't it? I have some thoughts on all of this.
1. Make no mistake, A-Rod is being "forced" into retirement. Based on everything we heard at the press conference, it sure seem the Yankees — specifically Hal Steinbrenner — made it clear to Alex they no longer have a spot for him on the roster. That doesn't mean they gave him an ultimatum, but A-Rod's not stupid. He knew what his options were. Alex sounded very much like a man who still believes he has some quality baseball left in him during that press conference, and there was this weird disconnect during the whole thing. A-Rod was up there by himself, then Brian Cashman went up, then Joe Girardi went up. They weren't up there together. It was … weird. You could tell this is not the way A-Rod wants things to play out, but he realizes this is his best option.
2. The Yankees do not owe A-Rod anything and vice versa. The club managed to turn him into a sympathetic figure these last few weeks, but they did not do him wrong. If anything, Hal threw Alex a bone by approaching him about an advisor/instructor role. The Yankees could have easily — and justifiably — released A-Rod and been done with him. They gave him an opportunity to go out with some dignity and grace. The end of a player's career is rarely pretty, and Rodriguez's was quickly spiraling towards an ugly end. The Yankees gave him an opportunity to avoid that.
3. All of this was, without question, a big distraction. Girardi was getting asked about A-Rod before and after every single game, and you could tell it was wearing on him. How could it not? The same questions, day after day after day. Other players on the team were being asked about it, the front office and ownership had to have it on their minds constantly, the announcers were talking about it … it wasn't pleasant. Benching A-Rod became a very big thing. I don't know what kind of effect it had on the other players and their performance, but I know it bothered me watching as a fan, and I'm sure I'm not alone. This was a very awkward situation that I don't think anyone enjoyed.
4. The A-Rod stuff is very bittersweet. I love A-Rod and have greatly enjoyed watching him these last 12 years. He's one of my all-time favorite Yankees and I'm sad to see him go. At the same time, the Yankees are better off without Alex at this point of his career, so I'm glad he's gone. It's a weird feeling. Different than when Mariano Rivera, Derek Jeter, Jorge Posada, Andy Pettitte, and Bernie Williams retired. I can't explain it. With those five, it was time for them to retire. I almost feel like A-Rod is being ripped away from me. I'm going to miss watching him. I'm also exciting about the direction the Yankees are heading without him.
5. My one simple request: play Alex every game this week. I'd like to see him start all three games at Fenway Park in addition to Friday's game against the Rays. It would be the coolest thing ever if he got to play third base Friday, but I'm not going to hold my breath. A-Rod is four homers away from 700 for his career (700!) and I'd like to see him get as many at-bats as possible to try to get there. He's already hit two homers at Fenway this season, after all. (Plus the Red Sox's pitching staff is hilaribad.) The man is motivated and I want to watch him play during his final week in the big leagues, not sit on the bench.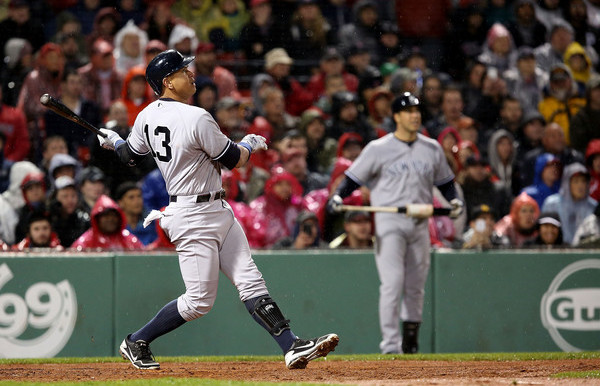 6. No one thinks another team is actually going to sign A-Rod, right? I've seen a few people talking about the possibility, but who wants a DH who can't hit? No one signed Barry Bonds back in the day when he was coming off a very productive year. I see two possibilities and they're both long shots: the Rays and Marlins. The Rays could use a DH and, if nothing else, signing A-Rod will generate some buzz and sell a few more tickets. As for the Marlins, well, owner Jeffrey Loria has a history of making moves geared towards headlines, and A-Rod would definitely qualify. Martin Prado just got hurt yesterday, so hey, they need a third baseman now. I just can't see it happening. Alex is persona non grata around the league.
7. I'm intrigued by the special advisor/instructor role. A-Rod said he's going home to Miami after Friday's game and will begin his new role in Spring Training, so he won't immediately jump right into it. (He did also say he'll help whenever the Yankees ask, even later this year.) By all accounts A-Rod is great with young players and we know he has a lot of knowledge to give, and boy do the Yankees have a lot of talented young players on the way. He can work with their young shortstops, including Gleyber Torres and Jorge Mateo, not to mention their potential sluggers like Clint Frazier and Aaron Judge. Rodriguez could be a real asset in a role like that. I hope the Yankees take advantage of having him on the staff these next few months.
8. Rodriguez is truly one of the greatest and most talented players in baseball history, and he has a slam dunk first ballot Hall of Fame resume. He's in the inner circle of the inner circle. Will A-Rod actually get into the Hall of Fame? Right now my gut says no. Roger Clemens and Bonds aren't close to getting in and we have far more evidence A-Rod used performance-enhancing drugs than those two, so yeah. The odds are stacked against him. That doesn't change the fact Alex was the greatest ballplayer whose career I got to see from start to finish. (I was too young to understand how good Bonds was in the 1980s.) It's going to be a very very very long time until we see someone seriously threaten 700 homers and +120 WAR again. Those kinds of numbers. At his peak, A-Rod was the perfect baseball player. Talented, instinctual, fundamentally sound, durable … he was the total package. What a joy it was to watch this man day after day.
9. The question on everyone's mind: who takes A-Rod's spot on the roster? The Yankees have plenty of open 40-man roster space — they have three open spots right now and will get a fourth once Alex is gone — so that's not an issue. I think it's between either Tyler Austin or Aaron Judge, and right now I think it'll be Austin. Judge just missed a month with a knee injury, and while he hasn't missed a beat since returning, it's still not a bad idea to give him a few more at-bats in Triple-A to get up to speed. Austin can play first base, right field, and DH, so it'll be much easier to get him into the lineup right away. Like it or not, the Yankees still seem committed to letting Aaron Hicks play as much as possible, and that will cut into Judge's playing time. So my guess is Austin comes up for A-Rod, then Judge comes up once rosters expand in September.
10. I don't have much to say about Teixeira retiring, I guess because a) I didn't get as attached to him as I did A-Rod, and b) I was expecting him to be gone after the season anyway. Not retired, but gone as a free agent, so really, nothing has changed. Like I said before, I feel like Alex is being ripped away. Teixeira was a very good two-way player for the Yankees for a long time whose biggest problem was injuries the last few years. The Yankees are going to find guys to hit homers and things like that, but they'll miss Teixeira's defense. It remains world class even at age 36. Teixeira is still the guy I want the ball hit to with a one-run lead in the bottom of the ninth in Game Seven of the World Series. Was his contract worth it? Oh yeah. Absolutely in my opinion. He was a key part of the most Yankees' most recent championship team and he was a total pro who played hard every day. Teixeira got hurt and that stinks. I never once doubted his effort or commitment to the Yankees.
11. Teixeira called the Yankees a "team in transition" during his press conference and that has stuck with me. I mean, we all knew it was true, but to hear one of the team's key veteran leaders say that was a bit different. The players are all aware of what's going on now. These last two weeks have totally changed the direction of the franchise. The Yankees sold at the deadline and two longtime cornerstone players are getting ready to call it a career. That's a lot of change in a very short period of time! It's exciting! And also sorta scary! There's comfort in familiarity and none of this is familiar to a large segment of Yankees fans, myself included. I definitely remember the Yankees being bad back in the early-1990s. I just didn't fully grasp the inner workings of the team at the time. I'm sad to see A-Rod go and I'm sad to see Teixeira go. I'm also ready to embrace this "team in transition" and see where it leads next.