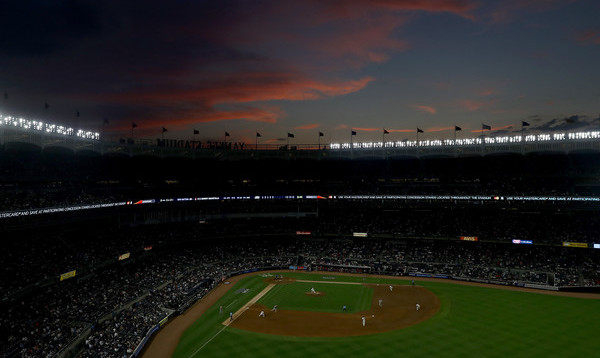 One way or another, the 2016 season is going to end in a week's time. Chances are, the Yankees will be packing up their lockers and heading to their respective corners of vacation, golf, and other recreational activities as their counterparts on other teams bask in the stressful glow of October baseball. There was a time when we'd consider such a happening an unwavering failure for the Bombers. But from this endpoint, it's hard to look back and consider 2016 anything other than an unmitigated success for our boys in pinstripes.
Coming into this season, the Yankees were a flawed and fairly incomplete team, relying on continued high-level performances from Alex Rodriguez and Mark Teixeira to anchor the offense; they were also expecting Luis Severino to build off of a positive end to 2015 and emerge as a force in the rotation to back up Masahiro Tanaka. If all of that happened, they were looking at the playoffs, even if in the form of the Wild Card game once again.
Literally none of those things happened. A-Rod didn't even last the full season; Tex announced his retirement and has looked like a shell of himself most of the time; and Severino looked more like 2008 Phil Hughes and Ian Kennedy than 2015 Luis Severino. But, a funny thing happened on the way to a playoff-less season: the Yankees found success in other avenues.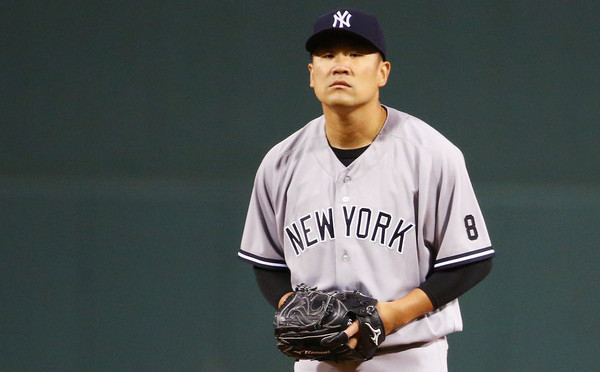 Masahiro Tanaka has had a fantastic season and is a contender for the AL Cy Young Award. He came into the year as the Yankees' rotation rock and lasted the entire way as such. As his pitching went, generally, so did the Yankees; he was the one reliable starter they had and he was as good as gold.
While he wasn't up to his career standard — and likely never will be again — CC Sabathia had a bounceback year, posting (to date) a 104 ERA+, a far better showing than 2013-15's marks of 84, 73, and 86. Watching him find success again was a pleasure, given all he's meant to the Yankees since 2009.
When it was clear that 2016 wasn't likely to end in much more than a lack of playoffs, the Yankees found success on the trade market. However much it hurt to watch a guy as good — in more ways than pitching — as Andrew Miller leave the club — with Aroldis Chapman and Carlos Beltran departing as well — the restocking and rearming the Yankee farm system went through in the summer was more than worth it. By shedding those players, the Yankees help set themselves up for success in 2017 and beyond.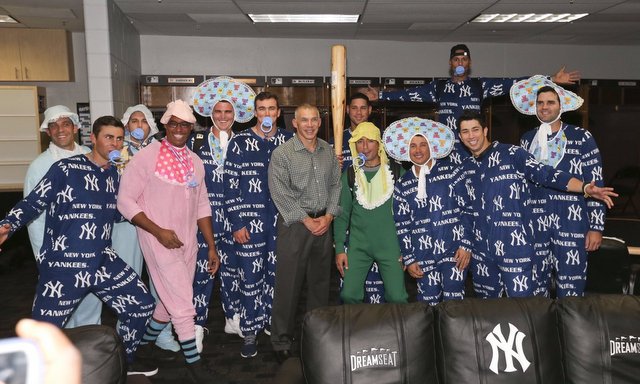 Of course, nothing did that quite as much as the successes of the Baby Bombers, led by Gary Sanchez's remarkable display of power. While his performance in 2016 was more sustained, Aaron Judge, Tyler Austin, Luis Cessa, and Chad Green all had flashes of brilliance that give promise to 2017. Sanchez's spark gave the Yankees a surprise run towards the second wild card that will probably fall just short, but that doesn't mean it wasn't fun to watch. How often does a team sell at the deadline, then compete for the playoffs anyway?
This all begs the question of what a successful 2017 will look like for the Yankees. From a team and competition standpoint, it's hard to see things looking much different than this year. The team going into 2017 is likely to be flawed enough — especially in the rotation — that a shot at the playoffs is all that could be expected.
Individually speaking, there is plenty to look forward to. Continued excellence from Gary Sanchez is obviously one of those things. We should, however, temper our expectations. While he'll likely finish this partial season with 20 or more homers, we must remember that if he hits "only" that many in a full season next year, it's still a great thing for a young catcher.
For Aaron Judge, success will be ironing out the hole in his swing and winning the right field job out of Spring Training.
For the young pitchers — Severino and Cessa, in particular — success will be finding a role. Both can do that by improving their secondary pitches to the point where turning over a lineup is a probability, not just a possibility. The more success they have in this endeavor, the more success the Yankees will have as a team.