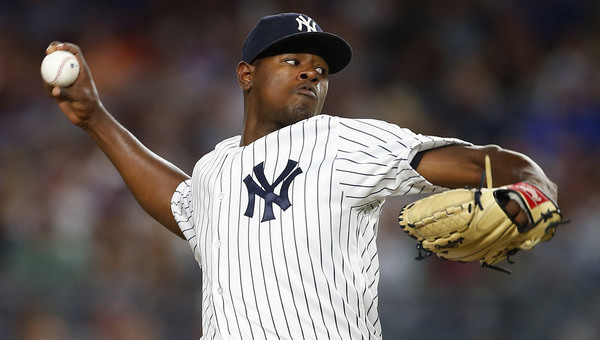 The Yankees added six players to the active roster today as their first round of September call-ups, the team announced. The six players: Luis Severino, Nick Goody, Rob Refsnyder, Kirby Yates, Eric Young Jr., and Jonathan Holder. It's safe to assume all six will be with the team and available for tonight's series opener against the Orioles.
Severino, Goody, Refsnyder, and Yates were expected to come up. They've all gone up-and-down a few times this season and those guys are typically among the first ones called up when rosters expand. Severino is going to pitch in relief and chances are he'll assume a prominent late-inning role right away. He was in the Triple-A Scranton rotation, so he's good for three or four innings at a time, if necessary.
Holder is the most interesting call-up. Earlier this week it was reported the Yankees would not call anyone up before they are Rule 5 Draft eligible, which Holder is not. They have a massive 40-man roster crunch coming after the season, and adding Holder before it was necessary would further clog things up. Brian Cashman told Joel Sherman he decide to call Holder up because he gives the team the best chance to win.
"I changed my mind," said the GM. "I wrestled back and forth with it, but the bottom line is we are 2.5 out with a month to go and (Holder) is better than some guys we have already promoted. He's earned the right to be here. It was a roster issue that he wasn't coming. But this will get his feet wet. He will get some exposure and we will find out what he is capable of."
Young was acquired earlier this week to serve as the designated pinch-runner. The only time we'll see Young play the field or hit is in the late innings of blowouts. Both Young and Holder had to be added to the 40-man roster. One takes Ben Gamel's spot, and to clear the other, Nick Rumbelow was recalled from Triple-A and placed on the 60-day DL. He's rehabbing from Tommy John surgery. Not sure why they didn't just transfer Nathan Eovaldi to the 60-day DL. Whatevs.
Right now the only healthy players on the 40-man roster and not in the big leagues are Johnny Barbato, Richard Bleier, J.R. Graham, Bryan Mitchell, James Pazos, and Mason Williams. Mitchell, Pazos, and Williams all missed significant time with injury this season, so they'll remain in Triple-A and continue to get regular playing time. I'm sure most of these guys will be called up later this month.