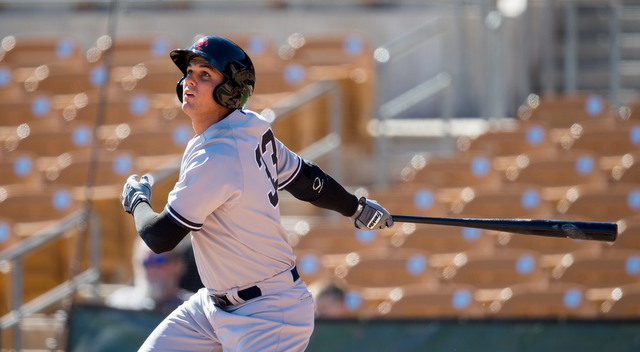 Today is the first day of the long journey that is the 2017 baseball season. Pitchers and catchers reported to Tampa to open Spring Training today, and with any luck (okay, a lot of luck), the Yankees won't be done playing until November. Let's not get ahead of ourselves though. There's a whole baseball season to enjoy first.
This Spring Training, perhaps moreso than any Spring Training in recent memory, will offer some really intriguing storylines. And for once, it's not because of the latest Alex Rodriguez controversy, or because we're wondering whether some veteran signed to a huge contract will be healthy and productive. The Yankees will have many of their great prospects in camp and several big league jobs up for grabs.
So, as something of a Spring Training preview, let's look at what figure to be the most important storylines of Spring Training this year. These are the storylines I think are important, anyway. You don't need to be told Gary Sanchez's sophomore season and Aroldis Chapman's return are big deals, right? Right. Here are my most important storylines this spring, in no particular order.
Is Bird's shoulder healthy?
By all accounts the answer is yes, Bird's shoulder is healthy. Bryan Hoch posted video of Bird cutting loose and taking batting practice last week. That's probably not something he would be doing if there was still concern about his shoulder. So I guess the real question is whether Bird has shaken off the rust following his lost season, and gotten back to where he was prior to the surgery one year ago.
The Yankees suddenly have a bonafide first base alternative in Chris Carter, who signed a one-year deal last week. I mean, they always had Tyler Austin and Ji-Man Choi to compete with Bird for the first base job, but Carter represents a more legitimate option. Austin and Choi have proven basically nothing at the MLB level. Carter led the National League in homers last year. For what it's worth, Bird said all the right thing after the Carter signing.
"I think we're happy to have (Carter), honestly. It's another big bat and a good bat. I think he can bring a lot to the table. I'm excited to meet him," said Bird to Dan Martin last week. "I missed a whole year. I have to prove to them that I can play again and play at a high level and be a quality part of the team."
How is Judge doing with his new leg kick?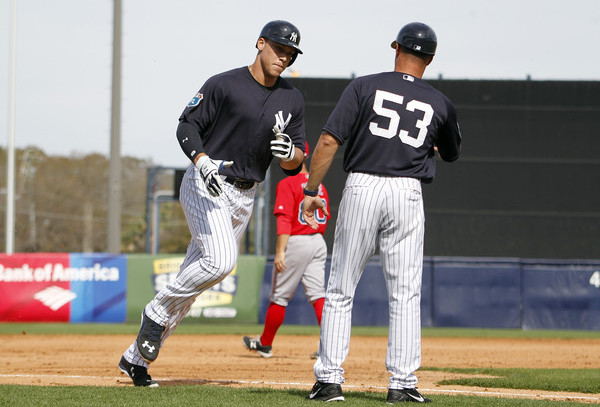 We've seen several versions of Aaron Judge since 2015. Two years ago he had a relatively small leg kick. Then last year he had a big leg kick. Now he has no leg kick. Judge and the Yankees are still working to find the right lower half mechanics, the mechanics that will allow him to make more contact. Power isn't a question. Judge has plenty of that. Enough that he can sacrifice some power for contact.
As far as we know, Judge has been working on this new no leg kick setup all offseason. That doesn't necessarily mean he's 100% comfortable yet and ready to take it into games yet, however. This was always going to be an important Spring Training for Judge anyway. He is going to have to perform well to win the right field job. Now he has to do it while still adjusting to his new lower half mechanics. Hopefully it clicks right away and is a smooth transition.
Is Severino actually throwing his changeup?
The 2016 version of Luis Severino is a harsh reminder that sometimes things go wrong even with the most talented young players. Very, very wrong. Severino was an unmitigated disaster as a starter last year. He really was. We're talking an 8.50 ERA (5.56 FIP) in 47.1 innings. Yikes. He was electric in 23.1 innings out of the bullpen, which only barely salvaged his season. (Not really.)
Severino basically stopped using his changeup late last year. He averaged 12.2 changeups per start during his debut in 2015, then averaged 13.1 changeups per start in his first eight starts last season, before he hurt his triceps and was later sent down. Then, in his final four starts — this doesn't count his time in the bullpen — Severino threw 12 changeups total. That won't work. Not as a starter.
This spring Severino will have to earn a rotation spot — I do think he's favored to get one, though it's far from guaranteed — and part of that is showing a willingness to use that changeup. It should be, anyway. If Severino cuts through camp with nothing but fastballs and sliders, how is that a good thing? He needs his changeup to be a successful starter and we should see that pitch plenty in camp.
How long will Kaprielian stick around?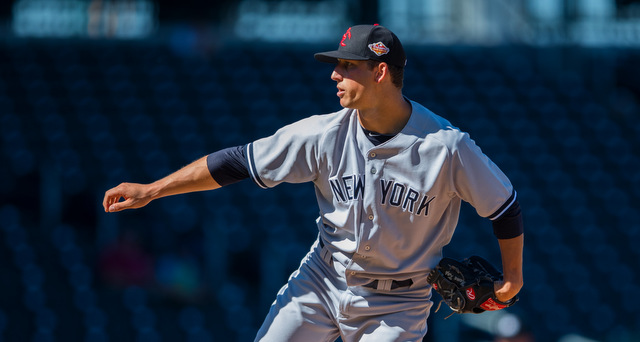 Last spring the talk was James Kaprielian could make his big league debut later in the 2016 season. A flexor strain put an end to that, but it wasn't an unrealistic thought in Spring Training. Kaprielian was a non-roster invitee last year and he threw only 3.2 Grapefruit League innings (across two appearances) before being sent to minor league camp. It wasn't the longest look. Then again, Kaprielian had to prepare for his minor league season.
At this time last year the Yankees were six deep in starters, remember. Masahiro Tanaka, Michael Pineda, Nathan Eovaldi, and Severino were going to be in the rotation. CC Sabathia and Ivan Nova had to compete for the fifth starter's spot. This year the Yankees have two open spots behind Tanaka, Pineda, and Sabathia. Severino is going to compete for one of those spots with Luis Cessa, Chad Green, and Bryan Mitchell. Possibly Adam Warren too.
The number of Grapefruit League innings the Yankees give Kaprielian this spring could be telling. If it's another quick two-game, four-inning showing before being reassigned to minor league camp, then it's business as usual. But, if Kaprielian hangs around a little longer, then it'll be a pretty good indication the Yankees want to move him through the system quickly. He'll get to spend more time with the big leagues coaches in the spring that way.
Is Girardi really going to change the top of the lineup?
Last month Brian Cashman acknowledged the Yankees have discussed breaking up Brett Gardner and Jacoby Ellsbury atop the lineup since last season. Ultimately, it will be Joe Girardi's call, he said. "I think Joe's going to get a better feel when he sees everything in camp — if it's all healthy — and who's best for that two-hole, then where's the best guy slot after that. We'll see how it plays," said the GM.
Spring Training lineups are not designed to win the game. The veteran players bat high in the order so they can get their three at-bats and head home. It's not until later in the spring, when the regulars play complete games and back-to-back days, that we start to get an idea of how the regular season lineup will shake out. The Yankees have so many young players and new faces that the lineup is kinda up in the air. Been a while since that was the case.
Anyway, my guess is Girardi will start the season with Gardner and Ellsbury batting first and second in whatever order. That's the easiest thing to do. It won't ruffle any feathers and it'll delay any action, which might not even be necessary. But, if Girardi is truly willing to break up his two veteran leadoff guys, we should see it happen at some point in camp, particularly later in March when the lineup begins to look like the actual regular season lineup.