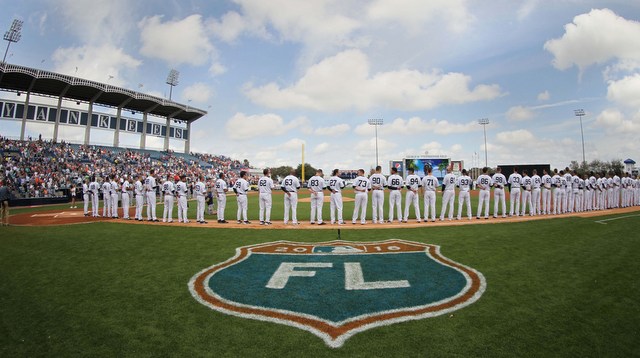 Spring Training is here! Pitchers and catchers officially report to Tampa today — Joe Girardi is holding his annual start-of-spring press conference at 11am ET, which will air on YES — though many players have been in town for a few days already, if not weeks. The Yankees will spend the next nine days working out before playing their first Grapefruit League game next Friday. I've got some thoughts on this, the first day of the long 2017 season.
1. I haven't been this excited going into a new season since 2012. Will the Yankees be any good this year? Who knows. I'm excited because the Yankees are emphasizing youth and are poised to have young players at several positions. We know Gary Sanchez will be behind the plate and two of the five rotation spots will go to young pitchers. There's also the possibility of Greg Bird at first base and Aaron Judge in right field. And, of course, we're going to see even more kids throughout the season. Clint Frazier, Jordan Montgomery, and Chance Adams should all make their big league debuts this summer. Maybe James Kaprielian too. I can't wait. I'm excited the Yankees are heading in this direction, and while I know there will inevitably be bumps in the road, I'm looking forward to seeing where this leads.
2. Generally speaking, Spring Training performance means nothing. There is way, way, way too much noise. Pitchers often work on specific pitches, not getting outs, for example. Also, the level of competition varies because so many minor leaguers, many of whom won't sniff the big leagues during the regular season, are involved in the games. For some players though, Spring Training matters because they're trying to make the team. It's dumb, but that's how it goes. More than anyone, I think Judge needs to have a strong spring statistically to make the Opening Day roster. We know he dropped his leg kick, and if he doesn't put up good numbers during Grapefruit League play, it'll be really easy for the Yankees to send him to Triple-A for more work. Heck, even if he rakes in camp, they could send Judge down with the idea of giving him more time to continue to work on his lower half adjustments. Spring Training stats are stupid, yet I have a hard time believing Judge could make the team with a poor showing in March.
3. The Chris Carter signing will make it really easy for the Yankees to send Bird down to Triple-A to begin the season, which is notable because 65 days in the minors will delay his free agency a year. The Yankees lost a year of team control over Bird because of the injury last year. He spent the entire season on the Major League disabled list and accrued service time. Sending Bird down to Triple-A for two months to begin the season allows the team to "buy back" that year of control, and Carter is a more viable alternative at first base than Tyler Austin. Remember, Bird wasn't great in the Arizona Fall League (102 wRC+) and he didn't play the field at all. Designated hitter only. Sending him down for a few hundred at-bats in low-pressure games to get back to normal would be easy to justify, and as an added benefit, it would give the Yankees that extra year of control back.
4. What do you think, do the Yankees have one more last minute signing in them? Not necessarily a guaranteed Major League deal like Carter. I'm talking about a minor league deal with an invite to camp, and perhaps with an opt-out at the end of March should the player not make the big league roster. Among the veteran free agent pitchers still available are Doug Fister, Jorge De La Rosa, Jon Niese, and Edwin Jackson. I like the idea of Niese, as long as he's healthy, but the identity of the player doesn't really matter. I just wonder whether the Yankees will bring in a veteran starter on a no risk deal to a) push the kids a bit in camp, and b) provide an extra layer of depth in case things go wrong. I have to imagine those veteran pitchers are getting pretty nervous right now. Passing on offers now could mean never getting offers again. Veteran guys have a way of being forced into retirement. They might jump at the chance to sign a minor league deal with the Yankees because you know what? Even if they don't make the club, Spring Training would allow them to audition for other teams. Scouts are always watching. My guess right now is no, the Yankees don't sign anyone else. Carter was the final move.
5. I'm really curious to see how Girardi manages this season. He's going to have the youngest roster in his ten (!) seasons as Yankees manager, and last season he showed he'll sit veterans in favor of young players. Brian McCann, Mark Teixeira, and Alex Rodriguez all lost playing time to young kids. At the same time, Girardi is entering the final year of his contract, and I'm sure he'll feel some sort of pressure to win. It's human nature. When the kids hit the inevitable rough patch, how quickly will he turn to the veterans? Does Carter's playing time increase when Bird falls into a 2-for-25 slump? Does Judge ride the bench for a week in favor of Aaron Hicks after striking out eight times in a three-game series? The Yankees a) are trying to get younger, b) play in the intense New York market where winning is expected, and c) have a lame duck manager. I'm not sure that's such a good combination.