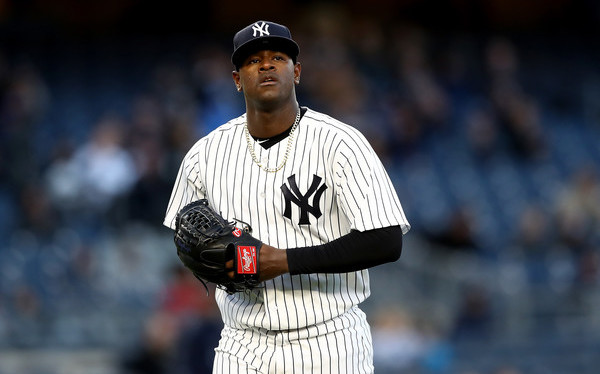 The pitching line does not do Luis Severino justice. Last night he was charged with four runs in eight innings, though it was one run through six innings before the White Sox rallied for three runs in the seventh. Those three runs came after Pete Kozma booted what appeared to be an easy double play ball. At the very least, Kozma should have gotten one out. Instead, he got none.
Severino should not get a pass for allowing the three-run home run to Avisail Garcia because, my goodness, it was a horrible pitch. He left a cement mixer slider here: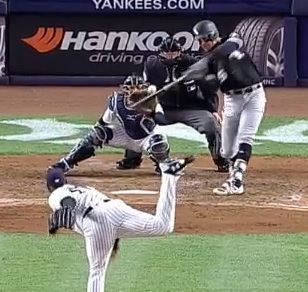 Dude. You can't leave a hanging slider there. Severino made a terrible pitch and he paid the price. That home run was basically the difference in the game. A 1-0 deficit in the late innings is a heck of a lot different than a 4-0 deficit.
That home run pitch to Garcia was also Severino's only terrible pitch of the night, or at least that's how it seemed. He struck out ten in eight innings and also generated ten ground ball outs. Severino faced 28 batters total and only five (five!) hit the ball out of the infield. He did a nice job holding down an admittedly weak White Sox lineup aside from the Garcia dinger.
Three starts into 2017, Severino has a mediocre 4.05 ERA in 20 innings, but the underlying stats are more important. In those 20 innings Severino has 27 strikeouts and only two walks, as well as a 50.0% ground ball rate. That'll play, young man. Keep in mind this is the same pitcher who had an 18.8% strikeout rate and a 6.6% walk rate as a starter last year. Those numbers are 35.5% and 2.6% this year, respectively.
Now, I don't think anyone expects Severino to maintain those strikeout and walk rates because basically no pitcher does that — Clayton Kershaw came close last season! (31.6 K% and 2.0 BB%) — but the fact he's missing bats, limiting walks, and getting grounders early on is very encouraging. Severino really does look like a completely different pitcher. The guy we saw in 2016 is gone.
There are two big differences between the Severino we've seen so far this year and the Severino we saw last year. One, his changeup. He's actually using it! He threw 12 changeups last night and eleven changeups in the start before that. (I'd tell you know many he threw in his first start if Trackman had, you know, recorded the data.) That's on par with what he did in 2015. About a dozen changeup per game. Last year he lost confidence in the pitch and threw 12 total in his final four starts.
And two, his confidence. That's not something we can quantify. It's something we have to observe. Severino is throwing with conviction this year and he's aggressively attacking hitters. He's not nibbling and not shaking off the catcher. He's getting the ball and throwing it. It's almost like Severino has taken his reliever mentality from last season out to the mound as a starter this year. That's how he looks. Like an amped up reliever as a starter.
Considering how bad Severino was as a starter last season and how great he was as a reliever, I totally understand why many folks wanted to keep him in the bullpen. I get it. I do. A kid struggles as a starter, shows lights out stuff in relief, and it's tempting to just keep him there because hey, bullpens are important too. Why mess with success? Pair him with Dellin Betances and Aroldis Chapman and turn it into a six-inning game. Surely Adam Warren could be a competent fifth starter while Severino dominates in relief, right?
The Yankees never stopped believing in Severino as a starter though, and it certainly doesn't hurt his case that the team is short on established arms under contractual control beyond this season. They need starters long-term and Severino, who turned only 23 in February, has by far the highest upside among the club's young arms. Guys like Bryan Mitchell and Luis Cessa and Chad Green have shown promise, but not as much as Severino. Not close, really.
Three starts into the season, which is obviously a tiny little sample size, Severino looks like a very different pitcher than the guy we saw last year. He looks like the guy we saw in 2015. Better in some ways, really. This level of overall aggressive plus confidence in his changeup are two things that were desperately missing last year. Severino has gotten off to a great start this season and he's justifying the club's faith in him as a starting pitcher. Now it's time to build on this start going forward.