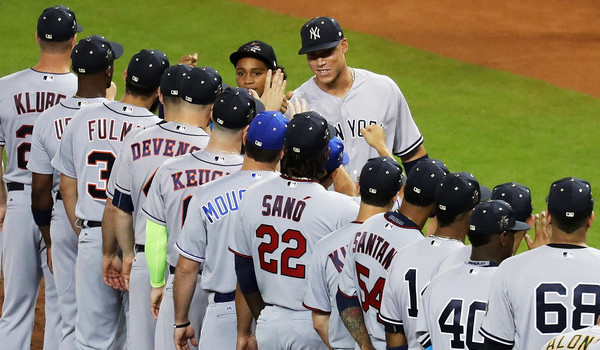 Tomorrow night the Yankees will open the second half of the 2017 season with the first of four games at Fenway Park. Four games in three days against the Red Sox right out of the gate. That'll be fun. This second half will be … interesting. That's a good word. Anyway, I have some thoughts, so let's get to 'em.
1. The Yankees are going to get some more players back very soon. Matt Holliday had his little two-game rehab assignment last week and is expected to rejoin the Yankees tomorrow night, for the series opener against the Red Sox. Starlin Castro is going to begin a rehab assignment soon and is only a few days away from returning as well. Those two guys won't help the bullpen, which has been the team's biggest problem for a few weeks now, but they're going to help in general. The more good players, the better. I've seen too many games with Chase Headley batting fifth and Austin Romine batting seventh the last two weeks or so. Until the bullpen gets fixed, either by bringing in new players or having the existing players improve their performance, the Yankees' best chance to win involves scoring a boatload of runs. Give those relievers as much breathing room as possible. Getting Holliday and then Castro back is going to go a long way toward beefing up the offense.
2. I wonder whether the Yankees and Joe Girardi will take the reins off Chad Green down the stretch. Right now he's not working back-to-back days, and yeah, part of that is the fact he often throws multiple innings. But even in situations where he doesn't throw a ton of pitches, he has been deemed unavailable the next night. Green is still relatively new to the bullpen after spending just about his entire career as a starting pitcher, so I get why the Yankees are being careful with him. They're protecting him. His 2016 season ended early due to an elbow injury, remember. Now that he has some bullpen time under his belt and has been successful, plus most of the rest of the bullpen has been unreliable, I think the Yankees might consider expanding Green's role a bit and have him pitch back-to-back days in the second half (when appropriate). It would be great if they found some other reliable relievers and didn't have to push Green, but I'm not sure how possible that is. Is there a realistic scenario in which Green is, say, the fifth best reliever in the bullpen down the stretch? I don't see it.
3. What will happen with Clint Frazier when Holliday returns? Holliday and later Aaron Hicks. With Hicks is still a few weeks away, so this isn't a pressing issue. My guess is Frazier will do exactly what Hicks was doing earlier this year, meaning play just about every day and rotate around the outfield. We know Aaron Judge isn't going to sit. So the Yankees will effectively rotate Frazier, Brett Gardner, and Jacoby Ellsbury between left field and center field. Once Hicks returns, who knows? That's not really worth worrying about now though. A lot could change between now and then. There could be a trade or Frazier could play his way back to Triple-A by then. Right now though, the Yankees can't — and shouldn't — take him out of the lineup given how much damage he's doing at the plate. The guy has three homers, two triples, one double, and one single in seven big league games. The Yankees have to keep playing the kid. They'll be at their best with Holliday and Castro and Frazier in the lineup regularly going forward.
4. Speaking about possible trades, right now the Yankees are in the most unpredictable place leading up to the deadline. They could easily justify buying and easily justify selling. And, really, they could do both. I could see them moving, say, Michael Pineda before losing him for nothing as a free agent while also using some prospects to acquire a longer term piece. Buying vs. selling is not binary. The Yankees can do both and, depending on what trade opportunities arise, it would make sense to do both. Remember in the offseason when Brian Cashman said the time wasn't right to swing a blockbuster trade for a guy like Chris Sale? Well, it's starting to get to be that time, right? The new core is emerging and the Yankees have more prospects at peak value in the farm system than they could ever possibly use in the big leagues. These days most blockbusters involving non-rentals do not happen at the trade deadline so I don't expect to see something like that happen before July 31st. A move like that figures to wait for the offseason. Point is, I don't see the Yankees as strictly buyers and strictly sellers. They'll have an opportunity to do a little of both at the trade deadline in a few weeks.
5. How ridiculous was Judge's performance in the Home Run Derby? His swings resulted in 47 home runs and 29 non-home runs. The first round matchup with Justin Bour was thrilling. The second and third round meetings with Cody Bellinger and Miguel Sano were pretty anticlimactic. You knew Judge was going to win as soon as you saw Bellinger's and Sano's home run totals. Judge needed eleven home runs to beat Sano in the finals and he got there with 1:53 still on the clock. Insane. Every other player was so clearly fatigued during the Home Run Derby and yet Judge was still at full strength in the final round. How is this guy real? Two things about Judge's performance: one, he used all fields. Here's his Home Run Derby spray chart, via Baseball Savant: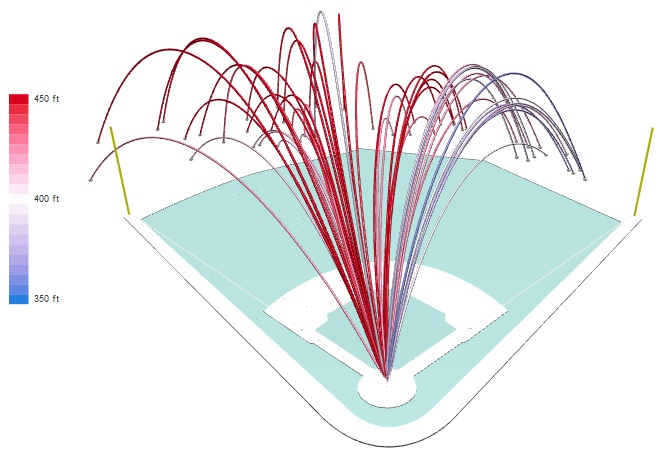 Judge hit a few balls into the upper deck in right field, where the left-handed power hitters like Bour and Bellinger were hitting them. Judge was doing that to the opposite field. That's not normal. And two, Judge hit some balls out of the park without squaring them up. There were more than a few homers that looked like a medium deep pop-up off the bat that just carried over the fence. Nobody does that. Nobody other than Judge. The Home Run Derby was almost like a normal batting practice session for him. He hit to all fields and didn't get pull happy, and he made it look easy. I'm so happy this guy is a Yankee.
6. An anonymous Yankees person bashing Greg Bird really don't sit well with me. If you missed it last week, here's the full quote from a "Yankee insider" to Bill Madden:
"You really have to wonder what's with this guy," a Yankee insider complained to me earlier this week. "You'd think with Judge and Sanchez, the guys he came up through the system with, doing so well up here he'd want to be a part of this. Apparently not."
What garbage. I suppose a "Yankee insider" could be anyone, even someone outside the organization, but I doubt it. The Yankees haven't exactly earned the benefit of the doubt after Randy Levine trashed Dellin Betances and Lonn Trost ripped on non-wealthy fans. They have a history of doing this stuff. There are two possibilities here, right? Either Bird isn't actually hurt and doesn't want to be a big leaguer, or Bird is hurt and someone with the Yankees said something stupid. Hmmm, I wonder which one it is? Anyway, the bigger point here is that all this stuff keeps happening with the players the Yankees should be building around and promoting. Betances is no worse than the fourth best homegrown reliever in franchise history and the team president rips him because he had the audacity to ask for what he's worth. Frazier is the top prospect the Yankees acquired in a trade that sent a very popular player the other way, and the Yankees made a spectacle of his forced haircut. Now Bird is hurt and someone is questioning whether he actually wants to play. What the hell is that? It's one thing to say Betances overreached with his arbitration salary request. It's another to question a dude's competitiveness and desire like the "Yankee insider" did with Bird. Questioning someone's heart on the condition of anonymity is straight up gutless. There's no other word for it.