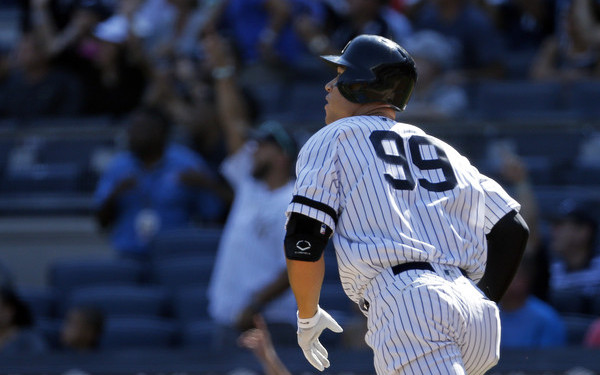 For the first time in a very long time, the Yankees have legitimate candidates for each of baseball's major awards this season. Even in 2009, the Yankees did not have a Rookie of the Year candidate. They had MVP (Mark Teixeira) and Cy Young (CC Sabathia) candidates, but not a Rookie of the Year candidate. Their best rookie that year, by WAR, was Brett Gardner, and he had only 284 plate appearances as the fourth outfielder.
In recent years the voting body seems to be doing a better job handing out the awards, which really just means the voting results closely match my hypothetical ballot. There is no right or wrong with this stuff. The voting criteria is intentionally vague, so it's up to the individual voter to decide. It is what it is. So anyway, with the regular season winding down, let's take a look at where the various Yankees place in this year's award races.
Most Valuable Player
The first six or seven weeks after the All-Star break were not pretty, but a ferocious September has Aaron Judge right back in the thick of the MVP race. I see six serious AL MVP candidates right now: Judge, Jose Altuve, Corey Kluber, Jose Ramirez, Chris Sale, and Mike Trout. Trout missed too much time with his thumb injury to win. The voters are going to hold that against him. Kluber and Sale have to deal with the anti-pitcher bias the exists in MVP voting, and as good as Ramirez has been, Altuve and Judge have superior numbers. Considerably superior numbers, really.
MVP is not only a performance award. It's a performance plus narrative award. Both the Astros and Yankees are going to the postseason, so that's not going to sway the vote in Judge's or Altuve's favor. On one hand, you could argue the Yankees would've won the AL East if not for Judge's slump. On the other, you could argue the Astros have such a huge lead in the AL West that they would've won even without Altuve. Hmmm.
Statistically, Judge has a slight edge overall, but obviously Altuve has been excellent as well. Let's compare quickly:
AVG: Altuve (.347 to .284)
OBP: Judge (.421 to .413)
SLG: Judge (.622 to .552)
wRC+: Judge (171 to 161)
XBH: Judge (77 to 66)
HR: Judge (50 to 24)
SB: Altuve (32 to 9)
DRS: Judge (+10 to +3)
fWAR: Judge (+7.8 to +7.4)
bWAR: Altuve (+8.3 to +7.8)
Fun fact: that +7.8 fWAR leads all of baseball. Judge jumped over Sale (+7.7) this week. Altuve has hit for a much higher average — he's only the fifth player in the last 70 years with 200+ hits in four straight seasons, joining Hall of Famers Kirby Puckett and Wade Boggs, future Hall of Famer Ichiro Suzuki, and, uh, Michael Young — and yet Judge still has him beat in on-base percentage. Judge strikes out a ton more (30.7% to 12.8%) but also walks a ton more too (18.6% to 9.0%). Altuve is a greater threat on the bases while Judge saves more runs in the field. Pretty amazing.
My favorite thing about this AL MVP debate is how it shows two very different players can be among the game's best. Judge and Altuve couldn't be any more different, both in terms of their physical size and the shape of their production. Judge is a monster power hitter while Altuve is a pint-sized contact machine. Will Altuve's size give him an edge in the MVP race? Don't doubt the voting body's ability to come up with a "he overcame greater odds" narrative. There's also the "Judge isn't clutch!" storyline that has become a thing.
Judge with runners in scoring position: .255/.381/.621 (146 wRC+)
Altuve with runners in scoring position: .310/.400/.450 (129 wRC+)
Judge in high-leverage situations: .235/.345/.498 (95 wRC+)
Altuve in high-leverage situations: .318/.400/.477 (138 wRC+)
Ultimately, I do think Altuve is going to win MVP because he had a more consistent season from start to finish, which essentially means Judge's second half slump will cost him, even with the big September. I suppose if the Yankees rally to steal the AL East these next few days, that could shift things in Judge's favor, but nah. I think Altuve wins with Ramirez and Judge finishing second and third in either order.
Also, another fun fact: the Yankees have more than one player worthy of MVP votes. Gary Sanchez is hitting .280/.346/.537 (131 wRC+) with 33 homers despite missing a month, and he's thrown out 38.3% batters of faced. There are ten spots on the MVP ballot and I expect Sanchez to get a handful of down ballot votes. Putting him in the top five would be tough, but the 5-10 range? Hell yeah he'll get votes. Maybe Didi Gregorius too. And Luis Severino. There's always some down ballot weirdness. Judge is a legitimate MVP candidate. Gary is going to get some votes too.
Cy Young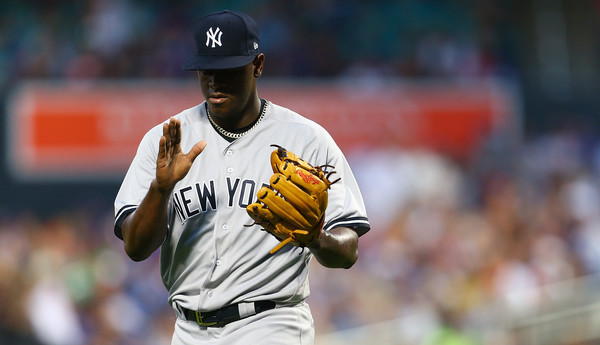 Pretty amazing that we're talking about Severino as a Cy Young candidate, isn't it? And not as a down ballot candidate who might get a few votes. A bonafide Cy Young candidate. Kluber and Sale are off in their own little stratosphere and they're going to finish first and second in the Cy Young voting in either order. (Kluber's probably going to win.) Severino is the best of the rest. Check out his ranks among the 57 pitchers with enough innings to qualify for the ERA title:
IP: 193.1 (16th)
ERA: 2.98 (8th)
FIP: 3.07 (7th)
K%: 29.4% (6th)
BB%: 6.5% (16th)
K/BB: 4.51 (8th)
GB%: 50.6% (5th)
fWAR: +5.8 (4th)
bWAR: +5.5 (9th)
What a season for Sevy. He's been so good overall. So, so good. The Cy Young ballot runs five players deep, not ten like the MVP, and I imagine Kluber and Sale will be first and second on every single ballot. That leaves the 3-5 spots for Severino, Justin Verlander, Carlos Carrasco, Marcus Stroman, and Craig Kimbrel. Plus whoever else lands a stray vote (Jason Vargas has 17 wins!). My guess is Verlander sneaks ahead of Severino and finished third in the voting behind Kluber and Sale, and Severino finishes fourth.
Rookie of the Year
There is no mystery here. Judge is going to win Rookie of the Year and he should win unanimously. The whole "first ever rookie to hit 50 freaking home runs" thing clinched it, if there was any lingering doubt. There was that weird "Andrew Benintendi might steal Rookie of the Year!" narrative a few weeks back but lol to that. The AL rookie fWAR leaderboard:
Aaron Judge: +7.8
Jordan Montgomery: +2.6
Matt Chapman: +2.3
Mitch Haniger: +2.3
Andrew Benintendi: +2.1
Yeah. Judge is going to win in a landslide. I fully expect Judge to get basically all the first place votes, Benintendi to get basically all the second place votes, then the third place votes — there are only three spots on the Rookie of the Year ballot — get split between Montgomery, Chapman, Haniger, Matt Olson, Bradley Zimmer, Scott Alexander, and a few others.
Chad Green, by the way, is not rookie eligible, otherwise it would've been interesting to see whether he grabbed some third place votes. Green threw only 45.2 innings last season — the rookie limit is 50 innings — but he does not qualify as a rookie this year due to service time. Womp womp.
Manager of the Year
Moreso than any other award, the Manager of the Year is a narrative award. How the heck do you evaluate a manager? They all make seemingly silly bullpen and lineup decisions. We don't get to see their work behind the scenes in the clubhouse either. For all intents and purposes, the Manager of the Year is the "manager of the team that most exceeded expectations" award. That's been the prevailing theme the last few seasons.
The Yankees, pretty clearly, have exceeded expectations this season. By a lot. Many pundits, myself included, as well as the various projection systems pegged the Yankees for something like 80-82 wins. Some a little higher, some a little lower. Basically no one had them winning 90-ish games with the second best run differential (+197) in baseball. By the "team that exceeded expectations" standard, Joe Girardi should get a ton of Manager of the Year votes.
Now, here's the problem: the Twins exist. They lost 103 games last season! Now they're going to the postseason as the second wildcard team. That's an amazing turnaround. I fully expect Paul Molitor to win Manager of the Year because of that. I mean, how could you vote against him when the team accomplishes that? Girardi has received Manager of the Year votes every season since 2009 and I have no reason to believe that streak will end this year. I just think it's unlikely he'll beat out Molitor. Maybe Girardi will finish second in the voting?
Comeback Player of the Year
The Yankees do not have a Comeback Player of the Year candidate. Their best comeback player is, uh, Adam Warren? It's probably him. Severino is just a young kid breaking out. He's not a comeback player. I imagine Mike Moustakas is the Comeback Player of the Year favorite. He went from playing only 27 games last season due to a torn ACL to setting the franchise single-season home run record this year.
Gold Gloves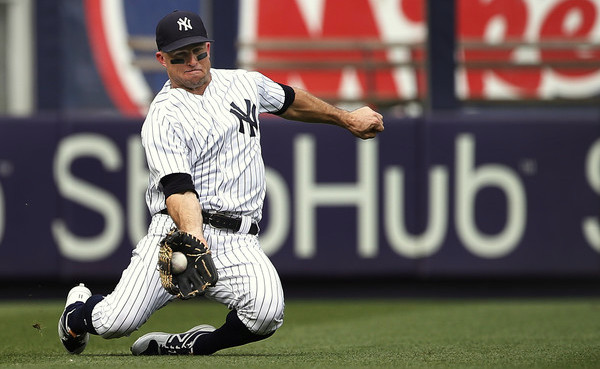 Sanchez won't win the Gold Glove at catcher because of the passed balls, even with his above-average framing and throwing numbers. That means the Yankees only have three Gold Glove candidates: Judge, Gregorius, and Gardner. First base and third base turned over at midseason, and center field was a bit of a revolving door. Second base? No. Sorry, Starlin Castro. But no. Some numbers for the hell of it:
Gardner: +13 DRS (1st among all left fielders)
Gregorius: +0 DRS (39th among all shortstops, and lol)
Judge: +10 DRS (4th among all right fielders)
Gregorius won't win the Gold Glove because Andrelton Simmons and Francisco Lindor exist. Judge won't win the Gold Glove because Mookie Betts exists. Gardner might win the Gold Glove in left field though. He won it last year, and Alex Gordon, his longtime competition for the award, has faded big time the last two years. It'll come down to Gardner, Benintendi, Eddie Rosario, and Justin Upton. Gardner's got a good shot for his second straight Gold Glove, I think.
* * *
Keep in mind these are regular season awards. The ballots are due following the end of the regular season but before the start of the postseason. Judge is definitely going to become the first Yankee to win Rookie of the Year since Derek Jeter in 1996. That much is obvious. He has a chance — I wouldn't call it a great one, but a chance — to win MVP as well, which would be the first for the Yankees since Alex Rodriguez in 2007. Sabathia finished in the top four of the Cy Young voting three straight years from 2009-11, and Severino could finish that high in the voting this year.
Just the fact we're talking about Judge as an MVP candidate — in addition to being the runaway Rookie of the Year favorite — and Severino as a Cy Young candidate is pretty awesome. Coming into the season, I think we were all hoping they'd shake off last season's disappointing big league stints and begin to establish themselves as building blocks going forward. They did that and more. Best case scenario seasons for both of them. Really. Winning any kind of award, or just finishing high up in the voting, would be the cherry on top of an already amazing season.