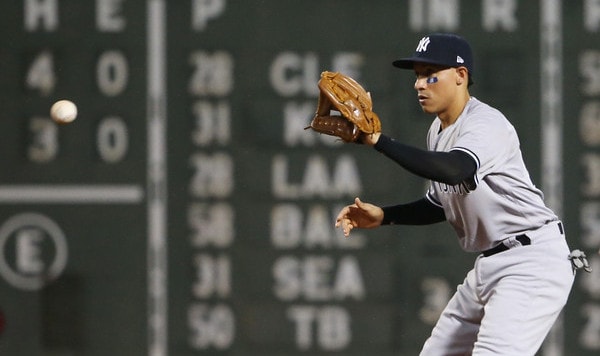 Spring Training is less than three weeks away and we still don't know who the Yankees will have at second and third bases on Opening Day. Could be prospects, could be veterans yet to be acquired, could be some combination of the two. For what it's worth, Ken Rosenthal says the Yankees have had "minimal" recent contact with free agents, which of course could change at any moment.
The Yankees have to sort out their second and third base positions in camp, and they'll also need to figure out their utility infielder as well. Ronald Torreyes has done a wonderful job holding that spot down the last two years, and I'd put money on him doing it again this year, but Torreyes could end up starting (or platooning) at second or third. I've been thinking about the backup infielder's spot lately for whatever reason — it's not like anything else is going on this offseason — so let's talk this out a bit.
1. The backup infielder may play more than usual. Last season Torreyes played in 108 games and received 336 plate appearances, which is frickin' incredible. Injuries to Didi Gregorius (shoulder) and Starlin Castro (hamstring, twice) forced Torreyes into regular action for weeks at a time and, by and large, he was pretty darn good. There were still times when Torreyes played a little too much, even when Gregorius and Castro were healthy.
This year the Yankees might break in two rookie infielders simultaneously, and in that case the utility infielder could play more than expected. Most rookies hit the skids at some point — even Aaron Judge did last year — or deal with growing pains when they first get to the show. That's when the utility infielder could pick up some of the slack. I'm not saying the kids should be benched outright when they struggle, but a day off here and there never hurt anyone. And when you have two rookie infielders, that means twice as much risk for growing pains.
2. There are benefits to using a prospect on the bench. Let me start by saying that no, I don't think using Gleyber Torres or Miguel Andujar on the bench would be a good idea. If they're not going to play everyday in the big leagues, send 'em to Triple-A so they can play everyday there. Torres can play different infield spots, so he'd make more sense as a utility guy than Andujar. Andujar can only play third. Tough to carry a guy like that on the bench.
Now, that all said, I do believe there are benefits to a young player being in the big leagues even when he isn't playing, especially catchers. They get to sit in on scouting meetings, work with the big league instructors, soak in the experience and pick the brains of big league veterans. That is all valuable information. More valuable than playing everyday in Triple-A? Maybe! Depends on the player and where he is in his career. I don't think Torres or Andujar are at that point. I think they're best off playing in Triple-A if they're not playing in MLB.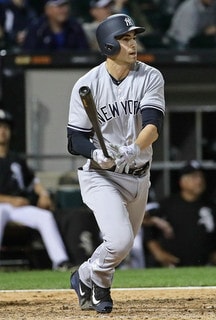 3. Wade is a better bench option than Torres or Andujar. If the Yankees are going to carry a young player on the bench, Tyler Wade is the obvious candidate. Not Torres or Andujar. Wade has more Triple-A games than Torres and Andujar combined, and he has much more experience moving around the field defensively than those two. Andujar is a career third baseman. Torres has eleven games at second and 15 at third. Wade has been moving around for more than two years now.
There's a scenario in which Wade winds up on the bench (again). A couple of different scenarios, really. Andujar or Torres starting at one infield spot with the other guy in Triple-A, Torreyes at the other infield spot, and Wade on the bench. A veteran pickup starting at one spot, Torreyes at the other, Torreyes and Andujar in Triple-A, and Wade on the bench. See? I'd prefer Wade starting over Torreyes in either scenario, though Torreyes starting and Wade on the bench isn't far-fetched. Bottom line, he is not the same caliber of prospect as Andujar or Torres, so the Yankees figure to be more willing to let Wade sit on the bench. That was clearly the case last year.
4. Whither Peterson? Remember what happened when Gregorius got hurt last season? Pete Kozma was on the bench for a month. The Yankees could go a similar route this season, preferably without the injury. A kid at second or third, Torreyes at the other spot, and Jace Peterson (or a similar low-cost veteran) on the bench until another kid is deemed ready for big league time. Once Torres is up to speed and has his free agency pushed back, basically.
A potential issue with this plan — don't laugh — is the luxury tax. Peterson will make $900,000 at the big league level last year, so if the Yankees bring him north as the utility guy on Opening Day, they lock in that $900,000 salary. That's $900,000 they can't use on call-ups or midseason trades later in the summer. The Yankees are $22M under the luxury tax threshold right now, so maybe that $900,000 is no big deal, but what if the plan is to carry Peterson for a month like Kozma? Is it worth the $900,000 hit then? I don't think would be a dealbreaker at all. It's just something to consider.
* * *
These days having a good bench and a strong supporting cast is a necessity in baseball, not a luxury. Just look at how Torreyes filled in for Gregorius and Castro last season. Worrying about the utility infielder may seem like small beans, but when you're potentially breaking in two rookie infielders, the backup plan is pretty darn important. I think it'll end up being Torreyes again with others starting at second and third. That seems easiest. If the Yankees go in a different direction though, figuring out the utility infielder situation will be another priority in Spring Training.