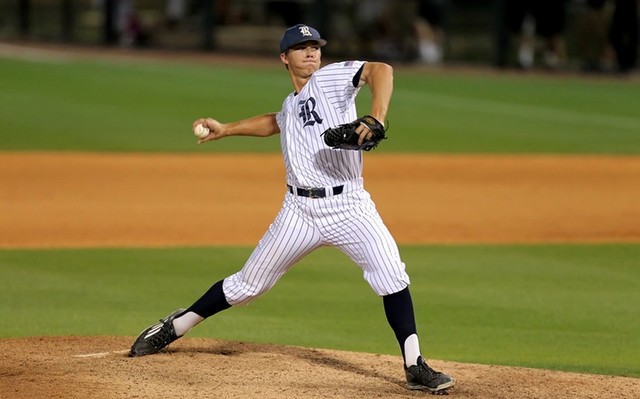 Glenn Otto | RHP
Background
The 22-year-old Otto grew up in the Houston suburbs and attended Concordia Lutheran High School in Spring, Texas, where he had a decorated baseball career. Despite that, Otto was not a highly regarded prospect out of high school — Baseball America did not rank him among their top 500 prospects for the 2014 draft — and he went undrafted. He followed through on his commitment to Rice.
Otto quickly took over as a trusted setup man during his freshman season with the Owls, throwing 41 innings with a 1.54 ERA and a 65/28 K/BB. He spent the summer with the Santa Barbara Foresters of the California Collegiate League, where he finished with a 3.80 ERA and a 58/16 K/BB in 42.2 innings, all as a starting pitcher. Baseball America ranked Otto as the sixth best prospect in the circuit.
As a sophomore at Rice, Otto worked 71.2 innings, all in relief, and posted a 2.26 ERA with a 76/30 K/BB. He saved eight games and was named to the All-Conference USA and All-Regional Teams. He traveled to Cuba with the U.S. Collegiate National Team during the summer, and was part of a Team USA roster that included future first rounders Keston Hiura, Alex Faudo, and Brendan McKay.
Otto was named to the Golden Spikes Award Watch List prior to his junior season — that's basically a watch list for baseball's Heisman Trophy — but he battled a sore shoulder during fall ball and had a down year, throwing 59.2 innings with a 3.77 ERA and an 81/29 in his final season at Rice. He made two spot starts, but otherwise worked primarily in relief. Otto finished his career with the Owls with 2.62 ERA and 222 strikeouts in 172 innings.
Last spring MLB.com ranked Otto as the 96th best prospect in the 2017 draft class while Baseball America ranked him 170th. The Yankees selected Otto with their fifth round pick, the 152nd overall selection, and signed him quickly to a straight slot $320,900 bonus.
Pro Debut
The Yankees had Otto begin his pro career with a pair of rookie ball tune-up appearances before assigning him to Short Season Staten Island. With the Baby Bombers he threw 17 relief innings with a 1.59 ERA (1.37 FIP) and a 25/5 K/BB. That works out to a 37.3% strikeout rate and a 7.5% walk rate. Otto threw 2.2 scoreless innings in his lone postseason appearance with Staten Island, then headed to Instructional League after the season.
Scouting Report
Built solidly at 6-foot-4 and 225 lbs., Otto is a pure power pitcher with a mid-90s fastball he can run up to 98 mph, though when he initially came back from his shoulder issue last year, it was more 91-93 mph. His velocity was all the way back by time he reported to Staten Island.
Otto's go-to secondary pitch is a hard low-80s knucklecurve — you can see the grip in the photo at the top of the post — that drops off the table and allows him to miss a ton of bats. When he's right, Otto goes out to the mound with two swing-and-miss pitches with his fastball and curve. His changeup is a distant third pitch and he basically never uses it, so Otto is a two-pitch guy.
Thanks to a pretty clean delivery he repeats consistently, Otto hasn't had problems throwing strikes in his career, even with the knucklecurve. (That pitch is notoriously difficult to locate.) There is some thought Otto can start long-term because he's big and strong, and because he has two quality pitches to serve as the foundation of his arsenal. All he'd need to do is build up his stamina and work on his changeup.
It is notable Otto had a shoulder issue early last year — he didn't have surgery, so that's good, and as far as I can tell it has only been described as soreness — because Rice pitchers have a long history of breaking down in pro ball. The sore shoulder could be nothing, or it could be an indication of bad things to come. The Yankees were willing to bet a fifth round pick and $320,900 on it being nothing.
2018 Outlook
A few years ago the Yankees adopted a "let's take all our best arms and make them starters" approach in the minors, and I assume that will apply to Otto next season. Give him a year in the rotation and see what happens. Maybe he'll be the next Chance Adams! Or maybe it'll be like Jonathan Holder's year in the rotation, which was good statistically, but his stuff backed up so much as a starter that the Yankees decided it wasn't worth pursuing. If the Yankees do decide to let Otto start, I imagine he'll begin the season with Low-A Charleston. If they keep him in the bullpen, High-A Tampa is more likely.
My Take
I see Otto as a fairly generic relief prospect, which doesn't mean I don't like him. It just means I don't see much to separate him from the Holders of the world. Otto has the velocity, has the quality breaking ball, and has the arm injury that took a bite out of his stock. That's usually what these guys look like, right? Getting a big league reliever with a fifth round pick would be a big win for the Yankees. Otto could develop in a legitimate late-inning guy with good health, but for now, I see him as more of an interesting key-an-eye-on guy than a bonafide top relief prospect.