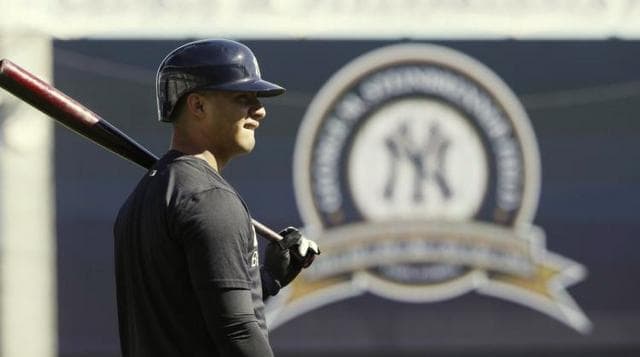 Spring Training is three weeks away and that means it is top 100 prospect season. All the usual publications will be updating their lists in the coming days and weeks.
Earlier today the gang at Baseball America released their 2018 top 100 prospects list, which is topped by Braves OF Ronald Acuna. Angels RHP/DH Shohei Ohtani is second and Blue Jays 3B Vlad Guerrero Jr. is third. Six Yankees made the top 100:
6. SS Gleyber Torres
38. OF Estevan Florial
41. LHP Justus Sheffield
59. 3B Miguel Andujar
77. RHP Albert Abreu
81. RHP Chance Adams
Athletics SS Jorge Mateo (No. 64), Marlins RHP Jorge Guzman (No. 87), and Athletics OF Dustin Fowler (No. 88) all made the top 100 as well. Mateo and Fowler went to the A's in the Sonny Gray trade, and Guzman went to the Marlins in the Giancarlo Stanton trade. White Sox OF Blake Rutherford, the headliner in the David Robertson/Tommy Kahnle/Todd Frazier trade, did not make the top 100.
I always find it amusing when the prospects are in different orders in the top 100 list and the team top ten list. When Baseball America posted their top ten Yankees prospects last month, Adams was ahead of Andujar and Abreu. Now he's behind them in the top 100. Such is life when one person ranks team prospects and a group of people rank top 100 lists. That's okay. Differences of opinion are good.
Anyway, the Braves have eight top 100 prospects and are the only team with more than the Yankees. Considering Mateo, Guzman, and Fowler came out of the system — Mateo and Fowler were originally signed/drafted by the Yankees, Guzman came over in the Brian McCann trade — that's some collection of Yankees-bred talent in the top 100. It doesn't even include OF Clint Frazier, who exceeded the rookie threshold by four at-bats last year and is no longer prospect eligible. Good times in the farm system.