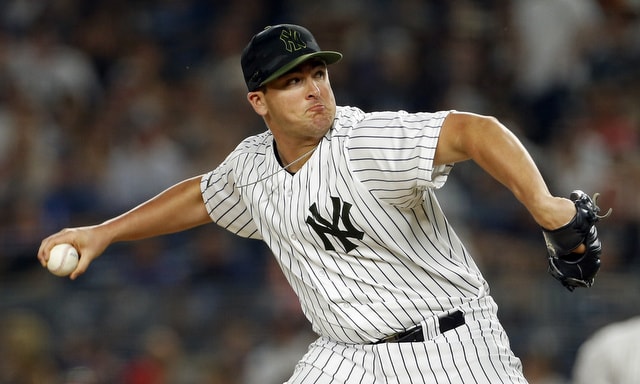 Last night Adam Warren made his second minor league rehab appearance since going down with a lat injury last month, throwing three scoreless innings with Double-A Trenton. His first rehab outing with Triple-A Scranton a few days ago did not go well at all. Warren walked two and hit two, and allowed four runs in two-thirds of an inning. Terrible outing, but he felt good physically, and that's all that matters during a rehab assignment.
"He came out of it feeling fine," said Aaron Boone to George King following Warren's first rehab game. "No giant red flags physically speaking, so that is good. Hopefully get better results next time out but nothing too alarming."
Whenever Warren does return — following yesterday's game Boone made it sound like Warren could be back at some point within the next week — the Yankees will have to squeeze him into their eight-man bullpen somehow. We know who's staying and who has a chance to go. Barring injury, Warren will replace either Chasen Shreve, Jonathan Holder, or A.J. Cole. The other dudes are safe. You know it, I know it, they know it.
Cole seems to have taken well to the team's anti-fastball philosophy and Shreve, like Cole, is out of minor league options, so he can't be sent down without passing through waivers, and since he's left-handed and breathing, he'd likely get claimed. Holder can be optioned down and in these situations teams often take the path of least resistance. Send down Holder and you get to keep everyone. Dump Cole or Shreve and you're losing a bullpen arm.
Over the last few weeks though, Holder hasn't just shown the Yankees he deserves a longer look, he's quickly become one of their better relievers. The Yankees called Holder up when Warren hit the disabled list and since then he's settled in as the fifth guy in the bullpen behind Aroldis Chapman, Dellin Betances, David Robertson, and Chad Green. That's the role Warren or Tommy Kahnle was supposed to fill, but haven't for various reasons.
Holder was part of the Opening Day bullpen and he was terrible to start the season — he allowed seven runs in 2.2 innings before being sent down — but, since returning, he's allowed one unearned run on four hits and two walks in 13.2 innings. He's struck out 16. Very good strikeout rate (29.6%), excellent walk rate (3.7%), very good contact management (.279 xwOBA). Holder's been awesome lately. Been a real nice shot in the arm for the bullpen.
Of course, we're talking about 13.2 innings here, and every season literally hundreds of relievers will have great 13.2-inning stretches that will trick you into thinking they're better than they really are. Holder's not actually this good, but in his case, there might be a tangible explanation for the improvement. He's changed his pitch selection. I wrote about it two weeks ago. Here's the updated pitch selection graph: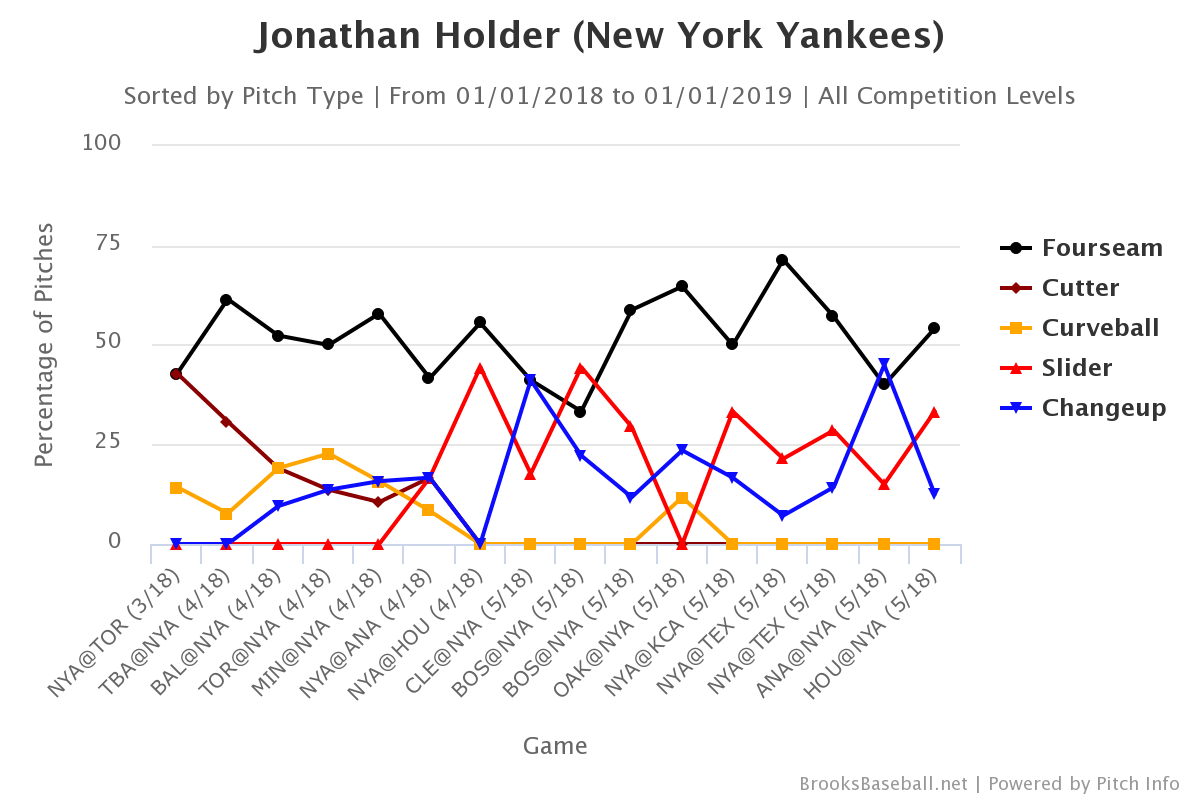 Since returning from Triple-A late last month Holder has put his cutter and his curveball — a curveball with elite spin rate, at that — in his back pocket and gone after hitters with his slider and changeup (and four-seam fastball) instead. Righties see the slider while lefties get the changeup, and, coincidentally or not, Holder has been much more effective lately. I don't think it's a fluke. Change your pitch selection and get better results, and I'm taking notice.
The Yankees have shown they'll solve their "too many good players" problem by sending undeserving players to the minors. Ronald Torreyes was sent down a few days ago despite excelling in his utility infielder's role. Dude is beloved in the clubhouse and had been on the MLB roster every day since Opening Day 2016, and he was hitting .339/.349/.435 (114 wRC+). He was sent down anyway. This business is rough, man.
We can't completely rule out the Yankees sending Holder down to Triple-A Scranton when Warren is ready to return, though this isn't really another Torreyes situation. Torreyes was a utility guy who, despite being productive in that role, didn't play much. Especially lately. He started six games — six games! — in the five weeks after Gleyber Torres was called up. As unpopular as the move was in the clubhouse (according to Boone), it did make sense given the roster.
A reliever and a utility guy are very different, however. Torreyes didn't play much. Win or lose, Holder will get a chance to pitch multiple times a week, and he's pitching well enough that Boone may soon start to give him higher leverage innings. Torres and Miguel Andujar can play every day and keep Torreyes on the bench. Green and Betances and Robertson can't pitch every day. There are innings to be soaked up and Holder can do it.
Warren's return is at least a few days away, so we'll see what the bullpen looks like when he's ready to be activated. Someone might pitch their way off the roster — possibly even Holder! — or someone might get hurt. Who knows. The old "this will work itself" mantra hasn't really applied this year. The Yankees legitimately have more good players than roster spots right now. That includes Holder, who is pitching well with a possible tangible explanation for his improvement. He's done enough to stay around even after Warren returns.