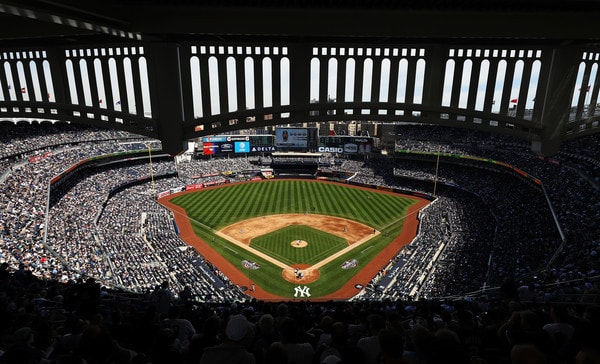 Before we begin, I–and presumably everyone else here–would like to wish a belated Happy Father's Day to all the dads, step-dads, half-dads, foster-dads, adoptive dads, and any and all people, regardless of gender, who play the role of 'dad' for the kids around them and in their lives. If your father or father-figure is no longer with us, you're in our thoughts, too. 
In a season 3 episode of "Mad Men," lead character Don Draper is attempting to land an account for his ad agency, the Madison Square Garden account, after his juniors had muddled a prior meeting. The men who own the account are worried over public backlash stemming from their eventual destruction of old Penn Station to make way for MSG. To them, Don asserts the idea that change is neither good nor bad; it simply is. Generally, I agree. Change just happens, almost all the time. That in and of itself is just how things go; the consequences of change, though, can be labeled, broadly speaking, as good or bad.
This week, as there seem to be often lately, there were multiple conversations in multiple places and platforms centered around ways baseball could, would, or should change; I've written about this before, both in this space and on Twitter, so allow me, if you will, to repeat myself.
I don't purport to say that baseball is perfect or shouldn't change in anyway. Rather, I just think there are certain ways it should change that don't necessarily conform to the ideas put forth in recent conversations.
To start, MLB should, in general, not make changes that directly affect on field play and strategy, with exceptions made for player, personnel, and fan safety. Eliminating the shift and dictating reliever/pitcher usage and changes are ideas that are beyond a bridge too far. When those strategies work or don't work, it's up to teams and organizations at large to change their tactics. If you're getting your shifts beaten or your pitchers aren't working right, that's on you, your analytics department, your scouting department, and your players; MLB shouldn't have to bail you out. Basically, there shouldn't be changes to the game, but changes to the Game.
What should be done? A few things. Universalize the DH; yes, this sort of goes against my last paragraph, but I'm okay with it. Pitchers can't hit. They don't hit. There's no reason for them to still hit in 2018 after a century of people noting how bad pitchers are at hitting. Everyone will get over it when they realize how much more fun it is to watch a pitcher face nine real hitters rather than eight and an automatic out. As an aside, I find it amusing that many of the Old School People who like pitchers hitting often have a problem with the high strikeout rate in baseball. You know what might help decrease that? Hmm…
Second, and I know this will never happen, I want some radical realignment. Short of expansion, the leagues should be unbalanced to eliminate interleague play every day. Move the Astros back to the NL or the Brewers back to the AL. Additionally, eliminate divisions and balance the schedule, and have the top four of each league make the playoffs. Do we really need to see the same teams play each other 19 times a year? It gets old. Knowing this won't happen, I'd like to see a tweak to the wildcard game/round. As Mike has noted before, this should be a modified best two-out-of-three situation. If the home team wins game one, the series is over. If the away team wins, they have to do it twice.
On other levels that don't affect the field of play, baseball needs to do a few things. The surest way to get people to like your sport is to get them playing it. We've heard over and over how participation is dropping in youth baseball, especially in urban communities and communities of color. To the fullest extent possible, then, MLB needs to subsidize youth baseball in America. At the higher levels, this is not a cheap sport, especially with travel and showcases and the like. As much as it can, which I'd imagine is a lot more than they'd admit, MLB needs to foot the bill for kids playing baseball.
The next two go hand in hand. MLB needs to celebrate the game. This goes for the league itself and the sport at large, media, players, etc. What I mean by that is that Baseball spends so much time self-reflecting that it turns toxic. I've said it before about the sport: self-reflection is good, but too much is detrimental. That's doubly true when so much of it is focused on what is 'wrong' with the game, even if those things aren't inherently wrong. This starts by getting the stars of the game out there. Reader Anthony notes that MLB is wasting an opportunity by not aggressively "marketing an all-time great crop of young players" as much as possible. Luckily, I've seen Aaron Judge in Pepsi and Adidas ads during the World Cup, so hopefully that continues. Reader Nick has a similar take:
As a professional educator over the past 11 years, baseball's problems remind me (alarmingly so) of the a parent or guardian that wants to find a scapegoat for his/her child's reprehensible behavior. Here, the parent/guardian (MLB) thinks that everyone else is to blame for its own negligence. The league has a problem with youth involvement and interest because it's done nothing to address the behavior. Shaving 10-15 minutes off a game is like throwing a kid in detention; an administrator may feel like he/she has done something to address the behavior when really the root cause remains. MLB needs a fully overhauled marketing campaign that aggressively targets and engages youth. Slight rule adjustments and game modernizations would nicely complement the strategy, but short of getting kids interested in baseball, this is just window dressing.
Aside from the exposure of stars, baseball needs to embrace what it is, whatever that happens to be at the moment. Right now, that's power: power hitting and power pitching. Guys are hitting the ball harder than ever and farther than ever. Guys are throwing harder than ever. These are good things! Don't bemoan them! There will be a day when the game is a slap-and-speed game again, and that's fine. When that happens, baseball should celebrate that, too. Constantly saying there's something wrong with the way the game is being played is a surefire way to turn potential fans off, especially when that dominates the national conversation.