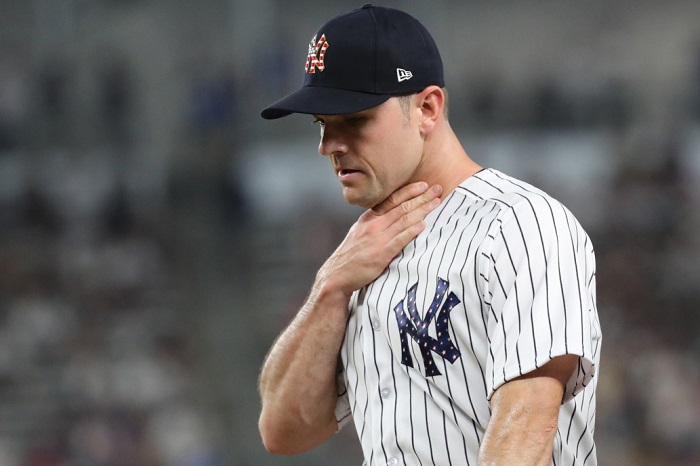 Choking, silent bats
Monday's 5-3 loss in the series opener was one of the most frustrating losses of the season, as the Yankees wasted numerous scoring chances and repeatedly failed to bring runners home in key situations. They were 0-for-12 with runners in scoring position, their most hitless at-bats with RISP this season.
Jonathan Loaisiga flashed some dominant off-speed stuff (career-high 13 combined whiffs on his curve and changeup) but really struggled to put away batters. Four of the five hits (including two doubles and the homer) he gave up came with two strikes; in his first three starts, batters were 7-for-35 (.200) with two strikes against Loaisiga.
Aaron Judge gave the Yankees an early lead when he poked an 0-2 cutter over the wall in right field. With a projected distance of 340 feet, it was the second-shortest home run Judge has hit; the only shorter one was a 337-foot shot on May 2 last year. It was also his 12th homer in a two-strike count this season, the most in MLB and two more than any other player through Monday.
Gleyber Torres was only other offensive star with a career-high three hits and two runs scored. At age 21 years and 201 days, he was the youngest Yankee with a three-hit game at Yankee Stadium since a 19-year-old Bobby Murcer on September 25, 1965.
One of those hits was his 10th career double, making him just the third Yankee with at least 10 doubles and 15 homers in his age-21 season or younger. The others? You guessed it, Mickey Mantle (1952, 1953) and Joe DiMaggio (1936). Even more impressive (maybe), he is the only rookie second baseman age 21 or younger in MLB history to hit at least 10 doubles and 15 homers in a season.
David Robertson wore the goat's horns, coughing up the game-winning homer to Ronald Acuna in the top of the 11th. It was the first dinger Robertson had allowed to a right-handed batter since re-joining the Yankees last summer; Acuna was the 170th righty he had faced in that span.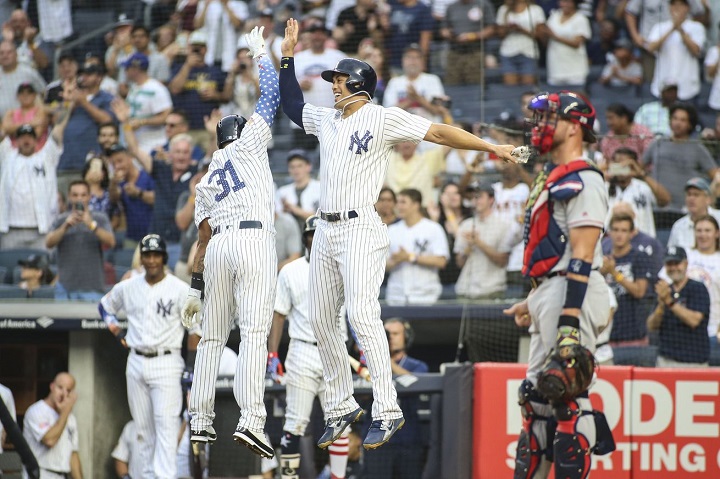 Survive and advance
Although it might have been the ugliest win of the season, Tuesday's 8-5 victory still counts the same as the others and — most importantly — helped the Yankees keep pace with the equally scorching-hot Red Sox in the division race.
The Yankees sprinted out to a 6-0 lead thanks to the good ol' power/patience formula. Aaron Hicks put the Yankees on board in the first inning with a two-run blast, his 15th homer of the season, matching the career-high he set last year. He is the fifth Yankee to hit 15 dingers in 2018, the only team in MLB with that many 15-homer players this year. This is the first Yankee team ever to have five players hit at least 15 homers before the All-Star break.
Kyle Higashioka extended the lead to 3-0 with his second career homer — and second career hit — in the second inning. He became the third player in franchise history to have his first two MLB hits go over the fence, joining Alfonso Soriano (1999-2000) and Joe Lefebvre (1980). Before joining the Yankees last week, he was slugging .328 at Triple-A Scranton/Wilkes-Barre, which ranked 177th out of 198 players with at least 200 PA across all Triple-A leagues this season.
The Yankees scored two more runs in the third inning without a hit, walking five times, including twice with the bases loaded. It was their ninth and 10th bases loaded walks of the season, tied with the Diamondbacks for the most in the majors. They had just seven bases-loaded walks all of last year.
And it was the first time in more than seven years they scored two runs in an inning without getting a hit or reaching on an error, since the third inning of a game against the White Sox on April 28, 2011.
Miguel Andujar reached another milestone when he doubled in the fifth inning, his 40th career extra-base hit. He is the third Yankee to compile 40 extra-base hits in their first 78 career games, along with Bob Meusel and Joe DiMaggio.
Giancarlo Stanton joined the milestone party in the eighth inning with his 20th longball of the year, the ninth time in nine MLB seasons he hit 20 or more homers. He's the 11th player in MLB history to go deep at least 20 times in each of their first nine major-league seasons, joining this elite group:
Mark Teixeira
Albert Pujols
Darryl Strawberry
Eddie Murray
Frank Robinson
Eddie Mathews
Ralph Kiner
Ted Williams
Joe DiMaggio
Bob Johnson
Happy Fourth of July in the Bronx
The Yankees celebrated Independence Day in style, beating the Braves 6-2 behind a solid effort from CC Sabathia and a dose of power from their relentlessly deep lineup.
Sabathia was in vintage form and delivered another gutsy performance, giving up just two runs in six innings despite putting 10 of the 27 batters he faced on base. At the midpoint of 2018, his ERA is 3.02, on pace to be the second-best by any pitcher in franchise history in his age-37 season or older (min. 25 starts), behind only Spud Chandler's 2.10 in 1946.
Giancarlo Stanton homered for the second straight day, giving him five homers in his last 11 games at Yankee Stadium; he had six homers in his first 34 home games. Kyle Higashioka lived up to his John Sterling nickname (Kyle Higashioka, the Home Run Stroker!) when he went deep again for his third career homer — and third career hit. He is the ninth player since 1920 to have each of his first three career hits be homers — the only other Yankee on the list is Alfonso Soriano.
Aaron Judge capped off the dinger fireworks with a moonshot in the seventh inning …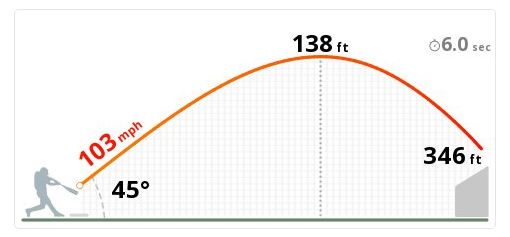 The poor baseball left his bat at an angle of 45 degrees, the highest home run of Judge's career. In the Statcast era (since 2015), only two other Yankees have hit homers with a higher launch angle: Mark Teixeira (48 degrees on July 3, 2016) and Ji-Man Choi (46 degrees on July 7, 2017).