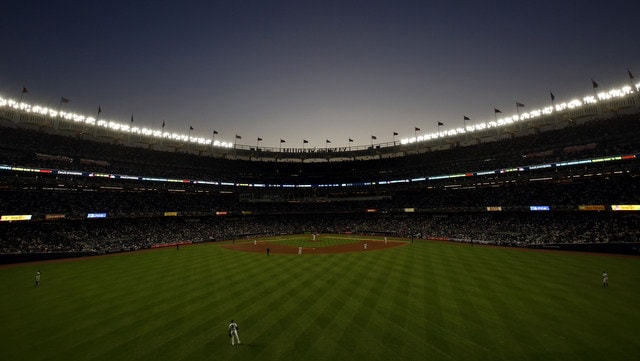 Weather permitting, the Yankees and Red Sox will continue their four-game series at Fenway Park later today. First pitch is scheduled for 4:05pm ET, though there's some rain in the forecast around that time, so we might be in for a bit of a delay. Hope not. Anyway, here are some links and notes to check out in the meantime.
Postseason schedule announced
Earlier this week MLB announced the postseason schedule which, obviously, is relevant to the Yankees. Even if you think they're the worst good team ever, FanGraphs puts their postseason odds at 99.9% as of this writing, so yeah. Anyway, here is the portion of the postseason schedule potentially relevant to the Yankees (here's the full schedule):
Tiebreaker Games (if necessary): Monday, October 1st (on ESPN)
AL Wild Card Game: Wednesday, October 3rd (on TBS)
Both ALDS: Friday, October 5th to Thursday, October 11th (on TBS)
ALCS: Saturday, October 13th to Sunday, October 21st (on FOX and FOX Sports 1)
World Series: Tuesday, October 23rd to Wednesday, October 31st (on FOX)
Barring rainouts, the World Series will end in October this year for the first time since 2014. The regular season ends Sunday, September 30th, so this year there are two days between the end of the regular season and the AL Wild Card Game. Last year there was only one off-day. This means the AL Wild Card clubs can use their ace as late as Game 160 of the regular season on Friday, September 28th, and still have him on normal rest for the Wild Card Game.
Yankees among most valuable sports franchises
To the surprise of no one, the Yankees are once again one of the most valuable sports franchises in the world according to Forbes. The fifth most valuable, to be exact, behind the Dallas Cowboys and three soccer clubs. Here are the five most valuable franchises in sports:
Dallas Cowboys: $4.8 billion
Manchester United: $4.123 billion
Real Madrid: $4.088 billion
Barcelona: $4.064 billion
New York Yankees: $4 billion
The Yankees' estimated value is up 8% from last year. The next most valuable MLB franchise is the Dodgers at $3 billion. Pretty huge gap between No. 1 and No. 2 there. I can't help but wonder what the Yankees would sell for right now. Great young team, soon to be a clean payroll slate with regards to the luxury tax, relatively new ballpark. Think the Steinbrenners could get $10 billion? The stripped down Marlins sold for $1.2 billion, remember.
Cabello, Salinas bonuses reported
Finally, we have bonus information for outfield prospects Antonio Cabello and Raimfer Salinas,
who the Yankees signed with their leftover Shohei Ohtani money last winter
. According to
MLB.com
, Salinas received $1.85M and Cabello received $1.35M. The Yankees had $3.5M available to give Ohtani, and when he went to the Angels, they gave that money to Cabello, Salinas,
and shortstop Angel Rojas
.
Both Salinas and Cabello were significant international prospects. MLB.com ranked them as the seventh and ninth best prospects on the market last year, respectively. Salinas is out with an unknown injury at the moment, but Cabello is crushing the ball in the rookie Gulf Coast League, hitting .342/.447/.613 (189 wRC+) with 16 extra-base hits and nearly as many walks (18) as strikeouts (23) in 32 games. The Yankees didn't get Ohtani and that bites. He's good and fun, and I like good and fun players. Salinas and Cabello are nice consolation prizes though.
MLB, KBO agree to new posting system
MLB and the Korea Baseball Organization have agreed to a new posting system, reports Yonhap News Agency. The new posting system mirrors the system MLB and NPB agreed to last winter. The team posts the player, he gets a 30-day window to negotiate with any team, and the posting fee is a percentage of his contract. Also, players can be posted from November 1st through December 5th only. Teams can't wait until late in the offseason. The old posting system was a blind bid for the player's negotiating rights, like the old NPB system back in the day.
Back in February our Sung-Min Kim wrote about the top prospects in Asia, and noted outfielder Sung-Bum Na of the NC Dinos could be the next player to come over from Korea. The 28-year-old left-handed hitter has a .324/.384/.512 batting line with 24 doubles and 16 home runs in 105 games this year. Last season he hit .347/.418/.584 with 24 homers in 125 games. Na has said he wants to come over to MLB, though it's unclear if he'll actually be posted after the season. I'm not sure the Yankees will need another outfielder this offseason anyway.