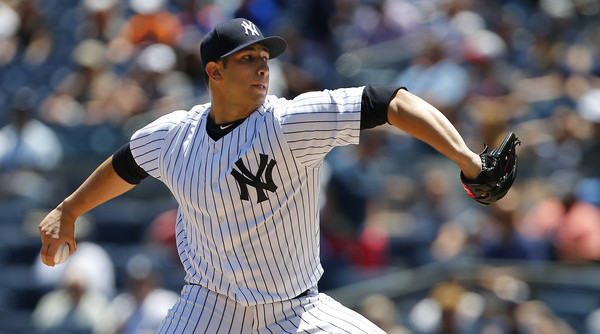 Although they went into Spring Training with two open rotation spots and physical concerns with the other three spots, the Yankees made it through the 2017 season using only eleven different starting pitchers. Only ten teams used fewer. Furthermore, the Yankees had only eight pitchers make at least five starts this year. Those eight pitchers accounted for 158 of the Yankees' 162 starts this season.
Pitching depth is a necessity in baseball, not a luxury, and the Yankees got some decent production out of their depth arms this year. Given how often pitchers get hurt, the performance of your sixth or seventh starter can very easily be the difference between a postseason berth and a long offseason. Times to review the three starters who drew the most fill-in starts during the 2017 season.
Luis Cessa
It wasn't until mid-June that the Yankees were forced to use a sixth starter for the first time. A hamstring injury sent CC Sabathia to the disabled list, and while Cessa's overall Triple-A numbers weren't great (4.15 ERA and 4.40 FIP in 65 innings), he'd allowed only five runs in his previous three starts and 20 innings. He was the hot hand. Plus he lined up perfectly with Sabathia's rotation spot.
Cessa made three starts while Sabathia was sidelined, during which he allowed eleven runs on 13 hits and six walks in 13.2 innings. One start was okay (three runs in five innings) while the other two were bad (four runs in four innings, four runs in 4.2 innings). Joe Girardi kept the leash short with Cessa — he averaged only 82 pitches in those three starts, all Yankees losses — which was understandable.
The Yankees kept Cessa around as a long reliever following Sabathia's return, and he pitched fairly well in that role, allowing six runs in 14.2 innings across five appearances. One real disaster outing against the Reds (three runs in one inning) skew the numbers a bit. Cessa tossed 4.2 scoreless innings against the Blue Jays on July 4th and 3.1 scoreless innings against the Rays on July 30th.
Following a quick stint in Triple-A, Cessa returned to the Yankees in mid-August, making a spot start against the Mets on August 14th when Sabathia's knee acted up. He allowed two runs in 4.2 innings and had to be pulled after throwing 66 pitches with what appeared to be a back injury. Cessa would not pitch again this season. He was placed on the disabled list the next day with what the Yankees called a rib cage injury. It was season-ending.
In five spot starts this season Cessa pitched to a 5.82 ERA (6.25 FIP) and held hitters to a .256/.360/.535 batting line in 21.2 innings. In five relief appearances, he had a 3.14 ERA (4.83 FIP) and a .259/.333/.389 opponent's batting line in 14.1 innings. (Cessa also had a 3.46 ERA and 3.86 FIP in 78.1 Triple-A innings.) Pretty bad all around, save those long relief outings against the Blue Jays and Rays.
I am a Cessa fan — I know that puts me in the extreme minority — because I like his athleticism (former shortstop!), I like his velocity (averaged 95.4 mph and topped out at 99.5 mph in 2017), and I like that he throws four pitches. That said, Cessa shelved his curveball and changeup as the season progressed and started to lean heavily on his fastball and slider: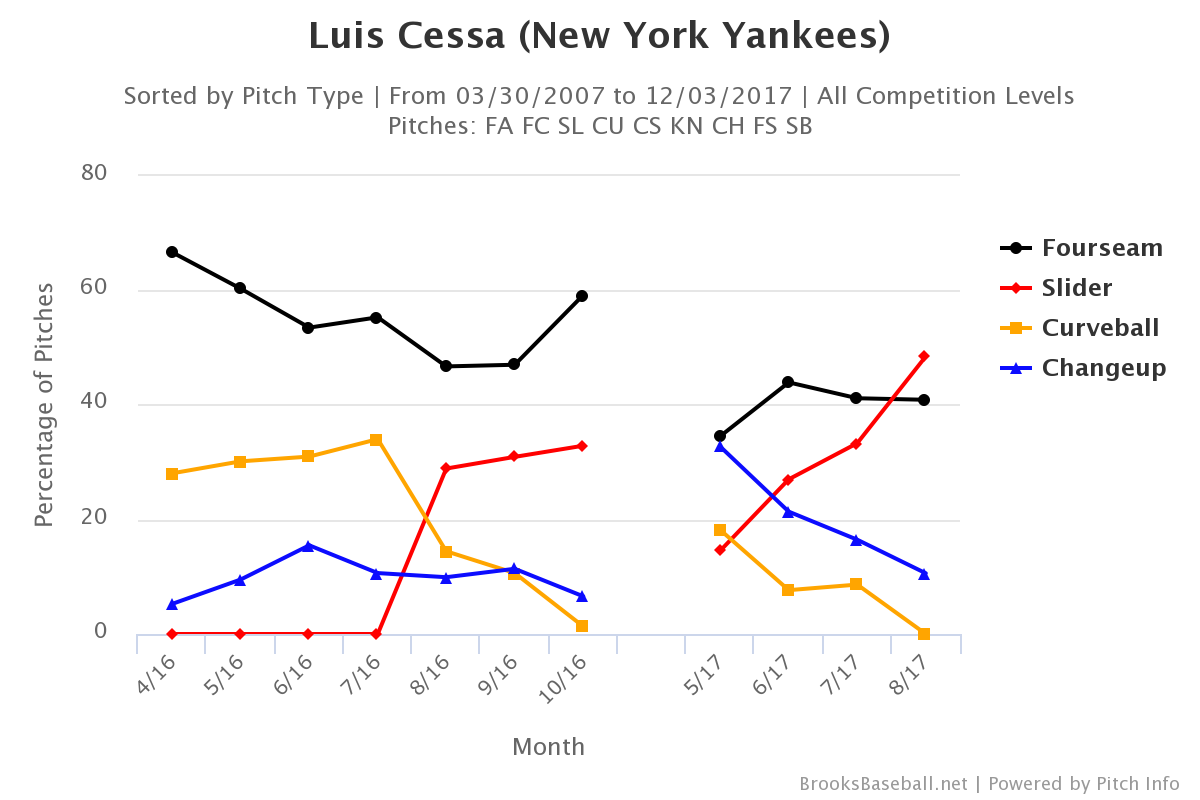 The swing-and-miss rate on Cessa's slider this year: 21.4%. The MLB average is 16.9%. The whiffs-per-swing rate on Cessa's slider this year: 43.2%. The MLB average is 35.2%. When you're getting empty swings like that on your slider, why bother messing around with a curveball and changeup, especially when you're trying to stick around and establish yourself in the big leagues?
Cessa will turn 26 in April and he has a minor league option remaining for next season, so he figures to again be an up-and-down depth arm in 2018. He doesn't want to become Bryan Mitchell. That good arm/bad results guy who runs out of options without having carved out a role in the big leagues. Depending how the rotation depth chart shakes out, the Yankees might be best served by putting Cessa in the bullpen full-time next year, and letting him air it out with an upper-90s fastball and a swing-and-miss slider. He just might surprise you.
Jaime Garcia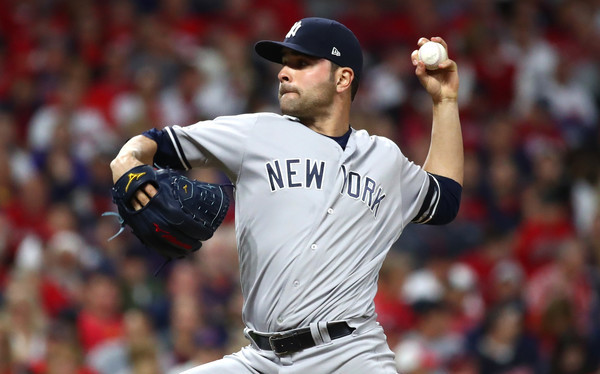 Despite strong overall results, the rotation was enough of a concern at the trade deadline that the Yankees added two starters, not one. Michael Pineda went down with Tommy John surgery, Luis Severino and Jordan Montgomery were piling up innings, and Sabathia's knee is an ongoing concern. So, on July 30th, the Yankees traded pitching prospects Dietrich Enns and Zack Littell to the Twins for veteran southpaw Jaime Garcia. They then traded for Sonny Gray the next day.
Garcia made his Yankees debut on August 4th and it did not go well. Not at all. He allowed six runs (five earned) in 4.2 innings in Cleveland. Yuck. After that though, Jaime reeled off a six-start stretch in which he pitched to a 2.97 ERA (4.67 FIP) in 30.1 innings. Girardi had a short leash and didn't let Garcia face the middle of the lineup a third time often, but hey, that's a serviceable six-start stretch. Coincidentally enough, Jaime's best game as a Yankee came against the Twins, his former team, on September 18th.
Nine strikeouts and one unearned run on four hits and one walk in 5.2 innings against the team chasing you for the top wildcard spot. Could you imagine if Garcia had pitched like that in a postseason race against the Yankees after they'd traded him? Good gravy. The hot takes would burn down the internet. Garcia helped the Yankees sweep the Twins that series, which effectively ended the race for the top wildcard spot.
Jaime made eight starts for the Yankees after the trade — they used a quasi-six-man rotation for parts of September, so at one point Garcia went 13 days between starts — throwing 37.1 innings with a 4.82 ERA (4.87 FIP) overall. Not great, but they, the Yankees needed the pitching depth, and the six-start stretch in the middle was fine. Garcia was on the ALDS and ALCS rosters and he did get into a postseason game, tossing 2.2 hitless mop-up innings in Game One against the Indians, sparing the other relievers in the loss. (The bullpen was shot after the Wild Card Game, remember.)
Garcia was a rental. He's a free agent now and there are no indications the Yankees may bring him back, though, to be fair, there are no indications the Yankees plan to do anything right now. Things have been pretty quiet the last few days. I suppose the Yankees could look at Jaime as a one-year candidate should they opt against bringing Sabathia back. I doubt it, but you never know.
Caleb Smith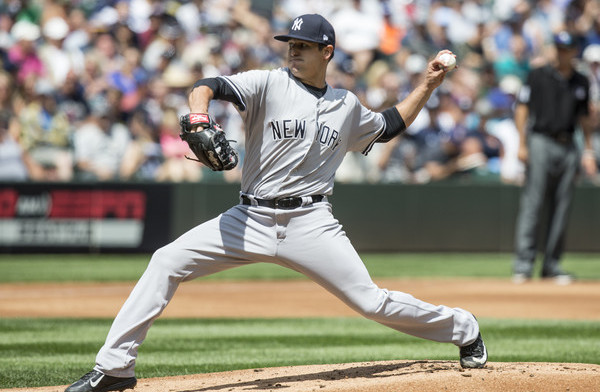 Smith's season started with the biggest opportunity of his career. He was in camp with the Cubs as a Rule 5 Draft pick. Chicago wanted him so much they worked out a trade with the Brewers to get him. In a prearranged deal, Milwaukee picked Smith in the Rule 5 Draft, then immediately traded him to their NL Central rivals for an undisclosed sum of cash. The Cubbies wanted Smith, but they had the last Rule 5 Draft pick and were worried he wouldn't last, so they made the trade.
Things didn't work out for Smith with the Cubs. He allowed three runs (all on solo homers) in 6.1 Cactus League innings and was returned to the Yankees at the end of camp. It was going to be tough for Smith to crack Chicago's roster given their depth anyway, and once he started serving up dingers in Spring Training, that was that. The Cubs took a look, didn't like what they saw enough to keep him, then sent him back to the Yankees.
The Yankees had Smith start the season back in Double-A — he spent the 2015 and 2016 seasons with Trenton — but moved him up to Triple-A Scranton a week into the season. He was lights out with the RailRiders. I'm talking 2.11 ERA (3.32 FIP) with 25.6% strikeouts in 15 starts and 89.2 innings before getting his first MLB call-up in July. The Yankees needed another long man and Smith was their pick.
Smith's first big league outing went better than the line score indicates: 3 IP, 4 H, 2 R, 2 ER, 1 BB, 5 K. He retired the first six men he faced before things unraveled when some ground balls found holes in his third inning of work. The outing was good enough to earn Smith a spot start a few days later, in Pineda's suddenly vacant rotation spot. He made two starts and neither went particularly well:
July 23rd at Mariners: 3.2 IP, 5 H, 4 R, 4 ER, 1 BB 2 K on 56 pitches
July 29th vs. Rays: 3.1 IP, 3 H, 2 R, 2 ER, 3 BB, 4 K on 71 pitches
Despite being a lefty with good velocity — Smith's fastball averaged 93.6 mph and topped out at 97.1 mph during his brief MLB stint — and a good changeup, Smith struggled to put hitters away in his two spot starts, especially once the lineup turned over. Realistically, I don't think there was anything he could do in those two starts to convince the Yankees they didn't need Garcia and/or Gray. That he struggled made the decision to make the trades that much easier.
Smith went back to Triple-A for a few weeks after that before returning in mid-August as a reliever. In six relief outings to close out the season, he allowed eight runs in 8.2 innings, with opponents hitting .265/.359/.559 against him. A disastrous three runs, no outs appearance against the Rangers on September 8th skews his numbers a bit for sure. But still, Smith did not pitch all that well in the show. He threw 18.2 total innings with a 7.71 ERA (5.62 FIP).
Two weeks ago, as part of their annual 40-man roster cleanup, the Yankees traded Smith (and Garrett Cooper) to the Marlins for pitching prospect Mike King and $250,000 in Shohei Ohtani international bonus money. Smith wasn't going to survive the 40-man roster purge and the Yankees got what they could for him. This is a good thing for him. Smith will turn 27 in July, and he figures to have a much better big league opportunity with Miami next year than he would with the Yankees. Hopefully things work out for him. He's stuck with it for an awful long time in the minors.