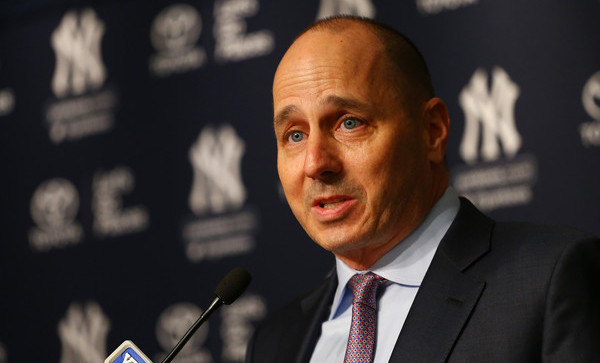 A little more than a year ago the Yankees were in the process of selling away veterans and selling their fans on the idea of a soft rebuild, or transition. They wouldn't hard tank like the Astros or Braves, but if they had to take a step back in 2017 so they could be better in 2018 and beyond, so be it. Trying to get younger while staying competitive is much easier said than done.
Now the Yankees are coming off an ALCS Game Seven appearance and the on-the-fly rebuild went so well that Baseball America named Brian Cashman their Executive of the Year. Can you imagine? That's usually reserved for the general manager of a small payroll team that overcame long odds to make the postseason. The Yankees went from seller to World Series contender in one season. It was incredible.
Clearly, Cashman and his front office did a pretty excellent job this year. Not just this year but over the last several years, putting the Yankees in position to have the season they just did. This post is not intended to evaluate the front office. Our entire Season Review series to date has been one big front office evaluation. We're going to wrap the Season Review series up today with more of a state of the union look at the front office. Let's get to it.
Cashman's 20th Season
The 2017 season was Cashman's 20th season as general manager, which is pretty crazy. General managers are not supposed to last that long. He is the longest tenured general manager in baseball and the third longest tenured baseball operations head behind Brian Sabean (Giants) and Billy Beane (Athletics). I'm sure if you asked Cashman, he'd tell you he never expected to be around this long.
For the first 17-18 years of his 20-year tenure, Cashman was dogged with "he inherited great teams" talk, which was true to some extent, but it was silly to pretend he had nothing to do with the sustained contention through the 2000s. Now though, these Yankees are Cashman's team. There are no holdovers from Gene Michael or Bob Watson. And the roster is built around homegrown youth, not a bloated payroll.
More than anything, Cashman deserves credit for his (staff's) success identifying buy low players and his patience. He acquired Didi Gregorius and Aaron Hicks on the cheap, and waited out the Giancarlo Stanton situation until the terms were favorable. The Yankees used to be a very aggressive team that blew everyone away with offers, either free agent offers or trade proposals. Now they tend to sit back and wait until the time is right to make an offer.
The club's success this year landed Cashman yet another contract this offseason. It's reportedly a five-year deal worth $25M that will ensure he gets to see this transition through. Is it unrealistic to say Cashman's Yankees should win a World Series during that five-year contract? I mean, winning is hard, but no, that expectation is not unrealistic. Winning a championship is the goal now, and the Yankees have a roster capable of doing it soon.
The New Brain Trust
Like the roster, the front office is always changing. People come and go as opportunities arise. Surely Cashman and the Yankees would've loved for Billy Eppler to remain with them forever, but keeping smart people is not easy. The Angels offered Eppler a chance to be their general manager, a chance to run his own operation, and how could he say no to that?
Cashman has had to make changes to his support staff out of necessity in recent years, and I thought the people involved in the managerial search were pretty interesting. Cashman and four others were involved in the interview process. From Brendan Kuty:
Their first candidate, bench coach Rob Thomson, was asked after his interview who conducted his session. He said it was led by general manager Brian Cashman, with the four other people in the room: assistant GM Jean Afterman, assistant GM Michael Fishman, vice president of baseball operations Tim Naehring and assistant professional scouting director Dan Giese.
Afterman has been with the Yankees for 16 years now. Fishman hasn't been with the Yankees that long, though it has been a while now, and he heads up the team's analytics department, which is arguably the best and most sophisticated in baseball. Naehring replaced Eppler as Cashman's right-hand man. Giese? He pitched for the Yankees in 2008 and was playing as recently as 2010. He's since risen up the front office ranks quickly and is now sitting in on managerial interviews.
Front offices are always changing and evolving. They have to be. Smart people are hard to keep. They come and go and so do their ideas. The Yankees don't hire many people from outside the organization — Jim Hendry, the former Cubs general manager, is the notable exception — but they do lose people. Eppler is gone. Gary Denbo is gone. Former pro scouting director Steve Martone is gone. (He is now Eppler's assistant general manager.) The Yankees tend to develop their own front office talent and promote from within. I think that's pretty impressive. At some time, bringing in some folks from outside the organization can be beneficial as well. It helps avoid groupthink.
A New Farm Director
Denbo left to join his old buddy Derek Jeter with the Marlins a few weeks ago. He ran the Yankees' player development system, and almost as soon as Denbo took over three years ago, the Yankees became a player development machine. After producing a Robinson Cano here and a Brett Gardner there, the system under Denbo pumped out Aaron Judge, Gary Sanchez, Greg Bird, Luis Severino, Jordan Montgomery, and others in a short period of time.
How much credit does Denbo deserve for the recent player development success? I have no idea, but I refuse to believe it is a coincidence the Yankees started producing players after he took over. Denbo is gone now, and a few weeks ago the Yankees tabbed Kevin Reese to replace him. Reese, like Giese, has risen up the front office ranks since his playing career ended, and now he'll be tasked with continuing the player development success, because gosh, the Yankees still have a lot of prospects coming.
A case can be made that aside from Cashman, the overseer of all things Yankees, Reese may have the most important job in the front office. You can't succeed in baseball without a productive farm system these days. You can't buy a winning team though free agency. The farm system pipeline is crucial, and while Reese won't be throwing pitches or swinging a bat, he is the man in charge. It's his job to keep the pipeline flowing.
* * *
The only real complaint I have about the front office this season is that they didn't add a bat at the trade deadline or in August. I thought it was an obvious need with Judge in his slump, Matt Holliday looking lost, and Bird's status unknown. Guys like Jay Bruce and Neil Walker and Yonder Alonso were traded for basically nothing in August, and the Yankees wound up playing Chase Headley and Jacoby Ellsbury at DH in the postseason. Blah.
Aside from that, I think Cashman and the Yankees did a phenomenal job this season, starting with committing to the youth movement and continuing with the shift at midseason that led to adding Sonny Gray, Todd Frazier, David Robertson, and all those guys. I'm always kinda interested to see how rebuilding teams react when they start to win, because deciding when to go for it isn't always easy. Cashman and the Yankees acted decisively this year. It was time to go young. And when that worked as well as it did, it became time to move prospects for big league help, and that's what they did.