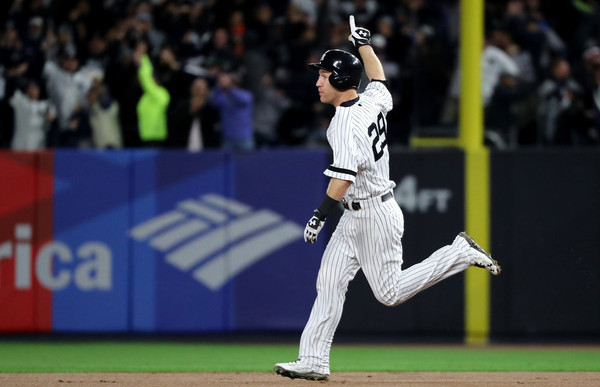 According to multiple reports, the Mets and Todd Frazier have agreed to a two-year contract worth $17M. Less than I thought he'd get! Even in this free agent market. The Yankees have been connected to Frazier throughout the offseason, though it never seemed they were seriously trying to re-sign him.
Frazier, 32 next month, played 66 games with the Yankees last season after coming over from the White Sox in mid-July. He hit .222/.365/.423 (114 wRC+) with eleven homers, played strong defense, and was of course an all around great clubhouse dude. Frazier seemed to genuinely love being a Yankee and made it known he wanted to come back.
The Yankees are said to be in the market for a free agent infielder and, even with Frazier off the board, there is no shortage of options. Mike Moustakas, Neil Walker, Eduardo Nunez … plenty of guys still out there. Of course, the $197M luxury tax threshold looms, and the team only has about $12M to spend, assuming they set aside $10M for midseason additions.
At the moment Miguel Andujar is penciled in as the starting third baseman and I hope he gets the job. Looking forward to another Baby Bomber joining the lineup. I don't blame the Yankees for monitoring the market for veteran infielder insurance, however. So long, Todd. You were a cool dude and a good Yankee for the few weeks you were actually a Yankee.