The Yankees bullpen composition changed today when they signed Chan Ho Park to a major league contract. Mike went through the implications, including who could be the odd man out, but this focus on the bullpen has made me think about someone else's role. No matter how the bullpen shapes up Damaso Marte will be a part of it. Given the team's other options for the remaining five spots, he also figures to be the only lefty in the pen. Does this mean Marte will be used primarily as a LOOGY, or will he play more of a setup role for the team?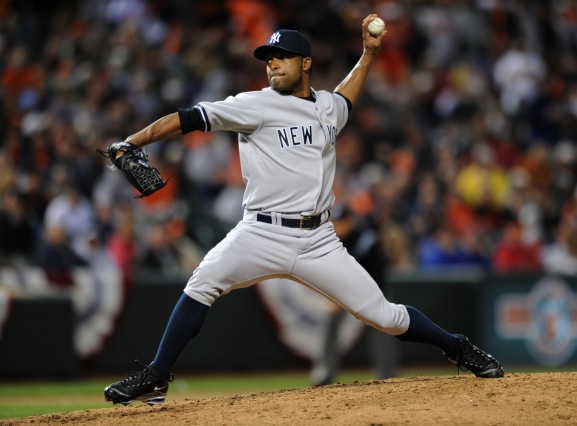 Photo credit: Gail Burton/AP
Part of Marte's appeal is his historical success against both lefties and righties. Since 2002, the beginning of the FanGraphs era, Marte has faced 1,057 righties, allowing 344 of them, 33 percent, to reach base while striking out 23 percent. He takes a while to retire them, it seems, over four pitches per plate appearance, but the results have been solid, a 4.14 FIP against a 4.22 ERA. He's not a guy you bring into a game with three righties due up, but he can certainly handle the righty residing between two lefties.
As expected, he's fared much better against lefties. He's face 784 of them since 2002, allowing just 201 of them, 26 percent, to reach base while striking out 30 percent. Surprisingly, he takes just as long to retire lefties as he does righties, though he throws strikes a bit more frequently. This leads to a lower walk rate. Against righties he's walked one in every 8.6 batters, while he walks just one in 10.18 lefties. That, combined with a greatly reduced home run rate, brings his FIP against lefties down to 2.77, against a 2.02 ERA.
Another advantage Marte holds over lefties is his ability to induce the ground ball. Over his career he's induced a ground ball on 41.1 percent of balls in play against lefties. That drops to 33.3 percent against righties. The difference mainly goes to fly ball rate, which is compounded against righties because of a higher HR/FB ratio. So when Marte does allow fly balls against lefties, they don't leave the park as frequently as against righties.
The Yankees have a number of relievers who can pitch multiple innings. In fact, all of their relief candidates, outside of Rivera and Robertson, have recent experience pitching multiple innings. Even Robertson can pitch an inning plus when necessary. Might that push Marte into more of a LOOGY role? In lineups with one key lefty, or, as with the Twins, key lefties batting back-to-back, might the Yankees prefer to deploy Marte for short stints, using the other relievers to cover the rest of the lineup?
As Chad Jennings notes, Marte's shoulder is feeling better this year than last, when he missed 117 days with what was termed tendinitis. The Yanks are playing it cautious, limiting Marte's bullpens since, like Rivera, he needs only 10 or so innings to warm up in the spring. Hopefully Marte's full recovery allows the Yankees to deploy him as they see fit, rather than relegating him to one specific role.