Just four questions this week, but they're good ones. Remember to use the Submit A Tip box in the sidebar to send us anything throughout the week. Mailbag questions, links, comments, whatever.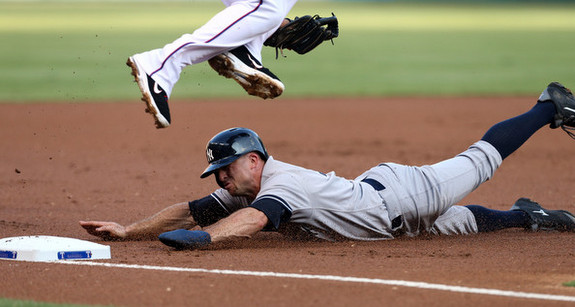 Travis asks: Is there a case to be made for trading Brett Gardner in the offseason? His calling card is his speed and once that goes, I believe his production for the team will be severely limited. The Yankees will have Alfonso Soriano, Vernon Wells, Ichiro Suzuki, Melky Mesa, Zoilo Almonte and Slade Heathcott (presumably) on the roster for 2014, which could make Gardner expendable. He may or may not get the Yankees a draft pick after 2014, depending on his production and if his legs hold up and he doesn't get hurt. Add in his age (30, 31 after next season) and you have the makings for a trap contract (if an extension is given). What are your thoughts?
There's no one on the roster I wouldn't trade right now. The Yankees don't have a Mike Trout or a Clayton Kershaw, that untouchable player you can build around for the next half-decade. I very much agree Gardner will be close to useless once his speed slips, which is why I wouldn't bother trying to sign him to an extension. He's not all that young, like you said. Based on what we know right now, I'd be completely fine with letting him walk as a free agent after next season. Let someone else pay for his decline years.
Trading Gardner has more to do with the possible return than anything. What can one year of an above-average but not elite center fielder get you on the open market? Is last winter's Shin-Soo Choo trade comparable? He was a much better hitter but a fraction of the defender and completely unproven in center. The Indians turned him into a top 20 pitching prospect (Trevor Bauer). One year of David DeJesus — a much more comparable player to Gardner than Choo — brought back absolutely nothing (Vin Mazzaro!) a few years ago. Coco Crisp fetched a then above-average big league reliever (Ramon Ramirez) and is probably the best comparison. Teams have done a better job of valuing defense since then, however.
Trading Gardner makes sense in a vacuum, but who would the Yankees play in center in his place? Sign Jacoby Ellsbury? Re-sign Curtis Granderson? I don't think Ichiro can do it full-time and Wells sure as hell can't. Mesa will be out of options next year and likely cut from the roster before the end of the Spring Training. Heathcott won't be ready either. There's a lot of variables here, it's not like trading Gardner would be dealing from a position of depth. If some team wants to overpay, sure, move him. If not, he's more valuable to them next year than anything they'll probably get back in a deal.
Andrew asks: Whatever happened to the Cuban pitcher the Phillies supposedly signed but then never agreed to a contract with? He's still out there, any idea why and if the Yankees could get him to fill in next year?
Andrew's talking about 26-year-old Miguel Alberto Gonzalez, who agreed to a six-year contract worth more than $50M with Philadelphia back in July. The contract fell apart a few weeks later over concerns about his elbow, specifically bone spurs. He had some removed two years ago and is said to have made a full recovery, but apparently there was enough of a concern on the Phillies' part to call off the agreement. The two sides could always work out a new deal. I have no idea if Gonzalez could step into the rotation and help the Yankees next year, but he's still out there if they want to sign him. Six years and $50M is a ton of money though.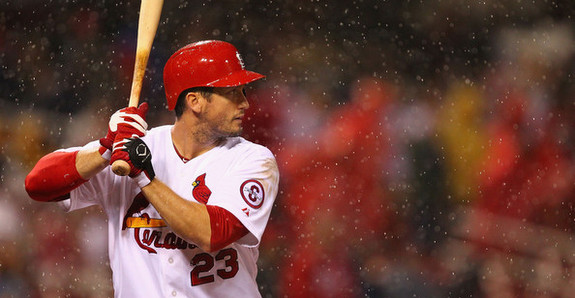 Travis asks: Could the Yankees make a play for David Freese if Alex Rodriguez is suspended for all or most of 2014?
Get ready for a winter full of Freese-to-New York rumors, 'cause they're coming. Ken Rosenthal (video link) recently said the Cardinals are expected to shift Matt Carpenter to third base (his natural position) with top infield prospect Kolten Wong taking over at second (his natural position) next season, making Freese available in what figures to be a thin third base market. Makes perfect sense, doesn't it? As long as Wong doesn't expect, I suppose.
Freese, 30, is hitting .266/.342/.380 (106 wRC+) with six homers in 412 plate appearances this year, his worst season as a big leaguer. He missed a few weeks with a back strain earlier this summer and has a long injury history, including heel (2009), right ankle (2010), left ankle (2010), and hand (2011) surgeries. Freese will earn $3.15M this year and is under team control as an arbitration-eligible player through 2015, so he'll be relatively affordable. Given his age and injury history, this isn't someone you look to sign long-term. Ideally he'd be a two-year stopgap between A-Rod and Eric Jagielo, right? We can dream.
I'm not quite sure how to value Freese in a trade at this point. He's not particularly young, his hot corner defense is just okay (awful this year by the various metrics), his power has vanished (.114), he's injury prone, and he's touted as a clutch god because of his work in the postseason two years ago. That last part is why a ton of people will overvalue him, kinda like Andre Ethier. Ethier hit some walk-off homers a few years ago and suddenly he became a star when the actual production said otherwise. Yes, the Yankees should look into acquiring Freese if he becomes available, I just don't know what an appropriate package would be. He's a solid regular at a hard-to-fill position, not a star or a true impact player.
Jeb asks: Austin Aune's season has been … interesting. I'm assuming he has a decent arm because he started at SS and had a chance to play QB. Is there a chance that he could be converted to a pitcher?
Interesting is a nice way to put it. The 19-year-old Aune is hitting .177/.209/.234 (~25 wRC+) with a ridiculous 67 strikeouts (!) in 148 plate appearances. That's a 45.3% strikeout rate (!!!). Remember, the Yankees gave this kid a double-slot $1M bonus as their second round pick (89th overall) just last summer. He was raw because he was a top quarterback recruit who split time between the two sports in high school, but raw doesn't explain that. I hope the Yankees have Aune working on some swing adjustments because that would at least explain the extreme contact problems. I wouldn't pull the plug on him as a hitter yet, he is still just a teenager with only 311 pro plate appearances to his credit, but yeah. This isn't exactly encouraging.