The Yankees have a long list of needs heading into the trade deadline, and the Cubs are one of the few teams that we know will be sellers for certain. They're in the middle of a big rebuild and have been trading away veteran players for prospects since the Theo Epstein-led regime arrived in town during the 2011-12 offseason. This summer figures to be no different.
This morning we looked at Cubs' pitchers (three, specifically) who could possibly help the Yankees not only this season, but in some cases next season as well. Now we're going to look at the position players because hey, the Bombers really need some offense. The infield and right field are the two most obvious (only possible?) areas to upgrade. Here's a look at the Cubs' position players who could potentially interest the Yankees.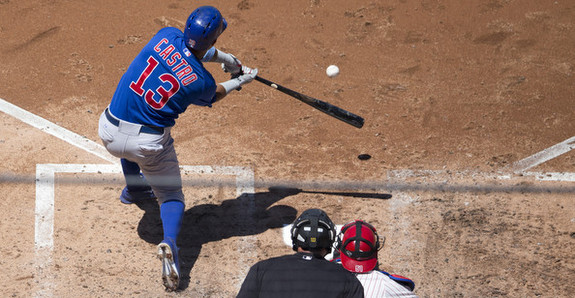 SS Starlin Castro
It's amazing how quickly the perception of players can change. At the end of last season, Castro was an overpaid, unproductive malcontent who embodied the Cubs' player development and rebuilding failures. Now? Now Castro is the co-cornerstone of the infield along with Anthony Rizzo, rebounding from a terrible 2013 season to be a top notch producer and model citizen under new manager Rick Renteria. The fielding gaffes and apparent disinterest have been kept to a minimum.
Castro, who is still only 24, has hit .284/.331/.478 (121 wRC+) with eleven homers in 320 plate appearances this season after mustering a weak .245/.284/.347 (70 wRC+) line with ten homers in 705 plate appearances a year ago. He hit .297/.336/.425 (102 wRC+) with 27 homers total from 2010-12, his first three years in the show. Castro's batting ball profile returned to its pre-2013 levels and at his age he's simply getting stronger and better. He remains a total hacker (5.6% walk rate) but his bat-to-ball skills are very good (17.2% strikeout rate). It's also worth noting he's played in 556 of 561 possible games from 2011-14. Castro's tools are very impressive.
The Cubs have a top shortstop prospect in Triple-A in Javier Baez, though that doesn't automatically mean they will trade Castro. Neither guy is a standout defender and could wind up at second base. Plus there's the matter of Baez hitting .226/.278/.424 (74 wRC+) while striking out in 34.2% of his plate appearances this year. (He had a 28.8% strikeout rate in Double-A last season, so the hacktastic ways are nothing new.) The kid has electric, Gary Sheffield-esque bat speed, but he's ultra-aggressive and there are serious concerns about his ability to hit at the higher levels. Trade Castro and the Cubs might wind up with no viable young shortstops within a year or two.
Castro signed an eight-year, $60M extension during the 2012 season and is under contract through 2019 (option for 2020), when he will still be only 29 years old. If the Cubs were open to trading him, they'd market him as if 2013 was just a bump in the road. Young, high-ceiling middle infielders signed through their peak years never get traded. I can't come up with a comparable deal to reference and will simply say it will take a package of several high-end prospects to bring Castro to the Bronx. I don't see this happening at all.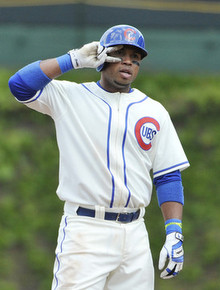 IF Luis Valbuena
Valbuena, 28, is quietly hitting .266/.359/.425 (117 wRC+) with four homers and a 12.7% walk rate in 237 plate appearances this year. He's always been a patient hitter (career 10.2 BB%) and last season's .218/.331/.378 (95 wRC+) batting line would have been better if not for a career low .233 BABIP. He has a .336 BABIP this year and a .267 BABIP since getting to the Cubs in 2012 (.266 career!), so his true talent level is probably somewhere between his 2013 and 2014 performances.
The Yankees need infield help and Valbuena has a lot of experience at both second and third bases, so he provides some flexibility. The various defensive stats rate him anywhere from average to slightly above at the two positions. Valbuena is a left-handed hitter with patience who could see his power production tick up in Yankee Stadium (his spray charts suggests it may), plus he'll remain under team control as an arbitration-eligible player through 2016. Not the sexiest name in the world, but Valbuena would be an upgrade at either second or third bases for New York. Yunel Escobar fetched a Grade-C upper level prospect (Derek Dietrich) when he was dealt from the Marlins to the Rays two years ago, if you're looking for a comparable trade.
3B Mike Olt
If you've been reading RAB long enough, then I'm sure you're familiar with Olt. The Connecticut raised third baseman was discussed as a possible trade target more than a few times over the years, particularly when he was with the Rangers. Texas traded him to Chicago as part of the package for Matt Garza last year.
Olt, 25, is having a statistically fascinating season as a part-time with the Cubs. He's hitting .146/.225/.354 (55 wRC+) with a 38.2% strikeout rate and an 8.4% walk rate, so he's an extreme hacker/swing-and-miss guy, but he's also clubbed ten homers in 178 plate appearances. The right-handed pop is there and always has been. Olt is okay defensively at third and he has years to go before being eligible for arbitration, nevermind free agency. He's a project. If the Yankees think their organizational hitting gurus can fix him up, then he would make sense as a buy low, possible long-term third base option. Olt is not someone who can help the team right away, however.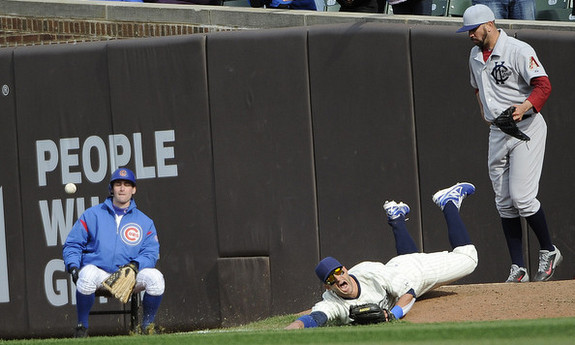 OF Justin Ruggiano & OF Nate Schierholtz
I'm going to lump these two together because they're both platoon outfielders. Ruggiano, 32, is hitting .220/.321/.352 (88 wRC+) overall this year with a 102 wRC+ against lefties. The 30-year-old Schierholtz has a brutal .205/.260/.308 (52 wRC+) batting line overall and with a 54 wRC+ against righties. He's the better defender of the two but Ruggiano is about average himself. Schierholtz will become a free agent after the season while Ruggiano is under team control through the 2016 season.
The Yankees are currently riding the underwhelming Alfonso Soriano/Ichiro Suzuki platoon in right field and could use some more power from the position. Neither Ruggiano nor Schierholtz seems likely to provide that based on their performance this year. Utility man Emilio Bonifacio got off to an insane start back in April but hasn't hit a lick since and is sitting on a .261/.306/.340 (75 wRC+) batting line. He can provide some speed and versatility off the bench, but nothing more. None of these three would move the needle.
* * *
Since it seems unlikely the Cubs will move Castro in the coming weeks for anything less than a substantial haul, Valbuena appears to be the only option who would actually help the Yankees this season. Olt is interesting in the sense that he has power and is a former top prospect, but he needs to be fixed. He's not going to help anyone right away. Castro is a stud and Jeff Samardzija is very available and a true impact pitcher, but I think Valbuena and Jason Hammel are the more realistic fits for the Yankees.