The Phillies, as we've frequently heard, have had trouble scoring runs lately. After they beat Boston on May 21 they led the NL in runs per game, and given what we know about their offensive players that should have come as no surprise. Since then, in a 22-game span, they've dropped a full run per game to ninth in the NL, a half run per game behind league-leading Cincinnati. Yet last night they broke out for six runs on six hits, three of which went for extra bases. Were they breaking out of a slump?
As Ben noted this morning, "Last night's affair was one of those ugly outings where the pitcher shoulders all the blame." Given how the game unfolded after he left, I have to agree with that. The Phillies reverted to the futility we've seen, or at least heard of, during the past few weeks. Worse, they did it against two of the Yankees' worst pitchers.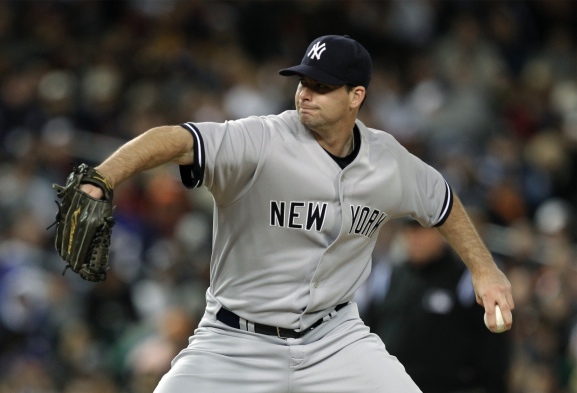 It's not secret — not to Yankees fans, not to anyone who follows baseball with a modicum of intensity — that Boone Logan and Chad Gaudin rank among the lesser relievers in the league. If not for injuries they probably wouldn't have major league jobs right now. But they were easy options, and since the Yankees have two relievers on the DL their presences are understandable. Temporarily, at least.
Their troubles are well known. Gaudin walks too many hitters and has a tough time with lefties. In an ideal world he'd come in from the pen to face a string of righties, but there's always that lefty on the bench that can trip him up. This leads to a high number of hits, particularly extra base hits. Logan walks even more batters than Gaudin, and even has troubles throwing strikes to same-handed hitters. The only reason he ever sniffs the majors is because he throws the ball with his left arm.
Yet those two combined to not only hold the Phillies scoreless during the final 5.2 innings last night, but to no-hit them. While Burnett used 87 pitches to record 10 outs, Logan and Gaudin combined for 78 pitches to get the final 17 outs. They threw two-thirds of their pitches for strikes. They each struck out three hitters, Logan in 2.2 innings and Gaudin in 3. It was quite the change from what we saw earlier in the game.
Could it have been the Phillies offense getting complacent after scoring six runs? It could be, I suppose, but I'd never turn to this as a primary explanation for their late-inning futility. They know that a four-run lead isn't safe with the Yankees' offense — hell, they brought the tying run to the plate in the ninth, and it wasn't all that surprising. So I'm sure they didn't just turn off some switch and slide into cruise control. Maybe it was something subconscious, a sense of satisfaction that they had scored six runs after battling and struggling to score just one during many games in the past few weeks. None of us can really say for sure.
The most likely explanation is that Burnett was just bad. We know that he has terrible outings from time to time, just like we know that Guadin and Logan are bad pitchers. We also know that the Phillies offense has struggled during the past few weeks. When those elements combine in my head, it points to Bad A.J. and not much else. We'll have to learn to live with these starts. At least it bodes well for today.