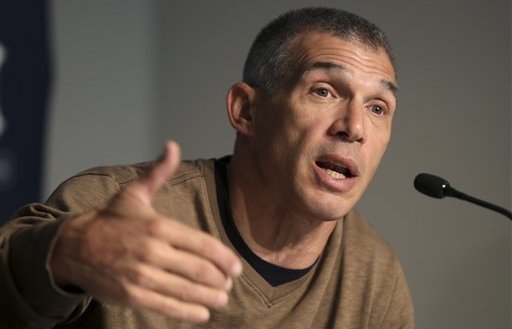 The Yankees were swept out of the ALCS by the Tigers almost a week ago, but it wasn't until today that Joe Girardi conducted every manager's annual end-of-season press conference. He said the team has yet to look back and evaluate the 2012 campaign just because everyone takes a few days off to be with their families and kinda get away from baseball immediately after the season ends. They'll obviously evaluate the club top to bottom in the coming weeks. Here are the important notes from the press conference…
On Alex Rodriguez…
"These were things that we evaluated a lot before we made our decisions," said Girardi when asked about benching A-Rod in the postseason. "I don't go back and second guess myself."
Girardi has not yet spoken to Alex (or any other player for that matter) about their relationship, but said "that will take place … it just hasn't yet." He isn't worried about things being strained but acknowledged that actions have consequences and he will deal with them if need be.
Girardi said he believes A-Rod was healthy in the postseason and was just struggling, particularly against righties.
"Can Alex be a very good player again? Absolutely, I don't have any question in my mind," said the skipper. He praised A-Rod's baseball smarts and said he expects him to be his everyday third baseman next season.
Chad Jennings has Girardi's full quotes about A-Rod if you aren't sick of hearing about it yet.
On the playoffs…
"Yes it was somewhat puzzling," said Girardi on the offense's struggles. He attributed Robinson Cano's disappearing act to being pitched well and just falling into a poorly-timed slump. He did acknowledge that Robbie was frustrated, which likely compounded the problem.
Girardi said he doesn't think the team's unfavorable postseason schedule contributed to their lack of hitting, ditto all the tough games they had to play down the stretch in September. He basically said he doesn't believe his team was worn out after a month of playoff-type games.
"I hope not," said Girardi when asked if he may have he lost the trust of some players by sitting them in the postseason. "I was making moves trying to win ballgames … I've been honest with our players and I will continue to do that, and I will do my best for this organization to win every game."
Girardi attributed the dull Yankee Stadium atmosphere in the postseason to a lack of scoring on the team's part, nothing more. "I think our fans are very passionate about the Yankees (because) we see it even on the road."
On injuries…
"(It has) not taken place," said Girardi when asked if CC Sabathia has gone to visit Dr. James Andrews about his elbow. He is encouraged by his ace left-hander's performance in September and the ALDS and he expects to have him in Spring Training. "We're always concerned that it's maybe something more than you think it is … I don't like people going to see doctors (but) sometimes people have to be evaluated to make sure everything is okay."
"We expect him to be back and playing for us next year on Opening Day," said Girardi about Derek Jeter and his fractured ankle. He added that there are always concerns following a surgery, including Jeter pushing his rehab too hard and having some kind of setback.
Mariano Rivera did throw sooner than expected this year but Girardi never did ask him if he will definitely return next season. "I don't think you push a rehab like he pushed it unless you have some interest in coming back," he said.
There were no undisclosed or "hidden" injuries this year, so to speak. Russell Martin's hands are banged up but that is typical catcher stuff and isn't a long-term concern.
Both hitting coach Kevin Long (elbow) and third base coach Rob Thomson (hip) will have surgery this offseason, if you care.
On free agents and the team moving forward, etc…
"There's a lot of hunger and fire in him," said Girardi about Andy Pettitte, but he doesn't know if the veteran southpaw will return next year. He expects him to discuss things with his family before making a decision.
He mentioned briefly that like Pettitte, Hiroki Kuroda is among the players who will make a decision about his future and playing beyond this year.
Girardi said he was unsure about Ichiro Suzuki coming back next year but he knows the veteran outfielder enjoyed his time in New York. He also praised Ichiro for making adjustments like playing left field and batting towards the bottom of the order.
"I think this kid has something to offer us," said the manager about Eduardo Nunez while also acknowledging that his role for next year is undetermined because other parts of the club are unsettled. "There is talent there, there is speed, there is excitement, he has a lot to offer."
"There's a lot of players we have to decide what we're going to do with, but I believe when Spring Training starts next year, we'll be a championship club," said Girardi, acknowledging that the team has a lot of players with open contract situations.
He also spoke about the Yankees getting power from non-traditional power sources (specifically catcher, second base, and center field) and their ability of the offense to absorb the loss of a homerun hitter (i.e. Nick Swisher) if that happens this winter.
Girardi acknowledged that the team has a busy offseason coming but doesn't expect the chaos to be a problem. "Sometimes quiet is a bad thing," he joked.
On the status of him and his coaches…
"No. The pressure you see I put on myself," said Girardi when asked about the pressure of entering a contract year. He doesn't expect the team to talk about a new deal until his current one expires and he doesn't anticipate asking for an extension before then either.
Girardi expects the entire coaching staff to return next year but again pointed out that the team has not yet discussed everything.
Miscellaneous…
Girardi praised his role players for stepping up into more prominent roles than expected this year, mentioning Raul Ibanez, David Phelps, and Cody Eppley by name.
When asked about Cano's general lack of hustle down the line to first base, Girardi said he "will address with every player to play hard."