Six questions and six answers this week. Remember to use the Submit A Tip box in the sidebar to send up questions, comments, links, or anything else throughout the week.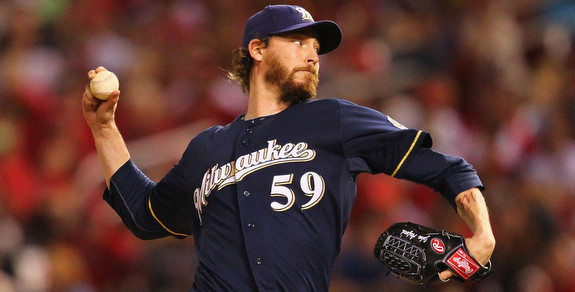 Mat asks: What are your thoughts on acquiring John Axford? With the need of another arm down the stretch wouldn't it make sense to acquire him?
Axford, 30, has pitched to a 3.86 ERA and 4.46 FIP this year, losing his closer's job to Jim Henderson. He struggled last year as well (4.67 ERA and 4.06 FIP), mostly because he was walking everyone (5.06 BB/9 and 12.6 BB%). Axford has cut back on the free passes this year (3.60 BB/9 and 9.2 BB%), but instead he's crazy homer prone (1.54 HR/9 and 15.8% HR/FB). The homers have been trending in the wrong direction for years now.
The problem with Axford isn't so much his performance — he does still miss a ton of bats even though his 9.51 K/9 and 24.2 K% are career-lows — but his salary. He's earning $5M this year in the first of four years of arbitration-eligibility as a Super Two, so his salary is only going higher and higher. Saves pay, and he had a ton of them early in his career. Axford is going to be an $8M+ reliever as soon as next year, at which point he might be a non-tender candidate. I do like him as a buy-low guy in terms of what he can do on the mound, but there's no way I'd be okay with the Yankees paying him that much. Way too risky.
John asks: Which free agents can the Yankees provide a qualifying offer to at the end of the season? I'm assuming Phil Hughes and Curtis Granderson would be eligible? Joba Chamberlain wouldn't be? Are Andy Pettitte and Hiroki Kuroda?
Any player with more than six full years of service time is eligible for a qualifying offer, so all of those guys you named plus Robinson Cano, Travis Hafner, Boone Logan, Mariano Rivera, and Kevin Youkilis can receive one. Tim Dierkes has estimated the qualifying offer at $14M for this coming offseason, so right off the bat we can rule out offers for Joba, Hafner, Logan, and Youkilis.
Cano is absolutely getting one if he does reach free agency, there's no doubt about that. Rivera is retiring, so there's no sense in making him an offer and risk having him complicate the payroll situation by surprisingly accepting. Pettitte is the same boat since it's Yankees or retirement for him, plus at this point it's debatable if he's even worth that salary. If Kuroda continues to pitch has he has this year (and last), I think he'd get an offer. I think they'd welcome him back with open arms at that salary in 2014, especially since it's a pay cut.
Hughes is very much up in the air and right now I lean towards no offer. That could change in a hurry if he pitches well in the second half though. Some team will give him Edwin Jackson money this winter (four years, $52M), but even if he surprises and accepts a qualifying offer, he'd be tradeable. The Yankees might have to eat some salary, but it's doable. Hughes is definitely a wait-and-see thing, no sense in giving a definitive yes or no in early-July.
Thomas asks: What seems to be the holdup on signing the supplemental first round pick Aaron Judge?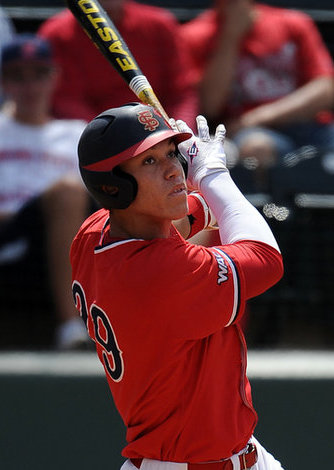 Earlier this week, both Jon Heyman and K. Levine-Flandrup reported there has been no change in negotiations. The Yankees offered him slot money (~$1.68M) and they're waiting for him to accept. As our Draft Pool page shows, the team has more than $300k in pool money saved, so they could offer him roughly $2M before next Friday's signing deadline if push comes to shove.
Jim Callis recently said every unsigned first round pick will sign before the deadline — Judge and four others remain unsigned at this point — so I'll defer to the expert and say it's only a matter of time. It would be very tough for Judge to return to school and come out as a senior next year with improved stock and earning potential, though it is certainly possible. He and his advisor are presumably holding out for every last penny, which is understandable.
Tom asks: What about Norichika Aoki of the Brewers as a trade target? Looks like he has an option for '14 so he could contribute in the OF now as well as next year.
Aoki, 31, is one of the very best bargains in baseball. He's hit .289/.354/.410 (112 wRC+) since signing a two-year, $2.25M contract prior to last season, and this year's at .292/.364/.373 (108 wRC+) in 360 plate appearances. That dirt cheap contract includes a $1.5M (!) club options for 2014, which will be picked up no questions asked.
The Yankees need to add some on-base skills to their lineup, and Aoki is basically a better (and cheaper) version of Ichiro Suzuki at this point. He doesn't strike out (7.6%) but will walk (7.7%), steal bases (39-for-55, 71%), and play strong defense in right. Aoki is a big-time ground ball hitter (58.4%), so Yankee Stadium won't automatically boost his power output. I don't know what the trade cost will be, but it won't be cheap given his salary and production. If the price is right and the Yankees could somehow unload Ichiro, they should absolutely go for it. I just don't see it happening.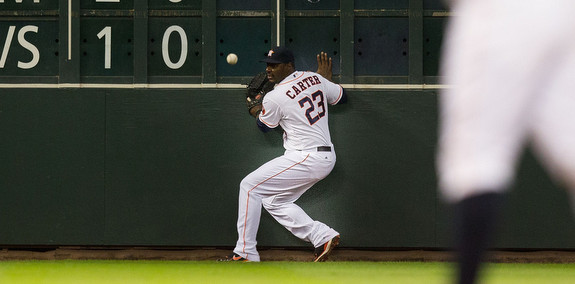 Winter asks: Is Chris Carter a potential trade target? He's better than Lyle Overbay, has some OF experience, is a good young player under team control until 2019 (not arb-eligible until 2015), and plays for a non-contender who'll be a seller at the deadline.
The 26-year-old Carter is a classic three-true outcomes slugger. He strikes out a ton (36.7%), walks a ton (11.6%), and hits for plenty of power (17 homers and a .235 ISO). It's any park power — hitter's park, pitcher's park, you name it and he can clear the fence. As you said, he's still in his pre-arbitration years and has plenty of team control left.
People hate strikeouts, but there's nothing wrong with having one high-strikeout masher in the lineup. It's a problem when you have three or four in the lineup. Granderson is almost certainly a goner after the season, which would leave Carter as the team's lone grip-it and rip-it hitter. At the very least, he could platoon with Overbay at first and Travis Hafner at DH while spot starting in left field despite his awful defense.
I don't know what the Astros want in return, but they did give up Jed Lowrie to get him, so I doubt he'd be cheap. The Yankees need power in the worst way, especially from the right side, so Carter would be a very good fit despite his obvious flaws. As we've seen this year, it's very tough to win in the AL East when you can't hit the ball out of the park.
Paul asks: What have you replaced Google Reader with?
Consider this the rare non-baseball-related public service question. Though I guess it is baseball-related if you read a lot of baseball blogs.
Anyway, I've settled on Feedly after toying around with Hive Reader and The Old Reader. Feedly just added a GReader-esque web app — previously it was a browser plug-in, which was annoying — and I think their Android app is top notch. Joe and (I think) Ben are using Digg Reader with positive reviews. I haven't tried it yet. Pretty much everyone I know is using one of those four services at this point. Hope that helps.