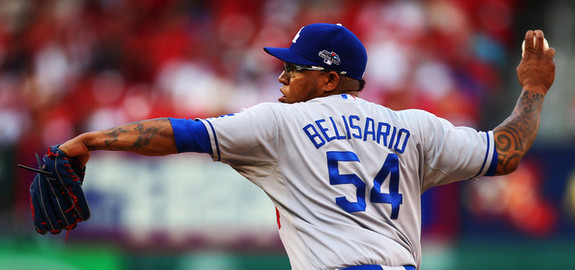 Forty-three players joined the free agent pool at midnight last night — including three Yankees (David Adams, Jayson Nix, Matt Daley) — when the non-tender deadline came and went. Here's the full list. Most non-tendered players are spare parts not really worth carrying on the 40-man roster all winter, but some are legitimate big leaguers whose projected salary had eclipsed their on and off field value.
The Yankees grabbed Russell Martin three years ago after he was non-tendered and last winter they made a play for Nate Schierholtz before he signed with the Cubs. This year they're seeking pitching help, both in the rotation and the bullpen, though the non-tender market very rarely offers quality starting pitchers. Bullpen help is plentiful though, and an interesting crop of relievers became free agents last night. Here's a quick rundown of four newly available bullpen arms who could help New York as they seek a late-inning reliever to pair with David Robertson (and Shawn Kelley).
John Axford
I'm listing these guys alphabetically but it's fitting we start with Axford, who spent 2007 bouncing around New York's farm system before being released, tightening up his mechanics, and having lots of success with the Brewers. Years of hefty saves totals beefed up his salary and the Cardinals walked away rather than pay him upwards of $6M to be a seventh inning reliever in 2014. Not a bad idea given all their young power arms.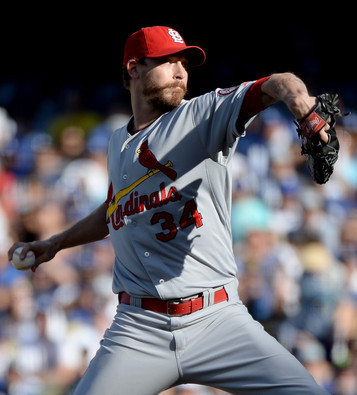 Axford, 30, had a 4.02 ERA (4.34 FIP) in 65 innings this past summer. His fastball still sits in the mid-90s and he still backs it up with a nasty curveball that allows him to miss bats (9.00 K/9 in 2013 and 10.82 career) and get an okay amount of ground balls (45.3% in 2013 and 46.9% career). Axford walks a fair amount of guys (3.60 BB/9 in 2013 and 4.05 career) and will occasionally lose the strike zone all together, plus he's very homer prone, especially these last two years (1.34 HR/9 and 18.2% HR/FB). When he makes a mistake, it gets hit out of the park. That's not exactly a desirable trait for a late-inning reliever.
I think there's a good chance another club will offer Axford — who will remain under team control as an arbitration-eligible player through 2016, by the way — a closing job, which could put the Yankees at a disadvantage unless they promise him the ninth inning over Robertson. The homer problems are very scary but outside of Grant Balfour, Joe Nathan, and Brian Wilson, I'm not sure there's a better combination of power stuff and late-game experience out there. The Yankees signed Axford as an undrafted free agent back in the day, so they know him pretty well and there's some kind of relationship already in place.
Ronald Belisario
After missing the 2011 season due to drug-related visa problems, the 30-year-old Belisario has been workhorse in Don Mattingly's bullpen. He's pitched to a 3.24 ERA (3.36 FIP) in 139 innings over the last two years while relying on a heavy mid-90s sinker that has gotten a ground ball 62.8% of the time. The sinker doesn't really miss bats (7.60 K/9) and location can be an issue at times (3.69 BB/9), but at least he keeps the ball in the park (0.39 HR/9 and 9.2% HR/FB) and can hold his own again lefties (.320 wOBA against). Like Axford, Belisario would remain under team control as an arbitration-eligible player through 2016, though he figures to come much cheaper as a non-former closer. I was surprised to see the Dodgers non-tender him (that makes me wonder what they know that everyone else doesn't) but Belisario a versatile and durable reliever, and that's something every team needs.
Ryan Webb
I've always liked Webb, who is a classic "the results don't match the stuff" guy. His low-to-mid-90s two-seamer runs all over the place and his low-80s slider looks like it should miss bats, but batters have consistently squared him up. Since landing with the Marlins three years ago, Webb has a 3.34 ERA (3.50 FIP) in 191.1 innings with a very good ground ball rate (56.0%) but unimpressive strikeout (6.07 K/9) and walk (3.15 BB/9) rates. His platoon split is manageable (.321 wOBA against lefties and .296 against righties). Pitching coach Larry Rothschild has a history of improving strikeout rates, so maybe he could help Webb turn that nasty stuff into better results. At worst, he's a decent middle reliever, but I think the 27-year-old has some untapped potential and is something of an upside play.
Wesley Wright
With Boone Logan likely leaving as a free agent, the Yankees figure to cast a wide net and target a bunch of lower cost players to compete for the lefty reliever spot. Wright, 28, is a pure specialist, holding lefties to a .228/.313/.342 (.296 wOBA) line in his career while righties have tagged him for a .263/.356/.500 (.367 wOBA) line. His strikeout (10.42 K/9) and ground ball (55.3%) rates against same-side hitters are very good despite a soft upper-80s fastball and low-80s slider. Wright has been around for a while and figures to get a guaranteed contract somewhere, and that might not jibe with what New York wants to do at this position. I get the sense they'll add some pieces via waivers and minor league deals and see what happens in camp between Cesar Cabral, David Huff, and whoever else. If they are willing to sign someone to a low cost big league deal, Wright could be the guy.
* * *
Some of the big name non-tenders like Andrew Bailey (shoulder capsule) and Daniel Hudson (Tommy John surgery twice in the last 17 months) come with major injury concerns and aren't expected to be healthy enough to pitch until the second half of the season at the earliest. Given the nature of their injuries, I think 2015 is a more realistic target for a return. Others like Tommy Hanson and Dan Bard are too far removed from consistent success to warrant anything more than a minor league contract at this point. Everyone loves a good reclamation project, but the Yankees need healthy players who can actually help them come Opening Day right now given the state of the roster. Once they've brought in a few of those, they'll be in better position to roll the dice on guys with something to prove.