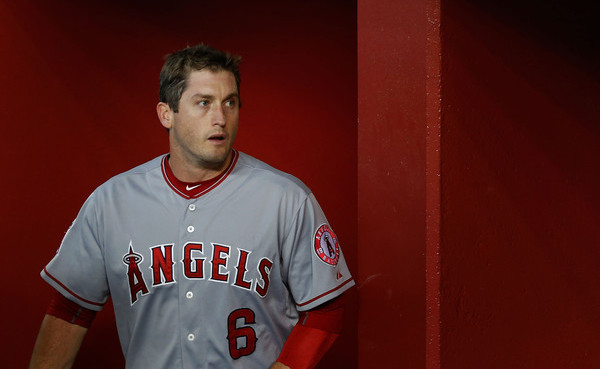 As the offseason winds down, teams are currently in bargain hunting mode trying to find that last piece or two to round out their roster. The Yankees have grabbed low-cost veterans like Eric Chavez, Brian Roberts, and Raul Ibanez at this point of the offseason in recent years. They weren't counting on them for huge impact, just quality depth.
The Yankees have already announced their list of non-roster Spring Training invitees, but the roster building doesn't end there. The team can still add players and may indeed make a minor pickup or two in the nine days between now and the open of camp. Veteran third baseman David Freese remains unsigned, and with Greg Bird now out for the season, the Yankees could use corner infield depth. Is Freese a potential fit for that role? Let's look.
The Offense
Freese, 33 in April, has been rather consistent the last three years, putting up a wRC+ in the 105-110 range each season from 2013-15. Both his BABIP (.321) and strikeout rate (22.4%) have held fairly steady these last few years, but his walk rate is trending down (9.0% to 7.4% to 6.6%) while his ISO (.119 to .123 to .163) is trending up. Here are his platoon splits from 2013-15:
| | PA | AVG/OBP/SLG | wRC+ | BABIP | BB% | K% | GB% | FB% | Soft% | Hard% |
| --- | --- | --- | --- | --- | --- | --- | --- | --- | --- | --- |
| vs. RHP | 1,127 | .257/.321/.375 | 100 | .327 | 6.7% | 24.0% | 54.2% | 24.8% | 14.9% | 36.2% |
| vs. LHP | 375 | .268/.349/.451 | 127 | .303 | 10.7% | 17.9% | 48.7% | 28.7% | 14.7% | 37.4% |
Freese is a right-handed hitter, as you may have guessed from the splits. He's also a ground ball hitter, which explains the higher than league average BABIP and generally underwhelming ISO. Ground balls sneak through for hits more often than fly balls, but they rarely go for extra bases.
Last season Freese put up a .257/.323/.420 (110 wRC+) line overall, and his splits had reversed from his career norms. He was basically average against lefties (104 wRC+) while having more success against righties (112 wRC+). That looks very much like a one-year blip based on the rest of his career — it was a 92 wRC+ against righties and a 153 wRC+ against lefties as recently as 2014 — and not the new normal, but stranger things have happened.
The lack of interest this offseason suggests teams do not see Freese as a player capable of producing at an average or better clip against both righties and lefties. Those guys usually find jobs, especially at an in-demand position like third base. Going forward, it's best to project Freese as a platoon bat, and if he performs better than expected, great.
The Defense
For the vast majority of his career, the defensive stats have rated Freese as an average to slightly below-average third baseman. He had one disaster year in 2013 (-14 DRS and -16.5 UZR) but has otherwise hovered within a run or two of average. For what it's worth, the UZR components say it's all due to a lack of range. Freese turns double plays fine and avoids errors, but he's a statue. Not much range at all.
Freese has played some first base in addition to third base, mostly earlier in his career, which is kind of a big deal as far as the Yankees are concerned. The Bird injury means they're out a Grade-A piece of depth at first base. Freese played nine games at first with the Cardinals from 2009-11 plus a bunch more in the minors, and I'm guessing he would have seen some action at first with the Angels the last two years if not for Albert Pujols and C.J. Cron.
The defensive stats at first are meaningless given how little time Freese played there. As we've seen the last few years, first base is not as easy as it seems. The Yankees have thrown a lot of players at first for short periods of time (Chase Headley, Kelly Johnson, Brendan Ryan, Brian McCann, etc.) and all struggled with the transition to some degree. Freese at least has some familiarity with the position. He wouldn't be going in blind.
Injury History
Only once in his six full MLB seasons has Freese managed to play 140+ games. That was the 144 games he played in 2013. Freese is good for at least one DL stint per season. Check out the list of injuries:
2015: Non-displaced fracture of right index finger. Missed close to six weeks.
2014: Fractured right middle finger. Missed three weeks.
2013: Lower back strain. Missed three weeks.
2012: Right and left ankle sprains. Missed ten games in September but didn't go on the DL because of expanded rosters.
2011: Broken left hand. Missed two months.
2010: Right ankle tendon reconstruction surgery. Missed a little more than three months.
2009: Left heel debridement surgery. Missed two months in minors.
Not great. He's had surgery on both ankles/feet and breaks in both hands/fingers. Any team that signs Freese would have to have a decent Plan B at third base because he's going to miss time. His history suggests staying healthy over a full season just isn't happening. The best predictor of future injury is past injury, after all.
Contract Projections
It is late in the offseason, and at this point the remaining free agents are going to end up with contracts smaller than expected. Howie Kendrick just took two years and $20M. That's ridiculous. It's a fraction of what he's worth. Bargains are out there. Here are some early offseason projections for Freese:
Freese would certainly jump on three years and $30M right now. That's 150% of Kendrick's deal! He'd probably take the two years and $18M as well. Martin Prado and Justin Turner will be the best available free agent third basemen next offseason. Would Freese take a one-year deal and try his luck again next winter? He might not have a choice at this point.
Wrapping Up
Although he is four years older, I prefer Juan Uribe to Freese, but Freese could potentially fill a similar role as the backup third baseman and righty bat off the bench. He can't play second like Uribe, but the Yankees have depth at that position in Dustin Ackley and Rob Refsnyder. They need first base depth in the wake of Bird's injury and Freese may be able to provide that. (Uribe may be able to as well.)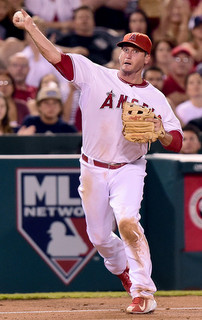 Looking around the league, I count eight teams that have an opening for either a starting third baseman or a most of the time third baseman: Angels, Indians, Astros, Braves, Reds, Brewers, Pirates, and Padres. Some of those teams are more realistic fits for Freese than others. The rebuilding Braves, Reds, Brewers, and Padres aren't going to spend money on a veteran third baseman, for example.
The Yankees have yet to sign a Major League free agent this offseason but I don't think they're opposed to the idea completely. They can't be. You have to be willing to act if a favorable deal comes along. My guess is Freese would have to come on similar terms as Stephen Drew last year ($5M for one year) for the Yankees to have any interest. And even then Freese has to be willing to accept a bench role.
As with most position player free agents this offseason, Freese looks like an okay fit for the Yankees but the Yankees don't seem to be a fit for Freese. The Angels, Indians, and Pirates all stand to offer more playing time and Freese may consider those clubs more likely to contend in 2016 than the Yankees. At some point someone will sign him, right? I would be surprised if he has to settle for a 13th position player on the roster job at this stage of his career.