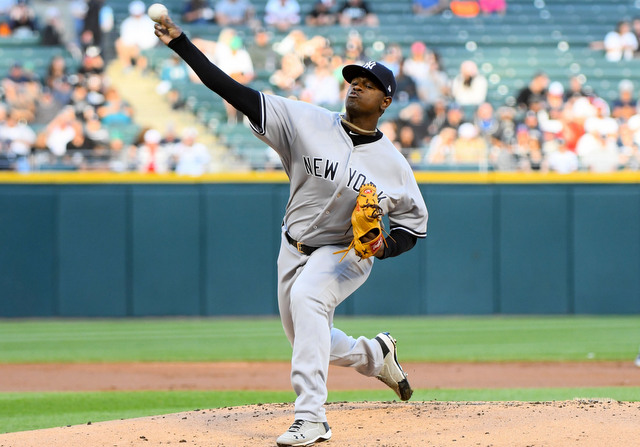 Two nights ago Luis Severino chucked seven innings of one-run ball against the White Sox, striking out a career high 12 in the process. He was awesome. (The bullpen less so.) Severino has been New York's best starting pitcher all year — that includes the Mets! — and after his rough 2016 season, this is the guy everyone hoped to see. The top of the rotation ability is there and we're seeing it consistently.
Severino, who is the youngest pitcher on the roster at 23 years and 129 days old, leads the Yankees with 94.1 innings pitched this season. He threw 151.1 innings last year between Triple-A and MLB, down slightly from the 161.2 innings he threw in 2015. Severino is on pace to blow by that number and set a new career high in innings this year, and that's good! You want to keep building him up.
It has to be done carefully, however. Severino is still a young man and he's a very important part of the Yankees' long-term future. He could be fronting the rotation as soon as next season. Heck, he's doing it right now. The Yankees will be careful with Severino and their other young pitchers because it's the smart thing to do. And yet, earlier this week Joe Girardi told Brendan Kuty the Yankees have not yet discussed innings limits. Why don't we do that now?
This is not just about Severino, remember. Jordan Montgomery is in the big league rotation as well, and the Yankees have a few other young pitchers in Triple-A who need to have their workloads monitored. The Verducci Rule, which says no pitcher under 25 should increase his workload more than 30 innings from one year to the next, is outdated. There is no one-size-fits-all approach. Every pitcher is different and their workload limits should be tailored to their specific needs.
Last week I wrote about both Domingo Acevedo and Chance Adams as bullpen options, and in that post I looked at their workload situations. I guesstimated Adams could throw 160 innings this year while Acevedo is a tick behind at 140 innings or so. Here are the innings totals for the team's other young arms over the years:
| | Cessa | German | Green | Mitchell | Montgomery | Severino |
| --- | --- | --- | --- | --- | --- | --- |
| 2014 | 118.1 | 123.1 | 130.1 | 114 | 107.2 | 113 |
| 2015 | 139.1 | 0 | 148.2 | 126.2 | 134.1 | 161.2 |
| 2016 | 147.2 | 49.2 | 140.1 | 45 | 152 | 151.1 |
| 2017 so far | 77.1 | 68.0 | 58 | 41 | 86.2 | 94.1 |
| 2017 pace | 164.2 | 145 | 123.2 | 87.1 | 184.2 | 201 |
The Yankees have other young pitchers who could be call-up candidates, like Caleb Smith and Brady Lail, but those six in the table plus Adams and Acevedo seem to be the go-to options in whatever order. Heck, the six guys in the table are all in the big leagues right now. Anyway, let's talk these workload situations out, shall we?
1. Are the Yankees really going to let Severino throw 200 innings? My guess is no. They might let him throw 180 innings, though pushing him up over 200 regular season innings doesn't seem all that smart. (All bets are off in the postseason. It's pedal to the metal in October.) Severino is too young and too important to the franchise long-term to put his health at risk. My guess is the Yankees have a soft innings cap in mind and will monitor Severino in the second half. They'll work in extra rest days whenever possible and watch for signs of fatigue. And if he keeps throwing well, great. Getting to 200 innings is difficult to do anyway.
2. Cessa and Montgomery are in great shape. Both pitchers have been built up quite well over the years. Montgomery hasn't missed a start since high school, and he's got that big frame (6-foot-6 and 225 lbs.) that makes you think he'll be able to chew up innings year after year. He's on pace for 185-ish innings and that in no way seems to be a problem. That is the next step for Montgomery given his workloads the last few years.
As for Luis Cessa, he approached 150 innings last season, which in theory puts him in line for 180-ish innings this year. The thing is he spent some time in the bullpen earlier this year, and also as part of a six-man rotation with Triple-A Scranton, so his current innings total isn't has high as you'd expect in late June. Most pitchers have about 17 starts left this season, and if Cessa averages six innings per start, that'll get him to 180 innings almost on the nose. What are the chances of him making 17 starts and averaging six innings per start? Seems small.
Montgomery's workload is in good shape because he's been built up well the last few years. Cessa's workload is in good shape because he's been built up well and because his current innings total isn't as high as most other full-time starters at this point of the season. He's starting at a lower baseline from here on out.
3. Green might never start a game again. Chad Green is similar to Montgomery and Cessa in that he's been built up well the last few years. He threw between 130-150 innings each year from 2014-16. Green would have thrown more last year and finished closer to 160 innings had he not come down with a season-ending elbow issue in September. The Yankees could probably ask him for 170 or so innings this year without a problem.
Here's the thing though: Green is working as a reliever and has been for a while, and he's really starting to find a home in the bullpen. His fastball plays up and he's able to hide the fact he doesn't have much of a changeup. I know Green made that one spot start a few weeks ago, but I don't see that happening again. He's been too good in relief and the bullpen has been too crummy overall to take him away. The Yankees surely sketched out some sort of workload limit for Green coming into this season. Now that he's in the bullpen, he won't come close to hitting it (whatever it is), and that's okay.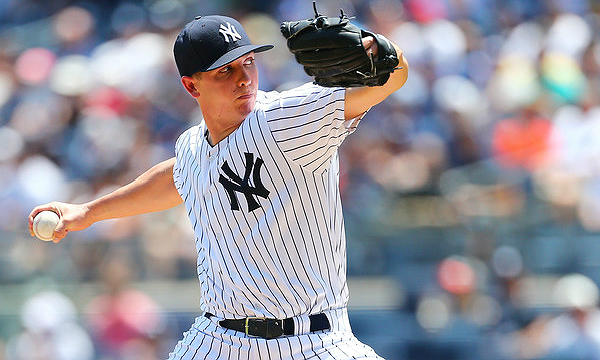 4. Injuries complicate things. Both Domingo German and Bryan Mitchell had pretty serious injuries in recent seasons, which complicates their workload situations. German missed all of 2015 and the first half of 2016 with Tommy John surgery. This is his first full season with his new elbow ligament and I doubt the Yankees are going to push him all that hard. His previous career high are those 123.1 innings in 2013. That number, or something close to it, might be his limit this season. German is on pace for 145 innings right now, though the longer he stays in the bullpen, the less likely he is reach to that number.
Mitchell, meanwhile, broke his toe covering first base in Spring Training last year. It was a dumb, fluke injury that sidelined him for four months and cost him plenty of innings. He'll exceed last year's innings total within the next week. That said, Mitchell is 26 and this is his final minor league option year. It's put up or shut up time, you know? That plus the fact he's been over 100 innings several times in the past leads me to believe the Yankees are just going to let him keep throwing. They won't be reckless about it, of course, but they'll let him pitch. Also, remember, Mitchell has been in the bullpen for much of the season, so his current innings total is lower than it would be had he been starting.
* * *
Girardi said the Yankees have not discussed a workload limit for Montgomery and Severino, though I don't buy that. Of course the team kick things around before the season. They do it with everyone. The Yankees and Girardi just don't want to tell us what those limits are because there's nothing to be gained from it. We've seen some ugly workload situations the last few years. Stephen Strasburg, Matt Harvey, etc. The Yankees want to avoid a situation like that, so they're not going to tell us the workload limits. I don't blame them.
Severino is going to be the young pitcher to watch going forward, for more reason than one. For starters, he's awesome! Secondly, he's on pace to top 200 innings as a 23-year-old, and the list of 23-year-olds to throw 200+ innings in recent years is a mixed bag:
Julio Teheran (221 innings in 2014)
Madison Bumgarner (201.1 innings in 2013)
Patrick Corbin (208.1 innings in 2013)
Clayton Kershaw (233.1 innings in 2011)
Trevor Cahill (207.2 innings in 2011)
Felix Hernandez (238.2 innings in 2009)
Jair Jurrjens (215 innings in 2009)
Chad Billingsley (200.2 innings in 2008)
Bumgarner, Kershaw, and Felix are great! Both Corbin and Jurrjens broke down almost immediately after their age 23 seasons, however. Billingsley and Cahill stayed productive a few more years before falling apart. Teheran endured a down age 24 season before getting things straightened out at age 25. Perhaps Severino will be the next Bumgarner or Kershaw or Felix. But do the Yankee want to risk him becoming Corbin or Jurrjens?
Severino threw enough innings the last two seasons that stretching him to 180 or so innings this year is not outrageous. And my guess is he has more of a soft cap. Like I said, the Yankees will watch him and look for signs of fatigue, and scale back when appropriate. The good news is both Montgomery and Cessa are in great shape with their workloads, ditto Mitchell to some degree, so if the Yankees do need to scale back on Severino at some point, they have the arms to cover those starts and innings.
The biggest workload limits are probably attached to German (Tommy John surgery in the not-too-distant past), Adams (converted reliever), and Acevedo (had some injuries last year). If we do see the Yankees shut someone down because they've thrown enough this year, it's probably going to be one (or more) of those three. The guys on the big league roster are in good shape. That doesn't mean the Yankees can throw caution to the win and let them pitch forever. It just means the chances of an innings cap related headache in September are relatively small.