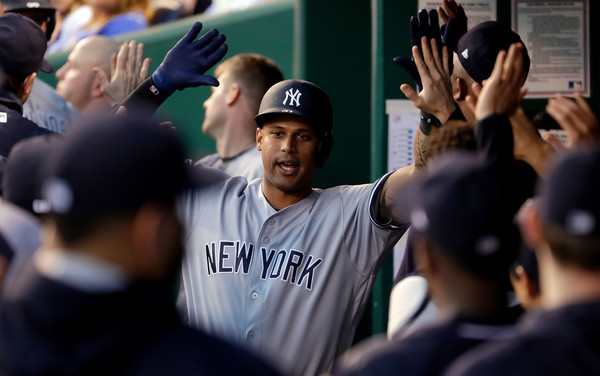 Later tonight nominal fourth outfielder Aaron Hicks will start a minor league rehab assignment with Triple-A Scranton. He's been sidelined since June 26th with a right oblique strain. Oblique injuries are really tricky. They're very easy to reaggravate. And because Hicks is a switch-hitter, he and the Yankees had to be extra careful during his recovery and rehab.
Prior to the injury the 27-year-old Hicks was enjoying a breakout season, a breakout season that had him in the All-Star Game conversation. He hit .290/.398/.515 (145 wRC+) with ten homers and nearly as many walks (15.3%) as strikeouts (17.4%) before getting hurt. Among the 281 players with at least 200 plate appearances this season, Hicks ranks 14th in OBP and 19th in wRC+. He was awesome.
Since Hicks got hurt, a whole lot has changed. The Yankees lost for the seventh time in nine games to blow their division lead the day Hicks got hurt. Now the Yankees have won seven of their last nine games to climb back in the AL East race. They're still only a half-game back following last night's loss. Also, Jacoby Ellsbury returned from the disabled list and has since been relegated to fourth outfielder duty, both by his play and Clint Frazier's play.
Simply put, when Hicks got hurt, the Yankees were trending down and it was not pretty. Now, with Hicks nearing a return, the Yankees are winning games and they've added several new players to the roster. Frazier came up from the system and all the trades brought in Todd Frazier, Jaime Garcia, Sonny Gray, David Robertson, and Tommy Kahnle. Hicks is returning to a much better and more formidable team.
Because he's missed more than a month and because he's a switch-hitter with two swings to hone, my guess is Hicks will need more than one or two rehab games. The plan might be to have him rejoin the team next Friday at the start of the next homestand. That would give him eight days worth of minor league games. Hopefully that's enough. We'll see. Whenever Hicks is ready to come back, the Yankees will have to make some roster decisions.
Opening A Roster Spot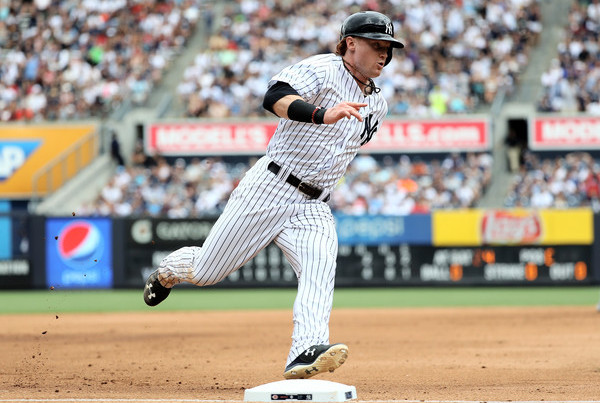 At the moment the Yankees are carrying a three-man bench with a backup catcher (Austin Romine), a backup infielder (Tyler Wade), and a backup outfielder (Ellsbury). They're also carrying six starters and seven relievers, and for at least one turn through the rotation, the Yankees will use all six starters. They say they're going back to a five-man rotation after that. Does that mean Jordan Montgomery to Triple-A? Garcia to the bullpen? Both are possible.
The easiest way to open a roster spot for Hicks would be sending down that 13th pitcher (whoever it is) and getting back to a normal four-man bench. As much as you may want them to, the Yankees are absolutely not going to release Ellsbury this year. At the very least, the Yankees are going to wait until the offseason to see whether they can unload him in a salary dump trade first. Saving even $4M or $5M a year on his contract is better than nothing.
The other option, which Brian Cashman has floated, is sending down Frazier. Man, if that happens, I will be Mad Online. I can't see it happening at this point. Frazier has been productive and the Yankees are in it to win it now. You don't go out and trade all those prospects only to turn around and send down Frazier, who has had an impact in his short time as a big leaguer. That's not putting the best roster on the field.
Remember, once upon a time the Nationals said they were calling up Bryce Harper only temporarily. Then he hit the snot out of the ball for a few weeks and they had to keep him around. Frazier is not Harper, but he is really good, and he is forcing the team's hand here. He's done enough to stick. The Yankees may have planned to send Frazier down when Hicks is ready, but plans have to be flexible. Plans change.
Now, that all said, one thing to keep in mind here is that September isn't far away. Assuming Hicks returns for the start of the homestand next Friday — again, that's just my assumption, not something the Yankees have confirmed — the Yankees could send Frazier down for three weeks, then bring him right back when rosters expand on September 1st. Reevaluate the roster situation at that time to figure out the best outfield alignment. It's an option. I hate it, but it's an option.
So, as things standing right now, the best way to get Hicks back onto the roster is to send down that 13th pitcher, likely either Montgomery or Chasen Shreve. No one else is going down. The other options are release Ellsbury (nope) or send down Frazier (please no). An injury could change things — Matt Holliday back on the disabled list with his mystery illness? — but right now, I'd say it's drop the 13th pitcher or bust for Hicks.
Finding Playing Time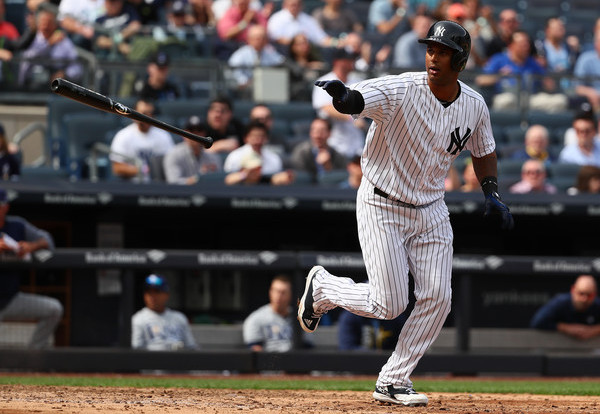 This interests me much more than opening a roster spot. Hicks was out of this world before the injury, and because of that, he belongs in the lineup once he gets healthy. So does Frazier. So does Brett Gardner and Aaron Judge. I know Judge has slumped since the All-Star break, but does anyone actually want him out of the lineup? No way. He could snap out of it at any moment. No one busts out of a slump sitting on the bench.
As it stands the Yankees have four outfielders who deserve to play everyday (Hicks, Frazier, Gardner, Judge) and a fifth outfielder on the 29th richest contract in baseball history. I'm glad the Yankees and Joe Girardi have reduced Ellsbury's playing time. It needed to happen. Now they're looking at the possibility of completely burying Ellsbury on the bench as the seldom used fifth outfielder. The right move? Sure. An awkward situation? Yup.
Four outfielders who deserve to play means the return of the outfield rotation, I assume. Gardner will sit against lefties and I guess Frazier and Judge will take turns sitting against tough righties. Hicks will get days off here and there as well. All four of those guys should play as much as possible, and it's up to Girardi to make it work. Ellsbury will have to be limited to pinch-runner and spot start duty. There's really no other way to use him.
The wildcard here is the DH spot. Holliday has been pretty terrible for weeks now. If he continues to be terrible, it's entirely possible the Yankees will scale back on his playing time, freeing up DH at-bats for the four regular outfielders and Ellsbury. "We continue to talk about it … (He) has had some good at-bats, but he really hasn't gotten back on track. I think he will but it hasn't happened yet," said Girardi to George King when asked about Holliday's slump recently.
The best case scenario is having too many good players. The Yankees don't want to sit Holliday to open DH at-bats for other players. They want Holliday to mash, Hicks to mash, and Judge and Frazier and Gardner to mash. And they want Ellsbury to mash too. The more good players, the better. Take the depth and the production and enjoy it while it lasts. Realistically, that won't happen. It's very rare that everyone is hitting at the same time. That's baseball.
Once Hicks returns, the Yankees will have to go back to the four-man outfield rotation, and maybe make it a five-man outfield/DH rotation should Holliday not get back on track. There's really no other way to do it. None of the three current outfielders deserve to be taken out of the lineup, yet Hicks played too well before his injury to go to the bench. The Yankees have to play him to see whether that was for real. Early season Hicks was the best non-Judge hitter on the team, remember.
* * *
For now, Hicks' return is at least a few days away and maybe more than a week away. Tonight will only be his first rehab game after more than a month on the shelf. A lot could change between now and the time Hicks is ready to be activated. Someone could get hurt, Frazier could play his way down to Triple-A, someone could get traded … who knows? Hopefully the Yankees have to make some tough decisions when Hicks returns. That'll mean everyone is playing well and no one deserves to lose playing time or a roster spot.