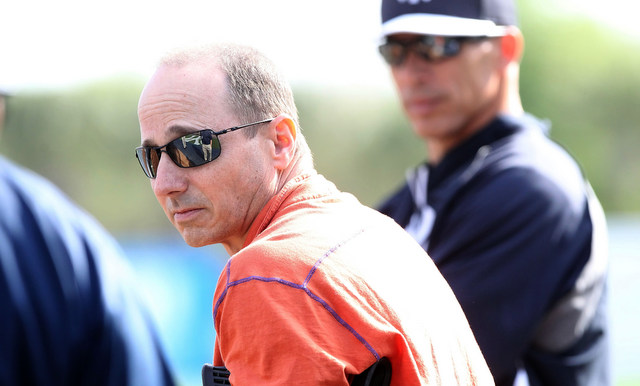 This morning Brian Cashman took a practice run rappelling down the Landmark Building in Stamford as part of the annual Heights & Lights Festival. He also spoke to reporters and passed along two important pieces of information, one surprising and one not so surprising. Here's the latest, via all the wonderful reporters in attendance.
Managerial interviews are over
First the surprising news: Cashman said the Yankees will not interview any more managerial candidates. The job will go to one of the six men they've interviewed: Carlos Beltran, Aaron Boone, Hensley Meulens, Rob Thomson, Eric Wedge, and Chris Woodward. (Mark Feinsand says a clear frontrunner emerged during the interview process.) Furthermore, Cashman said there will not be a second round of interviews in Tampa. The next step is making a final recommendation to Hal Steinbrenner and that'll be that.
Also, interestingly enough, Cashman said he consulted Alex Rodriguez several times during the process. A-Rod didn't want the job — "He never expressed interest in any way, shape, or form," said Cashman — but Cashman said he got Alex's insight on the various candidates. A-Rod and Beltran are super close. The fact this is all suddenly wrapping up, with the second round of interviews canceled, right after Beltran's interview is intriguing. Coincidence? Maybe. But intriguing. Anyway, a poll:
Who should be the next Yankees manager?
Yankees will pursue Shohei Ohtani
Now the not-so-surprising news: the Yankees will indeed pursue Ohtani, Cashman confirmed. They are prepared to let him both pitch and hit, which seems like a prerequisite for signing him. Here's a snippet of what Cashman said about Ohtani:
"It's a big stage here and it's meant to have the best talent to play on it. Ohtani represents the next great talent that is available in the world of baseball. This stage is made for players like this … This is an impact type player that we feel would make us better. I think we have a great situation going on here with a lot of young players … I think he'd be a perfect fit for us."
Ohtani was officially posted earlier today, and already there are some wild rumors floating around. He's narrowed his list down to three teams! He doesn't want to play with another Japanese star! I get the sense we're going to hear lots more stuff like that over the next three weeks. For now, all we know for certain is that Ohtani has been posted, and Cashman said the Yankees will pursue him.
Yankees tender all eligible players
One last quick note: the Yankees tendered all their eligible players contracts prior to today's deadline, the team announced. Can't say I'm surprised. Austin Romine was the only real non-tender candidate and I never thought the Yankees would actually non-tender him, and they didn't, so there you go.