The following is a guest post from Adam Moss, who goes by Roadgeek Adam in the comments. He's previously written guest posts on Tim McClelland, Frankie Crosetti, the No. 26, Casey Stengel, Leo Durocher, Miller Huggins, Jerry Kenney, the Copacabana incident, Mark Koenig, Earle Combs, Urban Shocker, Michael Milosevich, and Snuffy Stirnweiss.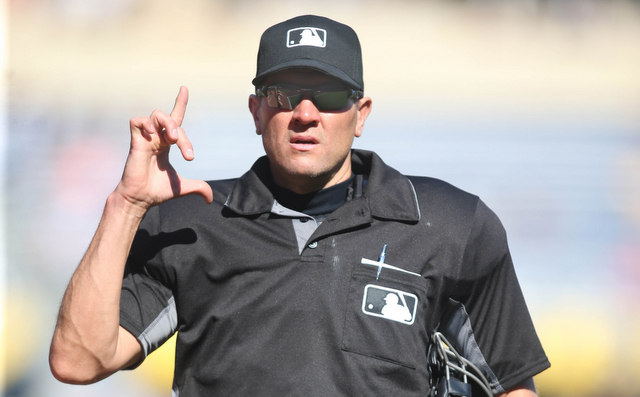 Man, that last series was something sort of exciting. Unfortunately Aaron Judge's strike zone was not. The umpires managed to make it hard for him to do anything. That ALDS crew is gone and none are repeating on this ALCS crew. In this series, we will have an interesting set up because of the seven-game series. Instead of the same six umpires, it is a seven man crew, with one serving as replay coordinator during the series. As a result, there are seven umpires on this report, and it is an interesting list.
Chad Fairchild – No. 4 (HP Game 1 / Replay Coordinator Gms 3-7)
Chadwick Jarrett Fairchild will lead off the American League Championship Series at Minute Maid Park. Immediately, we are stuck with a horrid nightmare for Aaron Judge. Chad Fairchild has a very anti-right handed batter strike zone. Fairchild has a propensity to call more strikes inside out of the zone to righties than lefties. (We saw the opposite with Jeff Nelson in ALDS Game 5.) Fairchild's statistics read rather rudimentary, with 8.3 K/9 and 8.3 H/9. His numbers also include a 4.01 ERA with a 1.30 WHIP. Hitters had a .246/.315/.421 batting line, which makes a lean towards a pitchers' umpire, especially inside to righties, but it may be a bit subjective.
The Sandusky, Ohio native definitely has a big enemy in Cincinnati. Catcher Devin Mesoraco has been ejected not once, but twice, arguing Fairchild strike calls, one with him behind the plate. Fairchild made his MLB debut on September 30, 2004 at the Trop between a game between the Devil Rays and the Detroit Tigers. The Yankees have a limited experience with his right arm (which he has utilized 32 times in his career). His first two MLB ejections were of Paul Quantrill and Joe Torre, when the former nailed Jason Smith in replacement of Mike Mussina on May 24, 2005. We only saw him once this season behind the plate, July 7 during the Brewers/Yankees series.
Hunter Wendeltstedt – No. 21 (HP Game 2)
The son of the legendary umpire Harry Wendelstedt, Hunter Wendelstedt is the home plate umpire for the second game of the American League Championship Series. An anonymous scouting report describes Wendelstedt well and it comes down to this: he is inconsistent. He will lose focus during games for reasons I cannot explain and will be willing to call strikes and balls like throwing darts. That 2010 scouting report also stated that it seemed like Wendelstedt preferred you put the ball in play. The last sentence backs up his 2017 statistics. In 27 games this season, Wendelstedt managed to have a 4.41 umpire's ERA (good for 44th) and a 1.36 WHIP (really high). Wendelstedt averages 8.7 H/9, 3.5 BB/9, and 8.2 K/9. Hitters have a .254/.328/.434 line with Wendelstedt behind the plate. Scouting report: hit the ball. Things are more likely to go your way.
Wendelstedt made his MLB debut at Coors Field on April 19, 1998 (of course, a 10-7 win for Colorado over Atlanta) and like his late father, was hired by the National League. He has 77 ejections since his debut and seems to manage at least 2 a season. Once again, there is no history with the New York Yankees in terms of ejections. However, he has the honor of ejecting Ron Gardenhire not once, not twice, not even three times, but five times. We have seen Hunter behind the plate several times this season: June 28 at Comiskey II, and June 9 against the Orioles at the Stadium.
Gary Cederstrom – No. 38 (HP Game 3 – Crew Chief)
The mellow North Dakotan is the crew chief for the American League Championship Series and he calls the first game at Yankee Stadium. His strike zone is more famous in Willets Point as he is the proud owner of Johan Santana's strike zone for his June 1, 2012 no-hitter. At the same time, we all know that Santana was a bit wild that night. However, his number reads towards average to hitter's strike zone. Despite this, you can see that hitters really swing with Cederstrom behind the plate. He has a 4.76 umpire's ERA (15th of 92) and a 1.40 WHIP. Batters have a .267/.330/.440 batting line, which is insanely pro-hitter. Cederstrom also gave an average of 9.4 H/9, 8.6K/9, and 3.2 BB/9. Probably wise to say you like to swing with Gary.
Cederstrom, from Bismarck, North Dakota, made his MLB debut on June 2, 1989 at Comiskey Park in a game between the Twins and the White Sox. If you want to know why he's mellow, I have never once seen him angry as an umpire, even during situations where a player or manager is yelling at him, he never raises his voice. The man is really mellow. He has 40 ejections since his debut, which is insanely low per average for an umpire in the league 25+ years. The Yankees experience is three ejections: one of Paul O'Neill on June 2, 1995 for arguing balls and strikes after a groundout. That was literally his first ejection in over four years at that point. His other ejections with the Yankees are a little more unusual. Jason Grimsley threw over the head of Edgar Martinez then nailed him on the second pitch, promptly being ejected. Doug Eddings ended up ejecting Joe Torre. In the top of the 9th, Frank Rodriguez nailed Chuck Knoblauch and while Lou Piniella and Don Zimmer spent time arguing with Cederstrom, Frankie Rodriguez yelled at the Yankees bench and the benches cleared. Joe Girardi took on Rodriguez himself and ended up being ejected for fighting. Humorously, Derek Jeter and Alex Rodriguez, both kids at this point, stood aside and started talking while this all was going on. Why YouTube has not found this fight yet is beyond me. I want to see it. We saw Cederstrom behind the plate three times this season. The first was on June 4 at the Rogers Centre; July 15 at Fenway Park and September 20 at the Stadium against the Twins.
Chris Guccione – No. 68 (HP Game 4)
I would say Game 4 features an umpire not on Joe Girardi's Christmas card list. These two have butted heads on multiple occasions. He is dealing with Game 4 behind the plate. Game 4 will be super crazy zone. Hoo, boy. Chris Guccione has a written off mess for a strike zone and it shows statistically, with a 4.78 ERA, and a 1.40 WHIP. He also has a 9.3 H/9 strike zone, 3.3 BB/9 and the absurdly high 9.2 K/9. Hitters have a .265/.335/.443 hitting line, and looking at a random sample strike zone, he is all over the map: either squeezing or being expansive. We could be looking at literally anything in Game 4.
The native of Salida, Colorado made his MLB debut on April 25, 2000 in a 1-0 game between the Atlanta Braves and the Los Angeles Dodgers at Turner Field. This is his second ALCS, the last being 2012 (with the Yankees and the Tigers). Strangely that season and this season are the only ones in which he does not have an ejection at all. Guccione has 57 ejections, including three of Joe Girardi. He has been tossed once as Marlins manager on August 5, 2006 and twice as Yankees manager (May 22, 2008, his first as a Yankee manager; and May 5, 2016 at Camden Yards). Otherwise, nada. No other Yankees. The Yankees have also not seen his strike zone this season. Only series he was with the Yankees, he never worked the plate.
Jerry Meals – No. 41 (HP Game 5)
Nineteenth Inning Nightmare makes his return in Game 5, if it occurs. Jerry Meals, one of your best definitions of average umpires. This is his first Championship Series in 10 seasons, and his numbers read insanely average. 4.36 ERA, 1.36 WHIP with 8.8 H/9, 8.0 H/9 and 3.4 BB/9. He is an average umpire. Nothing outright amazing, and nothing to really pick on to watch out for in Game 5, if we get that far. If it helps, he was the home plate umpire for Kerry Wood's 20 strikeout game.
I'd say Meals has a hot head for his short stature. The native of Butler, Pennsylvania made his MLB debut on September 14, 1992 in a barnburner between the Chicago Cubs and the New York Mets at Wrigley Field. Since then, he has amassed 49 ejections, two with the Yankees: Joe Torre on April 17, 2001 at Rogers Centre and Joe Girardi on May 4, 2009 at the Stadium. He also ejected Joe as manager of the Marlins on May 19, 2006. That said, the one game that stands in his history came on July 26, 2011 in a game between the Atlanta Braves and the Pittsburgh Pirates. That game went 19 innings (10 of them without Nate McLouth and Fredi Gonzalez, both tossed in the 9th for arguing balls and strikes). However, the way the Braves walked-off was insanely controversial as he blew an obvious call at home in the 19th inning with Julio Lugo scoring on a throw. I watched that game, and those who know me know I love 20 inning games. Thanks to that play, the name Nineteen Inning Nightmare was born. If you want to make your own decision, here is the play:
We only saw Meals behind the plate once this season, July 3 at the Stadium behind the Toronto Blue Jays. Hopefully the Yankees and the Astros do not go 19 innings.
Jim Reynolds – No. 77 (HP Game 6)
Jimmy Reynolds starts his fourth Championship Series this week and his third in three years. Reynolds is a textbook definition of hitter's umpire. In 30 games this season, Reynolds has a 4.51 ERA (38th of 92) with a 1.42 WHIP, 9.2 H/9, 3.5 BB/9 and 8.2 K/9. The .265/.335/.453 batting line also backs up the hitters ump projection. However, if you are a righty batter you are in for another headache, because Reynolds leans towards giving inside strikes to right-handed batters than left-handed ones. It could be an ugly nightmare in Game 6 for right-handed hitters.
The Marlborough, Massachusetts native made his MLB debut on June 4, 1999 at Fenway Park in an interleague game between the Boston Red Sox and Atlanta Braves. He was one of the 25 umpires hired after the mass resignation scandal with the umpires went awry. He has 36 ejections in his career since being hired, which is about average. However, he has none of the Yankees. Despite that, he did eject Joe Girardi in Chicago on April 9, 2000 for a call at second base. That was Reynolds' second ever ejection. Girardi's pitching coach, Larry Rothschild was his first ever ejection on July 25, 1999 for arguing a call at 1st base while manager of the Devil Rays. Serving under Joe West's crew, we did not see his strike zone behind the plate this season.
Mark Carlson – No. 6 (HP Game 7 / Replay Coordinator Gms 1-2)
Mark Carlson is our seventh and final umpire this series and we will not see him on the field until Game 3. I am sure he is happy Carlos Zambrano is not. Zambrano went nuts on him on this play at the plate, which was a correct call. Nyjer Morgan scored before Zambrano tagged him. The former Marine is an average umpire and the 8.8 H/9 innings, 3.2 BB/9 and 8.3 K/9 would agree with that. So would the .256/.323/.440 batting line. (The slugging is on the high side, but that is a nitpick.)
The Joliet, Illinois native Carlson made his MLB debut on June 11, 1999 at Wrigley Field in a game between the Chicago White Sox and Chicago Cubs. Since then, he has amassed 53 ejections (on the high end for an umpire debuting in the 1998-2001 range). He has never ejected a Yankee, but amassed 11 ejections in 2003, including four in one game on July 13, 2003 between the San Diego Padres and the St. Louis Cardinals. Unfortunately there is no video of this fight on YouTube. We saw Carlson's strike zone three times behind the plate this season: April 27 at Fenway Park, August 9 at the Rogers Centre, and September 24 at Rogers Centre. Let us pray we do not see it again.