Only five questions this week, but one has a really long answer. The best way to send us anything throughout the week is via the Submit A Tip box in the sidebar.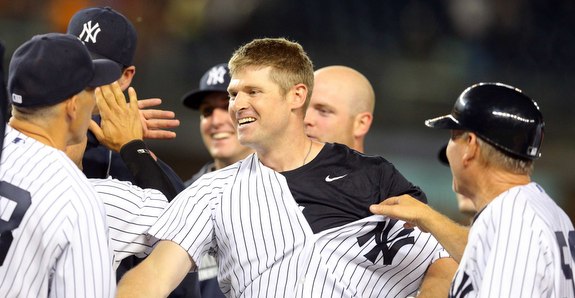 Justin asks: What would a fair contract for Chase Headley be? I know he hasn't set the world on fire here, but he seems to be involved in a lot of rallies and his defense speaks for itself. I know re-signing him would in theory block Rob Refsnyder, as it would lock Martin Prado in at 2B, but I don't see that as a major hurdle as there is almost no way the combination of Carlos Beltran, A-Rod, and Mark Teixeira don't miss significant time next year and Prado would likely move somewhere to fill in in such times.
I am pretty terrible at estimating free agent contracts and I feel especially lost on what it will take to sign Headley. Is he going to look for the biggest payday possible? That's never a bad idea in my opinion, especially at age 30. Will he be open to a one-year "pillow contract" to re-establish his value and then look for the biggest payday next winter? That's what Adrian Beltre did with the Red Sox a few years ago.
The pillow contract idea is pretty risky, especially since Headley has hit only .234/.310/.350 (90 wRC+) this year after putting up a 113 wRC+ last year. Excellent defense is great, but it's getting harder and harder to put up big offensive numbers, and that's what gets guys paid. Can Headley get back up to, say, .270/.340/.430 with a full season in Yankee Stadium and without the pressure of having to be The Man offensively? Maybe, but who really knows. Baseball is hard.
I don't think Headley would have any trouble getting $10M on a one-year pillow contract. Maybe $10M plus incentives. Teams have shown they're willing to pay big dollars to keep the term short. The biggest possible contract for Headley at this point probably ranges between two years and $15M (Juan Uribe) to three years and $39M (Aramis Ramirez). Headley and Uribe are actually very similar players as standout defenders with average-ish bats, though Headley is several years younger with an MVP caliber season to his credit. Uribe has two total disaster years (2011-12) on his resume.
Ramirez and Headley are not at all the same type of player — Aramis is all bat while Headley's value comes primarily from his glove — but Ramirez's deal is the largest given to a non-Beltre free agent third baseman since A-Rod. Headley isn't getting Beltre money (five years, $80M) but he'll probably get more than Uribe. Aramis is right in the middle there. Headley's free agent stock is very hard to gauge because he's in his prime years and has shown he can be a solid offensive player, but he's also the type of player who always leaves you wanting more.
The Yankees will need a caddy for Alex Rodriguez next year and Prado could always play second base — I'm not worried at all about blocking Refsnyder, I want the Yankees to have as many good players as possible — so there's an obvious place for Headley on the 2015 Yankees. I'd absolutely love to get him back on a pillow contract, but I would be wary of giving him three years at something like $27M to $30M or so. I like Headley, he fits the team well, but the Yankees need impact hitters at this point and he isn't one.
JonS asks: Maybe I haven't been paying attention and SSS and all that, but does it seem like Michael Pineda is a LOT more efficient since he's been back?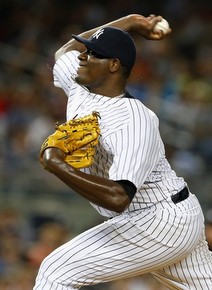 The difference between Pineda and other young big stuff prospects was always his command and ability to pound the strike zone. He had a 2.07 BB/9 (5.7 BB%) while in the minor leagues with the Mariners from 2006-10, then he followed that up with a 2.89 BB/9 (7.9 BB%) with Seattle during his rookie year in 2011. Pineda threw 54.1% of his pitches in the zone that year, the 14th highest rate among the 94 qualified starters according to PitchFX. Remember, he was a 22-year-old rookie back then, and 22-year-old rookies are not known for filling the zone.
Pineda has a 0.97 BB/9 (2.9 BB%) in seven starts and 37 innings overall this year, throwing 54.7% of his pitches in the strike zone. That is broken down into a 1.37 BB/9 (3.9 BB%) walk rate and a 52.6% zone rate in 19.2 innings before getting hurt and a 0.52 BB/9 (1.6 BB%) walk rate and a 57.0% zone rate in 17.1 innings since coming off the disabled list. Pineda also averaged 3.94 pitches per plate appearances before getting hurt and is at 4.00 pitches per plate appearance since coming back, so he really hasn't been more efficient. About the same in terms of pitches per batter. The important thing is that Pineda is healthy and pounding the zone, which indicates he hasn't lost confidence in his stuff.
Matt asks: Is there any available data about a manager's success at challenges? I've heard people mention it before, and after the challenge at the plate with Jacoby Ellsbury (against the Royals) the ESPN guys mentioned it again. Seems like Joe Girardi is doing very well.
There sure is. Baseball Savant has a database of all manager's challenges. Heading into yesterday's action, calls have been overturned only 46.92% of the time this year, which really surprises me. I thought the overturn rate would be much higher since, you know, managers get the thumbs up or thumbs down from their video people before challenging. You'd think a system like that would have a pretty high success rate. I guess a lot of managers are rolling the dice on super close plays.
Girardi is 19-for-24 (79.17%) at getting calls overturned this year, which is obviously excellent compared to the 46.92% league average. In fact, that is the highest overturn rate in baseball. The Marlins are a distant second at 72.73% and no other team was over even 65% heading into yesterday. I'm sure there's an element of luck here — super close players without what seems to be conclusive evidence going your way, for example — but that is pretty remarkable. Girardi and everyone involved in the team's video review process have done a fantastic job this year.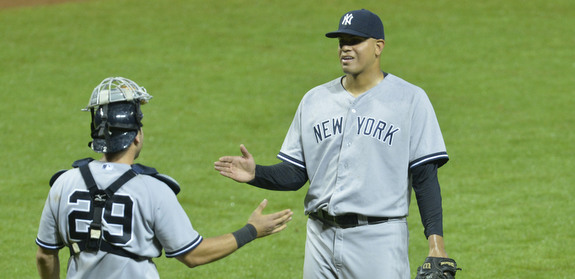 Ryan asks: If Shane Greene keeps pitching the way he is and the Yankees make the playoffs, could he be considered in the running for Rookie of the Year? Same thing with Dellin Betances, does he have a legitimate shot at winning it?
Jose Abreu has the Rookie of the Year already in the bag and deservedly so. He went into last night's game hitting .312/.371/.602 (164 wRC+) with 33 homers, and voters will love that he's leading the league with 96 RBI. Masahiro Tanaka was the only player (in the league, not just with the Yankees) with a realistic chance to challenge Abreu, and his Rookie of the Year chances went down the drain as soon as he got hurt.
Betances has been awesome and he'll definitely get some Rookie of the Year votes, maybe even a stray Cy Young or MVP vote, but there's no way he's beating out Abreu. The slugging first baseman is always going to trump the setup reliever in awards voting. Greene has been very good as well but he'll finish the year with fewer than 100 innings pitched. What makes him more deserving than, say, Matt Shoemaker of the Angels (3.33 ERA and 3.38 FIP in 110.2 innings)? Nothing, really. Greene's been great but I don't see him getting any Rookie of the Year votes. The ballot is only three players deep, remember.
JPK asks: A lot will change, but as currently structured how you stack the top of the order next year? Do you bat Prado between Brett Gardner and Ellsbury or do you go some order of Ellsbury and Gardner 1-2?
I'd definitely go with Ellsbury and Gardner in the one-two spots with Prado lower in the lineup, ideally seventh or eighth. That's not a knock on Prado, I just hope the team adds some true middle of the order bats this winter. It would be awesome if Prado bats eighth because the lineup is so deep, but batting him fifth because they don't have anyone else? Nope. Ellsbury is at his absolute best as a leadoff hitter because he creates so much havoc, and Gardner's on-base ability and newfound power make him a nice fit for the two-hole. Ellsbury's completely miscast as a number three hitter, I wouldn't do that again next year. Prado would make sense as the number two hitter if the Yankees didn't have the other two guys under contract.