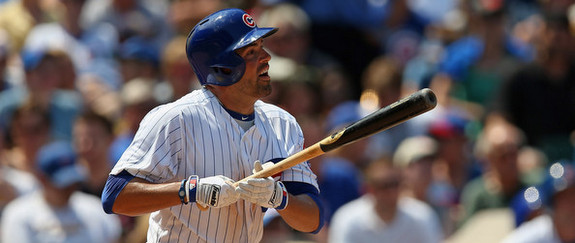 The Yankees might not have a bigger hole to fill this offseason than in right field, were they're losing Nick Swisher's consistently well-above-average production to free agency. The free agent market offers few viable alternatives and the trade market always seems to be overloaded with aging players on over-sized contracts. Since the Bombers are looking to get under the $189M luxury tax threshold by 2014, long-term and big money contracts are out of the question for the time being.
The best places to look for trade candidates are rebuilding teams, and perhaps no club outside of Houston is in the middle of a more extensive rebuild than the Cubs. Chicago's north-siders didn't just lose 101 games this year, they finished with the franchise's worst record in nearly 60 years. The new Theo Epstein-led regime has cleaned house since taking over 12 months ago, trading pretty much every established player on the roster other than Starlin Castro and Matt Garza. They likely would have dealt the latter at the deadline as well had he not gotten hurt.
One of the few free agents the Cubbies signed last winter was the Brooklyn-born and New Jersey-raised David DeJesus. The 32-year-old outfielder has spent most of his career with the Royals, but they traded him to the Athletics a year before he was scheduled to hit free agency. Now that he's signed with one of baseball's most historic franchises, all he has left to do to complete the Johnny Damon circle of life is spend his last years as a productive big leaguer in pinstripes. Let's see if DeJesus is a fit for the Yankees…
The Pros
Over the last three years, the left-handed hitting DeJesus has hit a solid .270/.350/.405 (108 wRC+). As you'd expect given the park effects, the worst of those three years came while with the Athletics (96 wRC+). He's primarily a pull hitter (2012 spray chart, 2010-2012 spray chart), which fits Yankee Stadium well.
DeJesus' game is all about controlling the strike zone. He owns a 9.4% walk rate over the last three years, including a career-high 10.5% this season. He's also struck out just 15.0% of the time since 2010, making contact on 86.6% of his swings. Those two rates aren't elite, but they're solidly better than the league average.
Outside of a fluke torn thumb ligament in 2010 — you might remember him suffering the injury crashing into the Yankee Stadium wall (video) — DeJesus hasn't missed more than about a week due to injury since the 2006 season.
DeJesus has spent considerable time in all three outfield spots throughout his career, and the various metrics have rated him as an average or better defender in the corners throughout the years.
The Cubbies signed him to a two-year deal worth $10M last offseason, and he's owed $4.25M in the final guaranteed year next season. There's also a $6.5M club option for 2014 ($1.5M buyout).
The Cons
DeJesus has never really been able to hit lefties, but his struggles have become extreme these last two years. He hit a tolerable .289/.338/.374 (90 wRC+) against southpaws from 2008-2010, but since the start of last year it's a .163/.256/.195 (30 wRC+). Among the 227 players to bat at least 200 times against lefties these last two years, exactly zero have been less productive. He's been that bad.
You're not getting much power or speed with DeJesus. He's hit just 24 homers (.135 ISO) and gone 14-for-28 in stolen base attempts the last three years. He has taken the extra base a slightly above-average 46% of the time since 2010, however.
DeJesus doesn't have a strong outfield arm, which limits his usefulness in right. Not a big deal, but it's probably worth noting.
I don't put much stock in this, but DeJesus has not only never played in the postseason, but he's never even played for a team that finished the year with a winning record. A pennant race will be an entirely new experience for him.
There has been no indication that the Cubs are shopping DeJesus, but I'm going to go out on a limb and say they're open to moving him given their extreme rebuilding phase. They've focused primarily on pitching prospects but have taken whatever they could get over the last year or so. Epstein & Co. are seeking quality over quantity.
The neat thing about DeJesus is that we serves as his own trade comparable. When the Royals traded him to the Athletics during the 2010-2011 offseason, he had one year left on his contract ($6M) and was coming off a career-high 127 wRC+. Two years later, the Cubs would be trading him with one year left on his contract ($5.75M) and coming off a career-average 104 wRC+. The price should not have gone up, and if anything it should have gone down. Oakland sent the Royals one up-and-down big league arm (Vin Mazzaro) and a Single-A pitching prospect (Justin Marks) two winters ago, so perhaps a package of Adam Warren and a low-level arm gets it done. Seems pretty reasonable, actually.
I've never been a huge DeJesus fan but he's always been a solid player. These days you need a platoon partner and can't count on him to hit double-digit homers or steal double-digit bases or run down everything in right field, so his value stems almost exclusively from his ability to draw walks and put the ball in play. It would be a downgrade and a noticeably different style of play than what Swisher brought to the table these last four years, but considering what figures to be a reasonable price and a short-term contract commitment (the club option is pretty nice), the Yankees might not find more bang for their buck this winter.