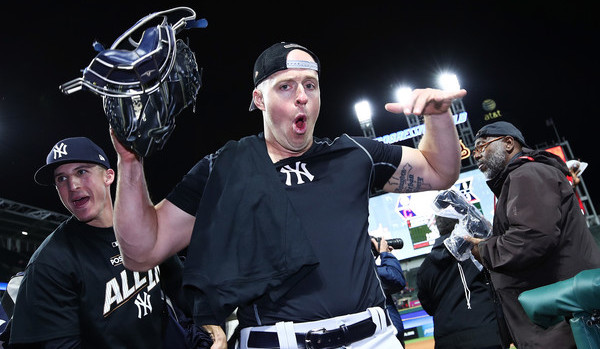 Triple-A Scranton lost two big league veterans today. The Yankees announced they have traded catcher Erik Kratz to the Brewers for cash or a player to be named later and released first baseman Adam Lind. Catcher Wilkin Castillo was signed out of an independent league yesterday to replace Kratz.
Releasing Lind is the more significant move. It tells us the Yankees are confident Greg Bird is fully recovered following ankle surgery. He is expected to join the team tomorrow, so that's fun. Lind was essentially lefty hitting first base insurance in case Bird's rehab was slowed or he suffered a setback.
As for Kratz, I wonder if he had an opt-out in his contract coming up (June 1st?), and indicated he was planning to use it. If so, the trade means the Yankees get something in return, and something is better than nothing. The Brewers have some catcher issues — Stephen Vogt is done for the season with shoulder surgery — hence the trade for Kratz.
With Kratz gone, Kyle Higashioka is the unquestioned third catcher on the depth chart. He is already on the 40-man roster and was probably third on the depth chart even while Kratz was in the organization. The Yankees have not yet announced a roster move to clear a spot for Bird, though Tyler Austin to Triple-A seems likely. Austin would effectively replace Lind as the team's first baseman.