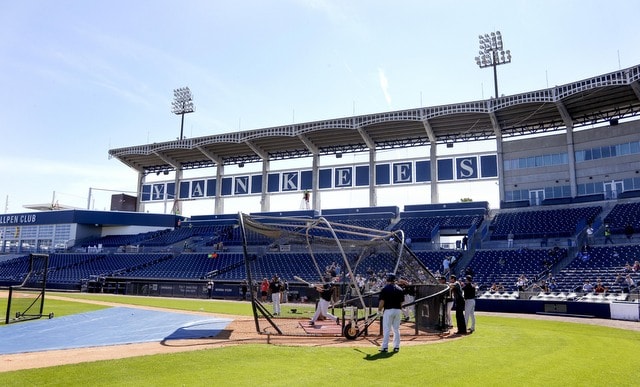 Pitchers and catchers report to Tampa three weeks from tomorrow, and at some point soon, likely within the next two weeks, the Yankees will announce their 2018 Spring Training invitees. These are non-40-man roster players who get a chance to come to big league camp to strut their stuff. Some non-roster invitees are top prospects, some are middling prospects, and some are veteran journeymen trying to hang on.
Generally speaking, teams bring 20-25 non-roster players to Spring Training each year. Last year the Yankees initially invited 23 non-roster players before adding a few more within the first few days of camp. It was a World Baseball Classic year, so they needed extra bodies around while guys were away playing for their country. This is a normal year though, so 20-25 non-roster players. That sounds about right.
The Yankees still have a strong farm system despite the recent trades and graduations, and many of their top prospects are already on the 40-man roster, so they'll be in camp automatically. Four of MLB.com's top seven Yankees prospects are on the 40-man, so yeah. Spring Training is a great time to prospect watch. We'll get a chance to see pretty much all the team's best prospects at some point, 40-man roster or otherwise.
So, with Spring Training inching closer and non-roster invitees soon to be announced, now is a good time to preview the non-40-man roster players the Yankees could bring to camp this year. Last year I predicted 24 non-roster players and 20 of the 24 actually got the call, so go me. Hopefully I'll have a similar success rate this year. Anyway, let's get to the potential non-roster players.
Catchers
Every team brings lots of catchers to Spring Training each year because hey, who is supposed to catch all those bullpen sessions? That's really all there is to it. There are lots of pitchers in camp who need regular work to get up to speed, and teams can't overload three or four catchers early in camp. Imagine making Gary Sanchez squat four hours a day to catch bullpens before games even start? Nope. Not gonna happen. The Yankees will again bring plenty of non-roster catchers to camp.
My Prediction: Francisco Diaz, Erik Kratz, Chace Numata, Jorge Saez. Kratz re-signed on a minor league deal a few weeks ago and as a big league veteran who spent September with the Yankees and traveled with the team in the postseason, it's safe to assume he'll be in camp as a non-roster player. Diaz and Saez are organizational depth catchers who were in camp last year. (Diaz re-signed as a minor league free agent earlier this winter.) The Yankees picked up Numata a few weeks ago and given the fact he has Double-A experience, it makes sense that he'd get the call for Spring Training. Sanchez, Austin Romine, and Kyle Higashioka are on the 40-man, making it seven catchers total for Spring Training.
Infielders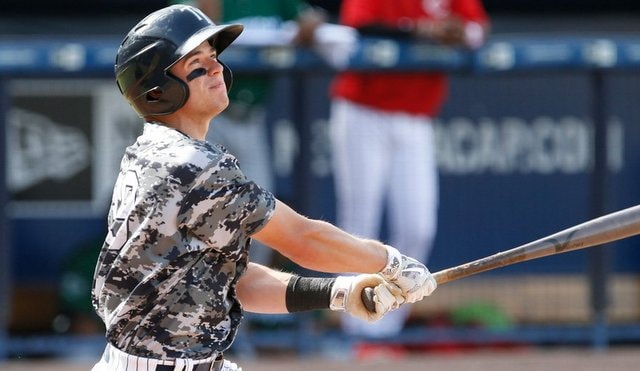 The infield mix this spring should be pretty interesting. The Yankees have openings at second and third bases, and while youngsters like Gleyber Torres and Miguel Andujar may be the favorites for those jobs, I have to think the team will cover their bases and bring in plenty of options. Torres, Andujar, Tyler Wade, Thairo Estrada, and Ronald Torreyes are all on the 40-man already. Those are your top five second/third base candidates.
On the prospect front, Nick Solak strikes me as a logical non-roster player given his status as a recent high draft pick (second round in 2016) and success at Double-A last season (.286/.344/.429 for a 112 wRC+), even though it came in a 30-game cameo. My hunch is Kyle Holder will get some non-roster time as well. He's another recent high draft pick (supplemental first round in 2015) who had a good-ish year in 2017. The Yankees like him enough that they sent him to the Arizona Fall League. I think Holder gets the invite as basically the last infielder and is among the first cuts.
Younger lower level infield prospects like Hoy Jun Park, Dermis Garcia, Diego Castillo, and Oswaldo Cabrera aren't non-roster material. Big league camp isn't the appropriate place for them at this point in their careers. The Yankees will, however, bring another first baseman to camp. Greg Bird and Tyler Austin are the only 40-man players at the position now. The Yankees tried to re-sign Ji-Man Choi, who recently signed with the Brewers. I imagine they'll target another Triple-A first baseman. Looking at the list of free agents … maybe Tyler Moore? We'll see.
I also expect the Yankees to bring in another veteran infielder on a minor league deal. They've already signed Jace Peterson, but remember how many infield spots they have to fill. There's second, third, and the backup spot at the MLB level. Then there's second, third, short, and the backup spot in Triple-A. That's seven infielders. Right now the Yankees have Torres, Andujar, Wade, Estrada, Torreyes, and Peterson for six of those seven spots. So yeah, another minor league contract infielder is coming.
My Prediction: Holder, Solak, Peterson, an infielder yet to be signed, and a first baseman yet to be signed. If the Yankees don't sign a first baseman — that would really surprise me, but I suppose it's not impossible — Ryan McBroom would be the third Spring Training first baseman almost by default. Billy McKinney, who is on the 40-man and started playing first in the Arizona Fall League, also figures to see time at the position.
Outfielders
Last year the Yankees invited two non-roster outfielders to camp: Clint Frazier and Dustin Fowler. Frazier, assuming he isn't traded between now and reporting date, is on the 40-man and will be in camp automatically. Fowler is with the A's. The Yankees are overloaded with outfielders at the moment, so they have more than enough bodies to cover all those innings during Grapefruit League play.
Now, that said, the Yankees tend to bring their very best prospects to camp each season, which means Estevan Florial is a good bet to receive a non-roster invite. He went to the Futures Game last year, finished the season with a quick Double-A cameo, and went to the Arizona Fall League. And he is one of the 100 or so best prospects in baseball. Even though he turned only 20 in November, Florial is sufficiently top prospecty enough for a non-roster invite at this point of his career.
My Prediction: Florial. That's it. Other outfield prospects like Isiah Gilliam, Rashad Crawford, and Alex Palma are a no. Keep in mind the Yankees have nine outfielders on the 40-man at the moment: Frazier, McKinney, Jabari Blash, Jake Cave, Jacoby Ellsbury, Brett Gardner, Aaron Hicks, Aaron Judge, and Giancarlo Stanton. Peterson and Wade can also play the outfield. The Yankees are plenty covered.
Right-handers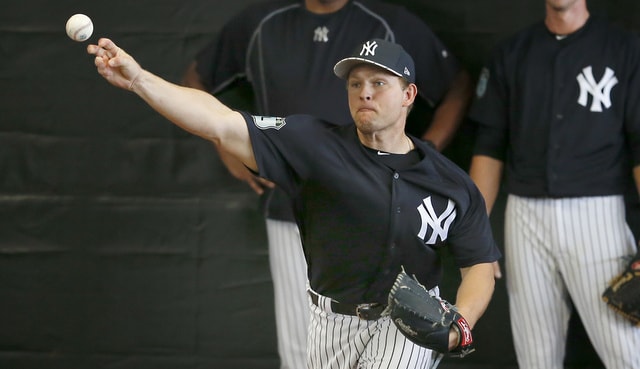 The Yankees have more high-end young pitching in the farm system than at any point in the last 10-15 years. One small problem: Most of it is in the low minors. Teenagers like Matt Sauer, Luis Medina, Roansy Contreras, and Deivi Garcia aren't coming to big league camp. They don't belong there. They're not ready for it. Even the Single-A guys in their early-20s like Freicer Perez and Taylor Widener won't get invited. It's not their time. Clarke Schmidt, last year's first round pick, is still rehabbing from Tommy John surgery, so he won't get a non-roster invite. There's no point.
Even ruling out the generally inexperienced lower level guys, the Yankees have no shortage of quality right-handed pitching prospects to invite to camp. Chief among them: Chance Adams and Dillon Tate. Adams was in camp last season and could be the first guy called up when a sixth starter is needed this season, so of course he's coming to camp. Tate was not a non-roster guy last year, but now that he has some Double-A time under his belt, it stands to reason he'll get the invite.
On the bullpen side, I think J.P. Feyereisen will return to big league camp this spring — he was in camp last year — even though he didn't have a great 2017 season and was passed over in the Rule 5 Draft. He's someone who could find himself in the big leagues rather quickly if he starts the season well and the Yankees have a need. The Yankees will want the new coaching staff to get to know him. Same with Cody Carroll, last year's breakout relief prospect, who finished the season in Double-A and dominated in the Arizona Fall League.
My Prediction: Adams, Carroll, Feyereisen, Tate, Brady Lail, and a minor league contract guy yet to be signed. I get the feeling a depth arm signing is coming. As for Lail, he was a non-roster player each of the last two years, so the Yankees like him. Maybe they don't like him as much now after a tough Triple-A season last year (5.17 ERA and 4.76 FIP), but I'm going to play it safe and say he gets another invite. There are always innings to be soaked up. Reminder: Albert Abreu, Domingo Acevedo, and Jonathan Loaisiga are all on the 40-man roster. They'll be in camp. I'm looking forward to seeing Johnny Lasagna. Moreso than another other non-40-man prospect this spring.
Left-handers
Realistically, there's only one worthwhile left-handed pitching prospect in the organization: Justus Sheffield. Sheffield is the Yankees' top pitching prospect overall and he was in camp as a non-roster player last year, so of course he'll be back this year. He made only two appearances totaling 3.2 innings last spring. I'd bet on a little more action this time around.
James Reeves and Stephen Tarpley are the two other non-40-man southpaws worth a mention. Reeves was actually in camp as a non-roster player last spring, but he suffered an elbow injury early on and didn't pitch. Once healthy, he had a 1.96 ERA (2.18 FIP) with 26.6% strikeouts and 4.7% walks in 46 innings, and he reached Double-A. Reeves has a classic low arm slot left-on-left matchup profile …
… the kind of profile that seems to be dying out around baseball, but the Yankees like him enough to bring him to camp last spring, and after he season he just had, I expect him to be back in big league camp this year. As for Tarpley, he had an unreal 2017 season, throwing 41 innings with a 0.88 ERA (2.85 FIP) and a strong strikeout rate (26.9%) but a not-so-strong walk rate (11.5%). The numbers are good, but Tarpley went unpicked in the Rule 5 Draft last month, and teams usually gobble up any left-hander they think has a chance to be useful. Hmmm.
My Prediction: Sheffield, Reeves, Tarpley, and Wade LeBlanc. LeBlanc is on a minor league contract with an invite to camp, so he'll be there. I think Tarpley gets an invite because the Yankees are short on 40-man roster lefties — the only southpaws on the 40-man are Aroldis Chapman, Jordan Montgomery, CC Sabathia, and Chasen Shreve — and clubs generally like to bring in plenty of lefties just to take inventory. See who could be an option at some point, you know?
* * *
Putting it all together, we come away with 20 non-roster players. Here is the breakdown:
Catchers (4): Diaz, Kratz, Numata, Saez
Infielders (5): Holder, Solak, Peterson, mystery infielder, mystery first baseman
Outfielders (1): Florial
Right-handers (6): Adams, Carroll, Feyereisen, Lail, Tate, mystery minor league signing
Left-handers (4): Reeves, Sheffield, Tarpley, LeBlanc
That's probably not enough players. Last year the Yankees had 23 non-roster players initially before adding a few others during the first days of camp. They had 26 non-roster players in camp in both 2015 and 2016. My total of 20 potential non-roster players is light. There will be a few more players in camp.
Like I said, the Yankees are almost certainly not done signing journeymen like Kratz, Peterson, and LeBlanc to minor league deals. The Yankees had five veterans (Choi, Jason Gurka, Ruben Tejada, Donovan Solano, Pete Kozma) on minor league deals in camp last spring, for reference. A few more signings are coming and will get the non-roster list over 20 names.
Also, it's entirely possible the Yankees will be more open to bringing lower level prospects to camp this spring. Maybe they let Donny Sands catch some bullpens, or give Park a taste of big league life, or let someone like Perez or Widener air it out for a few innings to showcase them as trade chips. Those 20 names above are the core non-roster players. A few minor minor league signings and a surprise prospect or two (like Daniel Camarena last year) figure to round out this year's crop of invitees.