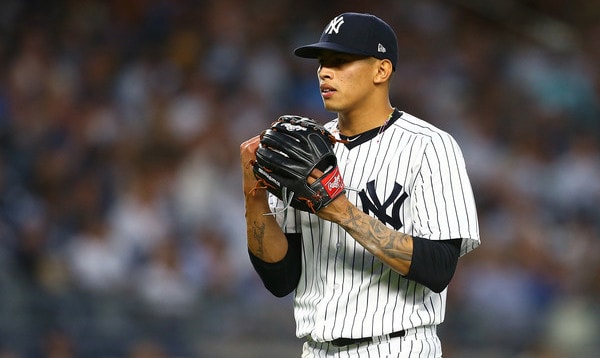 In the current age of baseball a 25-man roster is not enough. Teams have an active 25-man roster each night, yes, but there are also a handful of players in Triple-A who shuttle back and forth as needed. New middle relievers are brought in almost daily and teams even swap out bench players for matchup purposes going into a series. There's the 25-man roster and a Triple-A taxi squad.
Last season 49 different players appeared in a game for the Yankees, and that doesn't include Ryan Bollinger and Domingo Acevedo, who were called up for a day (twice, in Bollinger's case) but did not appear in a game. A total of 1,379 players appeared in an MLB game last season, or 46 per team on average. The Blue Jays led the way with 63 different players, three more than any other team. The Rockies and Astros used only 41 players apiece, somehow.
The Yankees no longer have a top notch farm system but they do have a good farm system. So much of their talent is in the lower minors though, and thus is not a realistic option to be called up this year. The Triple-A taxi squad will likely feature many players we've seen already, either guys who were up last year in a similar capacity, or filled a similar role with another team. Some young minor leaguers, some veteran journeymen.
Because the Triple-A roster is now an extension of the MLB roster, I think it's important to look at the projected Triple-A roster to figure out who fits where, and who could be a call-up option. On paper, the big league roster is fairly set. The Yankees don't have many open spots or undecided roles, which makes this exercise a little easier. There's not as much guesswork as usual. Let's start with position players. Here are the Triple-A roster candidates. An asterisk (*) denotes a player on the 40-man roster.
| Catchers | Infielders | Outfielders | Utility |
| --- | --- | --- | --- |
| Francisco Diaz | Mandy Alvarez | Trey Amburgey | Devyn Bolasky |
| Kyle Higashioka* | Greg Bird* | Billy Burns | Billy Fleming |
| Ryan Lavarnway | Thairo Estrada* | Clint Frazier* | L.J. Mazzilli |
| | Mike Ford | Jeff Hendrix | Ryan McBroom |
| | Kyle Holder | Matt Lipka | |
| | Gosuke Katoh | Zack Zehner | |
| | Gio Urshela | | |
| | Luke Voit* | | |
| | Tyler Wade* | | |
At the moment the Yankees have one bench spot unaccounted for at the big league level. That's it. Assuming another three-man bench/eight-man bullpen, the other eleven position player spots have been accounted for already. Injuries could change things, of course, and they will, but right now all but one of the 12 position player spots are filled. That makes life easy here. Let's go through the Triple-A position players.
Catcher: Always the easiest position. Gary Sanchez and Austin Romine are locked into big league roster spots, leaving Higashioka (the up-and-down third catcher) and Lavarnway (has MLB time) for Triple-A Scranton. Diaz figures to bounce between Double-A and Triple-A as needed, which he's done the last few seasons. Higashioka and Lavarnway will be Scranton's catchers.
Infielders: Earlier this month Brian Cashman said Voit will be the big league starting first baseman "unless Bird beats him out," and right now my guess is Bird will not beat him out in Spring Training. Voit was the starter to finish last season and I'll bet on him being the starter to begin this season. We can remove Voit from Triple-A consideration.
That said, I think the chances of Bird getting the final big league bench spot are annoyingly high. He seems immune to being sent down. Even last August, after Voit took the first base job, the Yankees kept Bird on the bench rather than send him down for at-bats. I don't get it. If he loses the first base job, he should be sent down, but I just can't shake the feeling he's going to be the final bench guy.
Because of that I'm going to assume Bird is in the big leagues, meaning Wade and Estrada are definitely in Triple-A, as is Ford. Urshela has big league time and was the RailRiders' best hitter late last season, so he'll of course be in Triple-A as well. That's the starting infield right there. Urshela, Estrada, Wade, and Ford around the horn. Holder's going to play everyday in Double-A, not sit on the Triple-A bench. That leaves Alvarez and Katoh for possible bench roles. We'll get to them in a bit.
Outfielders: Bird getting the final MLB bench spot means Frazier goes to Triple-A, which is fine with me. He missed the end of last season with post-concussion symptoms and getting him regular at-bats in the minors wouldn't be the worst thing. I expect Frazier to be at least platooning with Brett Gardner in left field by the end of the season, if not playing the position on an everyday basis. For now, he's Scranton bound.
Burns has big league time and is ticketed for Triple-A. Lipka getting an invite to Spring Training leads me to believe the Yankees are not planning to send him down to Double-A, where he played most of last year. If Lipka is ticketed for Triple-A, it leaves Amburgey, Hendrix, and Zehner for the fourth outfielder's spot. Zehner has spent the last year and a half in Triple-A and Hendrix has spent the last year and a half in Double-A. Hmmm.
Amburgey had a good but not great year in Double-A last season and, if Lipka is going to Triple-A, I think Amburgey goes back to Double-A to play every day. If the Yankees are willing to send Lipka to Double-A, then Amburgey would go to Triple-A. My hunch is Lipka to Triple-A, Zehner as Scranton's fourth outfielder, and Amburgey and Hendrix to Double-A. Once the inevitable injury or call-up strikes, Amburgey or Hendrix gets moved up.
Utility: We have two catchers (Higashioka, Lavarnway), four infielders (Estrada, Ford, Urshela, Wade), and four outfielders (Burns, Frazier, Lipka, Zehner). That leaves two open position player spots and, honestly, these are easy calls. It should be Mazzilli and McBroom. They have the most Triple-A time among the remaining players and they'd allow Alvarez and Katoh to play everyday in Double-A. Bolasky and Fleming are organizational utility guys who've been bouncing from level-to-level the last few years. No reason to think they won't do it again.
The Triple-A position player side of things was pretty easy this year because the Yankees have all but one of their big league position player spots filled. Last year we were trying to figure out what to do with Miguel Andujar and Gleyber Torres. That's not the case now. Anyway, for the heck of it, here's a potential RailRiders' lineup based on everything we just talked out:
1. 2B/SS/3B Tyler Wade
2. 2B/SS/3B Thairo Estrada
3. OF Clint Frazier
4. 1B/DH Mike Ford
5. 1B/DH Ryan McBroom
6. 3B/SS Gio Urshela
7. C Kyle Higashioka
8. OF Billy Burns
9. OF Matt Lipka
Bench: C Lavarnway, IF Mazzilli, OF Zehner
The RailRiders had some absurdly strong lineups last year before injuries and the trade deadline thinned out the roster. The projected 2019 lineup I have above is quite strong for Triple-A. Devoid of prospects (Estrada is the only actual prospect in that lineup now that Wade and Frazier have graduated to MLB) but still strong. The RailRiders will score some runs this coming season. Now let's get to the pitching staff.
| Starters | Righty Relievers | Lefty Relievers |
| --- | --- | --- |
| Domingo Acevedo* | Cale Coshow | Rex Brothers |
| Chance Adams* | Raynel Espinal | Danny Coulombe |
| Luis Cessa* | J.P. Feyereisen | Phil Diehl |
| Nestor Cortes | Joe Harvey* | Stephen Tarpley* |
| Domingo German* | Ben Heller* | |
| Drew Hutchison | Tommy Kahnle* | |
| Brian Keller | Brady Lail | |
| Mike King | | |
| Jonathan Loaisiga* | | |
The Sonny Gray trade means the Yankees now have two open big league bullpen spots. By no means do I think this is set in stone, but it wouldn't surprise me if Cessa and Kahnle have a leg up on those two bullpen spots because they are out of minor league options and can't be sent to Triple-A without passing through waivers. I don't think either would clear. If A.J. Cole got claimed earlier this month, Cessa and Kahnle would get claimed.
Because of that, I'm going to assume Cessa and Kahnle are getting the final two big league bullpen spots for the purposes of this exercise. I'm also assuming Heller won't be ready to pitch Opening Day. He had his Tommy John surgery on April 7th last year and is likely looking at a May or June return. We can remove him from consideration for the RailRiders' pitching staff. There are 20 names in the table. Removing Cessa, Kahnle, and Heller leaves up 17 candidates for the 13-man Triple-A pitching staff.
Starters: Is it me or does this seem completely obvious? Adams, German, Hutchison, King, and Loaisiga should be the Triple-A Scranton starters to begin the season. Keller is a fringe prospect who was just okay with Double-A Trenton last year. Sending him back there is no big deal. Cortes has done the Triple-A swingman thing plenty already and I think he's headed for that role again.
That leaves Acevedo, who has a strong case to begin the season in Triple-A after throwing 144 very good (2.63 ERA and 3.06 FIP) innings with Double-A Trenton the last two years. There is a numbers crunch here though. Adams, German, King, and Loaisiga are legitimate prospects (German's exhausted his rookie eligibility but you know what I mean) who need to work on things in Triple-A and also stay ready for a possible call-up. Hutchison didn't sign with the Yankees to be a Triple-A long man.
Because of that, I think Acevedo is ticketed for a return to Double-A to begin the season, which is not the end of the world. Someone will get hurt or traded or called up before April ends, at which point Acevedo can come up and assume the rotation spot. Besides, after missing so much time last year, I kinda want to see Acevedo miss bats in Double-A again (20.2% strikeouts last year) before moving him up. Adams, German, Hutchison, King, Loaisiga is the tentative Triple-A rotation in whatever order, and I feel pretty good about that.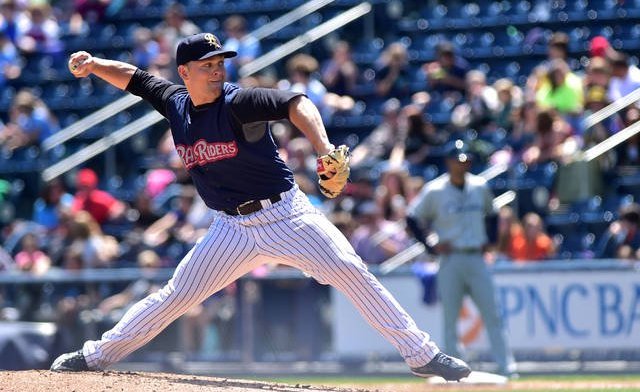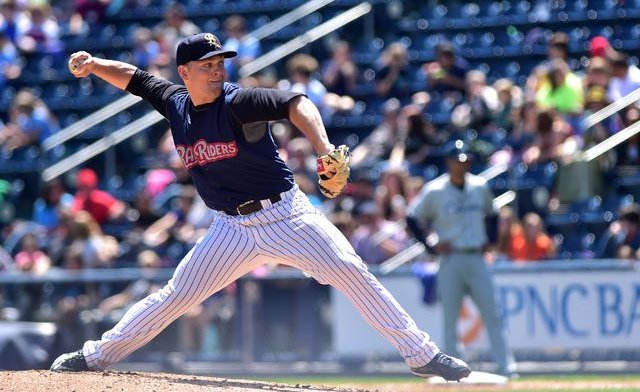 Relievers: Cortes is likely to again serve as the heavily used swingman — part of me wonders whether the Yankees would use a six-man rotation in Scranton to begin the season (probably not) — and the rest of the bullpen falls into place behind him. Espinal and Harvey were a dynamite setup man/closer combination for the RailRiders last year and they'll do it again this year. Tarpley will join them as a late-inning option.
Brothers and Coulombe have big league time and are on minor league contracts, so they're going to Triple-A, not Double-A. Coshow and Feyereisen spent most of last year in Triple-A as well and it's safe to expect them to return to Scranton to begin the season. That's eight relievers right there. Here's our final product pitching staff:
Starters: Adams, German, Hutchison, King, Loaisiga
Relievers: Brothers, Cortes, Coshow, Coulombe, Espinal, Feyereisen, Harvey, Tarpley
That assumes Kahnle and Cessa are in the big leagues and Heller will still be rehabbing come Opening Day. Acevedo, Keller, and Diehl go to Double-A. Diehl threw only 26.2 innings at Double-A last year, so going back there to begin this season is no big deal. Lail draws the short straw and is the odd man out, but he bounced back and forth between Double-A and Triple-A last year, and doing it again wouldn't surprise me. He's been passed by several others in the organization, like Harvey and Tarpley.
I should note it is not uncommon for a Triple-A team to carry nine relievers and two bench players at various points throughout the season, especially in April, when young starters are still getting stretched all the way out. Lail's the obvious candidate to be the ninth reliever and I imagine McBroom would get dropped from the position player group to open a spot. Zehner has more Triple-A time and Mazzilli can play anywhere. McBroom rode the Double-A/Triple-A shuttle last year and he'd do it again this year.
Update: I completely forgot about the recently signed Danny Farquhar. He's obviously going to Triple-A. I think that would mean Coshow gets pushed down to Double-A since he struggled with the RailRiders last year. My bad.
Wade (infield), Frazier (outfield), and Higashioka (catcher) are poised to be the regular up-and-down position players this season. Estrada lost essentially an entire season to injury last year and figures to stay in Triple-A to make up for that lost time. Pitching staff call-ups are a little more up in the air because they depend as much on who's available (so and so started yesterday, etc.) as they do who the Yankees want to call up. Because the MLB roster is fairly set right now, piecing together the Triple-A team is fairly straightforward. At least until injuries and call-ups throw a wrench into things.