Got five (really six) questions this week, the last mailbag before the madness of the winter meetings. Send in your questions via the Submit A Tip box in the sidebar.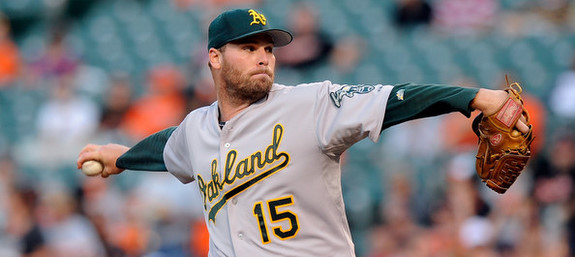 Biggie asks: What is Ben Sheets' status? I thought he was going to miss just one year. Could he be a buy low option for the Yanks? I haven't heard about him since March of last year. Thanks!
Yeah, I haven't heard anything about him recently either, and I spent entirely too much time digging through Google News archives to find an update. His August 2009 elbow surgery was more extensive than I realized, I thought it was regular old Tommy John surgery. Apparently he had the ligament replaced and also had his flexor tendon and pronator tendon repaired. It was his second time having the flexor tendon fixed. "I have no idea," he replied when asked if he'd ever pitch again shortly after the surgery. "My arm will tell me."
Sheets is 33 years old now and he hasn't been an effective pitcher since 2008 (4.71 FIP with the Athletics in 2010), so it's tough to expect anything from him at this point. Then again, we all saw what Bartolo Colon did last year. CC Sabathia and Sheets did play together for half-a-season in 2008, so there is a tiny bit of a connection there. Like I always say, I'd give pretty much anyone a minor league pact, but there's no way you could offer him anything more than that.
Mark asks: Given the strengthening trend of teams locking up their young stars and the potential backlash to overpaying for non-premium players in their early-30s, do you think MLB will see a dramatic correction in free agent prices – similar to 2003-2005?
I think we're starting to see it already with Jonathan Papelbon's contract (four years and $50M) and all these sucky middle infielders getting two guaranteed years. Given the new restrictions on draft and international free agent spending, teams figure to start locking up their best young players even more than they are now because it will be tougher to replace them down the road. Simple supply and demand, there will be fewer quality free agents out there but still approximately the same number of holes to fill. I'm sure the agents are thrilled.
Craig asks: I don't think the Yankees should take this drastic an approach to get rid of A.J. Burnett, but is there any precedent of teams packaging a bad contract and a prospect in order to entice another team to take on the dead weight?
The only thing close to thins that I can think of is the Hanley Ramirez-Josh Beckett swap. The Marlins insisted that Mike Lowell and the $18M left on his contract be included in any trade involving Beckett, but even then they still got a really good haul because Beckett was 25 years old and coming off a three pretty good years.
The Yankees aren't exactly in the position to give away a starter at the moment, even one as miserable as Burnett has been for the last two years. He's still good for innings every five days, and he buys the kids in Triple-A a little more time. I don't see why they should eat a big chunk of his contract and trade a prospect just to get rid of him, it's just a bad allocation of resources.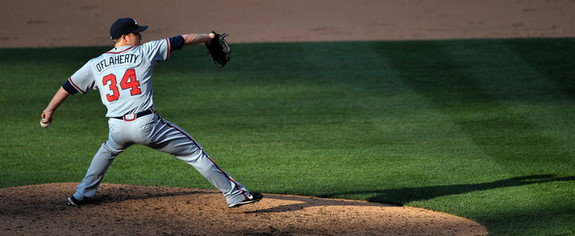 Dustin asks: What are the chances the Yankees could get Eric O'Flaherty from the Braves for Eduardo Nunez? Also what do you think of potentially going after Gavin Floyd? Most seem interested in Garza and Danks, but Floyd is pretty good and would probably be significantly cheaper when compared to the other Chicago pitchers.
I don't love Eduardo Nunez, but I'd want more for him than a lefty reliever, even a good one like O'Flaherty. The middle infield market tells us that he's worth more than that, whether we want to believe it or not. O'Flaherty's really really good, but the Yankees need bench help more than they need bullpen help.
As for Floyd, he'd be another fine pickup for the rotation. I don't think he'll be as good as Garza going forward, but he and Danks are pretty much on the same level in my eyes. Danks' left-handedness is nice, but Floyd is under contractual control for two more seasons (assuming his 2013 option is exercised), not just one. I think the White Sox prefer to hang onto him for that reason, but I also don't think he's off limits. I do think it would also make him a little more expensive to acquire in a trade, but I've been wrong before and I'll be wrong again.
Dan asks: If the 2012 season was starting tomorrow with no significant additions to the roster … player egos be damned, what would be your everyday batting order?
Against left-handed pitchers, I'd go…
Derek Jeter, SS
Curtis Granderson, CF
Robinson Cano, 2B
Mark Teixeira, 1B
Nick Swisher, RF
Andruw Jones, LF – pretty please re-sign
Jesus Montero, DH
Alex Rodriguez, 3B
Russell Martin, C
The guys in the 2-3-4 sports are pretty interchangeable to me, I wouldn't argue those three occupying those three spots in any order. A-Rod's struggles against southpaws is now a two-year thing rather than a possible one-year fluke, and there are simply too many other guys in the lineup that mash lefties. No disrespect, but that's where he belongs. If Jones doesn't come back, then just bump everyone up a notch and bat Gardner ninth. Against right-handers, it would be…
Brett Gardner, LF
Curtis Granderson, CF
Robinson Cano, 2B
Alex Rodriguez, 3B
Mark Teixeira, 1B
Nick Swisher, RF
Jesus Montero, DH
Derek Jeter, SS
Russell Martin, C
Just like A-Rod can't hit lefties, Jeter can't hit righties. He did manage to post a .307/.362/.376 batting line against them after coming off the DL this past season, but I'm going to need to see a lot more (it's only 223 at-bats) to forget about the year-and-a-half before that. It's tempting to put Montero a spot or two higher, but he just doesn't have to track record to justify it at the moment.