Got seven questions for you this week. Use the Submit A Tip box in the sidebar to send us anything throughout the week. Don't be discouraged if I don't pick your question. Usually it comes down to not having the room/time or simply not knowing the answer.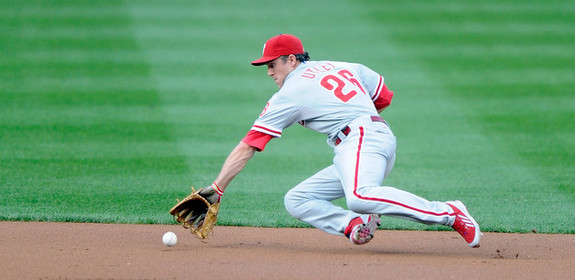 Chris asks: How about a trade for Chase Utley? Good idea and what might it take?
Yes, please. Forget about his insanely hot start — hitting .462/.517/.769 (247 wRC+) with seven doubles and three homers in 58 plate appearances — the 2011-12 version of Utley (112 wRC+) would do just fine for me. He's a power hitting left-handed second baseman who draws a lot of walks and plays strong defense. He also has no platoon split and some experience playing first base. Oh, and he's an elite base-runner even though he doesn't steal as many bases as he once did. Utley would be a wonderful addition to any team, but especially the Yankees since they have a black hole a second base.
The problem is that Utley signed a two-year, $25M extension with the Phillies last season, taking a discount to remain with the team rather than test the free agent waters. Given the market, I think he could have gotten three or maybe even four guaranteed years as a free agent. I'm sure his hometown Dodgers would have been all over him. Utley has a partial no-trade clause and I have no idea what teams are included, but, more importantly, he's beloved in Philadelphia and the only way the Phillies would trade him is as part of a total rebuild. I'd have no trouble giving up two top prospects to get him. Gary Sanchez and Manny Banuelos? Plus a third, lesser prospect? Fine by me. Utley would be a legitimate five or six win upgrade for the Yankees this year.
Aaron asks: If the D'Backs continue to struggle would the Yankees be more interested in Aaron Hill or Martin Prado?
Man, the Diamondbacks are just awful this year. The rotation especially. It could be historically bad. Both Hill and Prado would fit the Yankees' need at second base, though they are different players who wind up providing similar value. Hill (7.3 fWAR from 2012-14) is more of a power hitter and average defender while Prado (7.8 fWAR from 2012-14) is a contact hitter and above-average defender. They are both owed similar money t00, $33M-35M through 2016. Prado can play third and left field, so he has that going for him. Either guy would work for the Yankees, but if I have to pick one, I'll go with Prado because he does more things well and is two years younger. If either hits the trade market, the Yankees should be interested.
Daniel asks: If the Yankees are truly still not interested in Stephen Drew, is it because they are waiting to see what happens with the extension talks with the Dodgers and Hanley Ramirez? Or are they just trying to ride out what they have?
I don't think the Yankees are waiting for Hanley and I don't think they should. Sure, he's a great player and all that, but it seems likely he will sign a huge extension with the Dodgers rather than test free agency after the season. They Dodgers have said they want to keep him, Ramirez has said he wants to stay, and reportedly the two sides have been talking about a contract. Besides, Hanley wouldn't help the Yankees at all this year, and even if they did sign Drew, there would be room on the roster for both next season. At this point, I have to think there is something in Drew's medicals that are scaring teams away. The state of the shortstop position around the league is too terrible for him to still be unemployed because of draft pick compensation.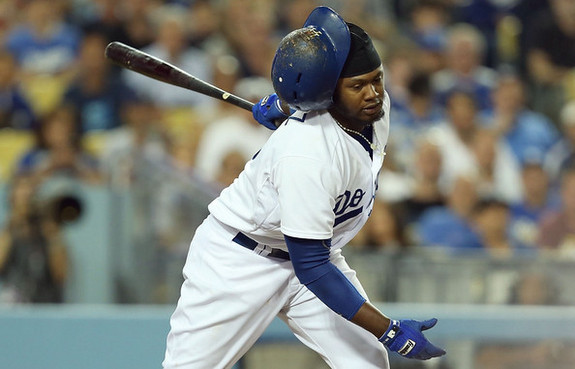 Tom asks: Although it's still rather early to even think about it, which free agents in next year's class do you see the Yankees making a push for?
Hanley would be at the top of that list for pretty obvious reasons. The other big names are Max Scherzer, Chase Headley, and Pablo Sandoval. Since the team already has two huge pitching contracts on the books, I think they will steer clear of Scherzer. Headley seems more likely than Sandoval because the Yankees almost always lean towards the guy who walks and works the count. Plus I think there has to be at some concern Sandoval will eat himself out of the game if you give him $100M or so guaranteed. Here's the list of free agents for the upcoming offseason. Other potential targets include J.J. Hardy, Asdrubal Cabrera, Aramis Ramirez, Chris Denorfia, Jason Motte, Luke Hochevar, and Luke Gregerson. That's just my speculation, of course.
David asks: How excited can we get about Michael Pineda and Masahiro Tanaka after these first two three starts? They have both shown flashes of dominance (especially Big Mike) but to what extent do we need to temper expectations?
Get excited. Very excited. I'm more excited about Tanaka personally only because Pineda's shoulder is still in the back of the my mind, and guys who have had arm problems tend to continue having arm problems throughout their career. Tanaka has a (much) deeper arsenal and isn't as reliant on pure velocity as Pineda, which is another thing to consider. The best part is that this isn't some one or the other hypothetical. Both are actually on the team. If you're not going to get excited about these two 25-year-olds after these last few weeks, then what the hell is the point of it all?
Jack asks: Barring injury, who among the current five starting pitchers will be the first to be permanently replaced because of poor production? And when that happens who will be given the first shot at taking over the spot?
Let's be realistic about this: CC Sabathia and Tanaka are not going anywhere because of their contracts. Hiroki Kuroda has earned a very long leash after the last two years and, given his first few starts, I have no reason to think his performance will fall off so much that the team wants to replace him. That leaves Pineda and Nova, and I guess it's a toss up. Pineda seems more likely to be knocked out of the rotation by injury than poor performance, and Nova has already lost a rotation spot (2011 and 2013) due to poor performance. If I have to choose, I'll say Nova. But I don't think any of these guys loose their spots for anything but injury this year.
nycsportzfan asks: Hey Mike, was wondering if Joe Girardi wasn't are manager and you could have anyone else in his place, who would it be? For me, it'd be Clint Hurdle.
I'm not sure. A big part of the manager's job happens behind closed doors in the clubhouse, and we don't know anything about that stuff. In terms of on-field moves, I've always felt Padres manager Bud Black does a really good job of putting his players in a position to succeed, either through pinch-hitters or reliever usage or whatever. Giants manager Bruce Bochy and Athletics manager Bob Melvin are both good at that stuff as well. I think you'd have to consider Joe Maddon and Buck Showalter as well. Gun to my head, I'd go with either Black or Melvin. I'll say Melvin because he has experience managing in the AL.