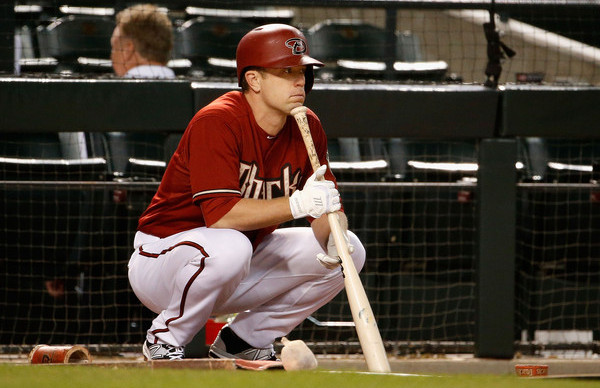 Over the last few years the Yankees have made a habit of bringing in low cost, potentially washed up veterans late in the offseason to see if they can strike gold. Sometimes it works (Eric Chavez, Raul Ibanez), sometimes it doesn't (Vernon Wells). Such is life. With a one open bench spot — and a backup third baseman in theory only — the Yankees could make a similar move in the coming weeks.
One apparently washed up veteran who could be a fit for that open bench spot is Diamondbacks infielder Aaron Hill, who Jon Heyman says is on the trade block. Arizona wants to move him because they have a younger and better option in Brandon Drury. Hill hasn't been good for two years now, but he could have something left to offer in a limited role as the 25th man on the roster. Should the Yankees be interested? Let's see.
The Performance
Like I said, Hill has not been very good the last two seasons. He hit .244/.287/.367 (78 wRC+) with ten home runs in 541 plate appearances in 2014, then followed it up by hitting .230/.295/.345 (71 wRC+) with six home runs in 353 trips to the plate last season. Yikes. That's a .238/.290/.359 (75 wRC+) batting line in his last 894 plate appearances.
The last time Hill was actually good was the 2013 season, when he hit .291/.356/.462 (124 wRC+) with 11 homers in 362 plate appearances. Interestingly, Hill pulled the ball much more often that season than he has the last two years. Check it out:

Hill's soft and hard contact rates have held fairly steady the last four years and they've been better than average as well. (League averages are 18.6 Soft% and 28.6 Hard%.) The drop in pull rate is the biggest difference — Hill's ground ball and fly ball rates have stayed in the same range the last few seasons — which could be an indication his bat is slowing. He might not be able to get around on the ball as quickly as he once did.
At the very least, you'd want someone in what would be Hill's role to be able to hit pitchers of the opposite hand. He's a right-handed batter, and, well, his numbers against lefties the last few seasons are not good at all.

Hill actually hit righties (77 wRC+) better than lefties (58 wRC+) last season. And man, those walk and strikeout rates are bad news. They're both going in the wrong direction.
It's not even clear Hill is a potential platoon candidate at this point. Not great! Second basemen have been known to completely fall off a cliff in their early-30s, and it looks like that may have happened with Hill. Two years ago he was incredibly productive. The last two seasons have been a total disaster.
The Defense
Like most big league second baseman, Hill came up through the minors as a shortstop before shifting to the other side of the bag. He was a full-time second baseman from 2007-13 before the D-Backs stopped playing him everyday in the second half of 2014 because he stopped hitting. Hill has played a little over 1,350 innings at second base and roughly 350 innings at third base the last two years.
The defensive stats were always split on Hill at second base. UZR liked him there while DRS said he was below-average, for example. Based on the eye test, he seemed solid at second, not great but not a liability either. The stats are also split on his work at third base in that tiny sample. Point is, Hill is not some kind of standout gloveman like, say, Juan Uribe. He's also not unplayable like Pedro Alvarez. You can run him out there at second and third bases on occasion and he won't kill you.
Injury History
Hill doesn't have any significant long-term injury concerns like, say, Alex Rodriguez's hips. He missed a few games last September with a hamstring pull and missed two months in 2013 when he took a pitch to the hand and broke a bone. Otherwise Hill has dealt with nothing more than random day-to-day stuff the last few seasons. A tight hammy, jammed fingers from sliding into a base, that sort of stuff.
Contract Status
The D'Backs gave Hill a three-year extension worth $35M back in February 2013 — he had one year left on his current deal at the time, so they tacked another three years on top of it — and so far that deal has been a disaster. It started in 2014. Woof. Hill is owed $12M next season, the final year on that contract. He'll be a free agent next winter.
What Would It Take?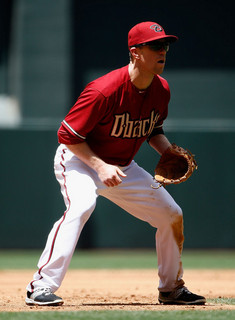 I don't know what it would take, but I do know what it should take: almost nothing. An Aaron Hill trade should be similar to the Vernon Wells trade in that the acquiring team gives up nothing in particular and takes on a little bit of cash. The Yankees ate 25% of the money owed to Wells in that trade, and 25% of the money owed to Hill is $3M. Even that seems a little pricey. The D'Backs are in no position to demand something of value for Hill. They're looking to shed as much of his contract as possible. That's all.
Wrapping Up
There's very little to like about Hill at this point of his career, right? He hasn't hit in two years — not even lefties! — and while his defense is acceptable, it's not enough to make up for the expected lack of offense. Plus he's expensive. Hill would fill a need as a backup third baseman, but so what? He's been so bad.
And yet, I can't shake the feeling the Yankees might have some interest in Hill. They have a history of rolling the dice on veterans who looked to be done by sticking them in part-time roles, and Hill does fill a need and have a history of righty pop. And he's familiar with the AL East from his days in Toronto. I feel like that can only help him.
In all likelihood, no, the Yankees will not pursue Hill, even though he figures to come so insanely cheap it would be close to a no risk move. If he stinks, cut him and move on. The D'Backs can't expect actual prospects and/or significant salary relief in return. I don't see much upside in Hill, even in a part-time role, but I've said that about several other veterans who have gone on to be productive in pinstripes.