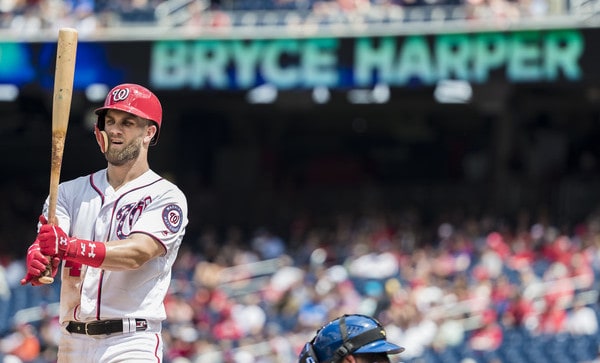 You can stop hoping the Yankees will swoop in to sign Bryce Harper like they did Mark Teixeira back in the day now. According to multiple reports, Harper has agreed to a massive 13-year, $330M contract with the Phillies. It is the largest contract in baseball history, besting Giancarlo Stanton's deal by $5M in total guarantee.
Harper's new contract reportedly does not include any opt-outs, which is a bit surprising. Here are the largest contracts in baseball history:
Bryce Harper, Phillies: 13 years, $330M
Giancarlo Stanton, Marlins: 13 years, $325M
Manny Machado, Padres: 10 years, $300M
Alex Rodriguez, Yankees: 10 years, $275M
Nolan Arenado, Rockies: 8 years, $260M
The 13-year contract covers Harper's age 26-38 seasons and comes with a very affordable $25.38M average annual value (and thus luxury tax hit). I thought maybe Harper and Scott Boras would try to top the average annual value record (Zack Greinke at $34.42M), but I guess not. The Dodgers and Giants were said to be in the mix on short-term deals, which was never all that realistic.
The Yankees were never seriously connected to Harper this offseason. They were tied to Machado all throughout the winter, though they were never all the way in. With Harper, they weren't involved at all even though he's a 26-year-old superstar with lefty power and patience, two traits that define the Yankees historically. Instead, the Yankees passed on the big fish to spread out the money this winter.
I don't know about you, but I can not believe the Yankees passed on two elite prime-aged talents like Harper and Machado after developing a cheap homegrown core and resetting their luxury tax rate last year. It's one thing to get outbid or have the player choose another team, but not even making a serious attempt to sign either of them? Infuriating. What a scam.