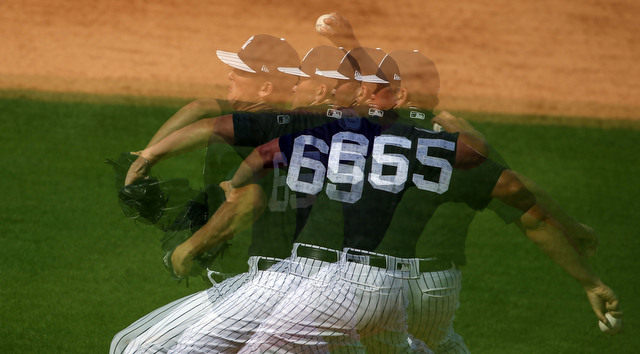 Earlier this morning, Joe Girardi informally announced the Yankees' 25-man Opening Day roster. Aaron Judge will be the right fielder and Luis Severino will be the fourth starter, and the decision to option out Rob Refsnyder means Pete Kozma will be the utility infielder. Also, Girardi told Bryan Hoch that Bryan Mitchell, Jonathan Holder, and Chasen Shreve will be in the bullpen. Got all that?
The Yankees still need to open a 40-man roster spot for Kozma, though they have a few days to figure that out. The Opening Day roster itself doesn't have to be finalized with the league until 12pm ET on Sunday, an hour before first pitch. Here's the unofficial official roster:
CATCHERS (2)
Austin Romine
Gary Sanchez
INFIELDERS (6)
Chris Carter
Starlin Castro
Greg Bird
Chase Headley
Pete Kozma
Ronald Torreyes
OUTFIELDERS (4)
Jacoby Ellsbury
Brett Gardner
Aaron Hicks
Aaron Judge
DESIGNATED HITTER (1)
Matt Holliday
STARTING PITCHERS (4)
Michael Pineda
CC Sabathia
Luis Severino
Masahiro Tanaka
RELIEF PITCHERS (8)
Dellin Betances
Aroldis Chapman
Tyler Clippard
Jonathan Holder
Tommy Layne
Bryan Mitchell
Chasen Shreve
Adam Warren
DISABLED LIST (2)
Tyler Austin (foot)
Didi Gregorius (shoulder)
The Yankees will carry eight relievers for the time being. The team has three off-days in the first ten days of the regular season, allowing them to skip their fifth starter the first two times through the rotation. They'll do exactly that, then figure out the fifth starter later. They don't need one until April 16th.
Rotation candidates Luis Cessa, Chad Green, and Jordan Montgomery did not make the Opening Day roster, though it's only a matter of time until we see those guys in the big leagues. The Yankees will need a fifth starter soon enough, and given his performance last year, I don't think it's a given Severino sticks in the rotation all season. Montgomery opened some eyes this spring and could be the first starter called up. We'll see.
The Yankees open the regular season this Sunday, with a 1pm ET game against the Rays at Tropicana Field. They'll start the season with a six-game road trip through Tampa and Baltimore before coming home. The home opener is Monday, April 10th. They'll play the Rays again.