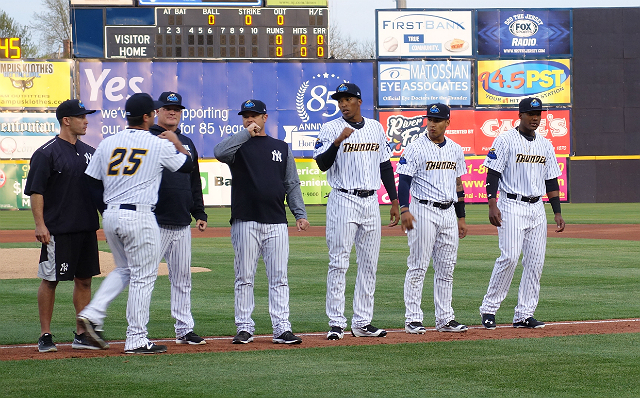 With the minor league season a week old, the Trenton Thunder finally came home Thursday night to open up the Arm & Hammer Park portion of their season.
If you've never been to the park, it's a great experience, especially with a relatively packed crowd like last night. It's a quintessential minor league experience with multiple mascots, a bat dog (!) and a chance to see future major leaguers up close for really cheap prices. That's pretty ideal. Arm & Hammer Park is the place to be this spring/summer with how stacked the Yankees' farm system is right now.
Here are my observations from Thursday's game.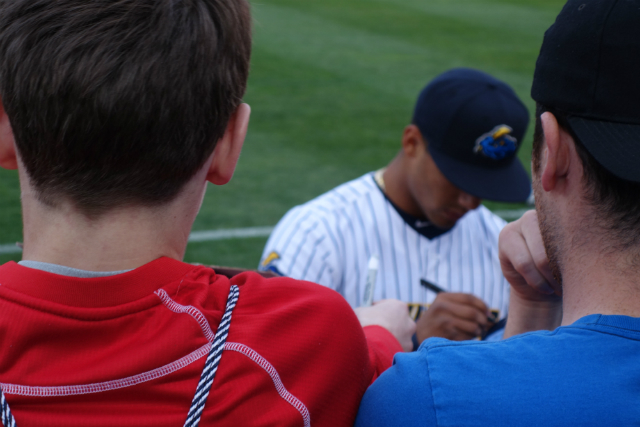 1. Gleyber mania: All of the Yankees' top prospects over the last 15 years have come through Trenton at some point. Robinson Cano, Jesus Montero, Phil Hughes, Joba Chamberlain, etc. They were all with the Double A Yankees at some point. Having been a teenaged autograph hawk back in the day, I remember the reception for each player at this level.
For his first game, the reception for Gleyber Torres may have been the most fanatical. The Thunder were prepared with having their people near the first base line, but fans were lined up a couple rows deep mostly for Torres. I saw more Torres Topps cards than I thought existed. He dealt with it well, signing and going about his business.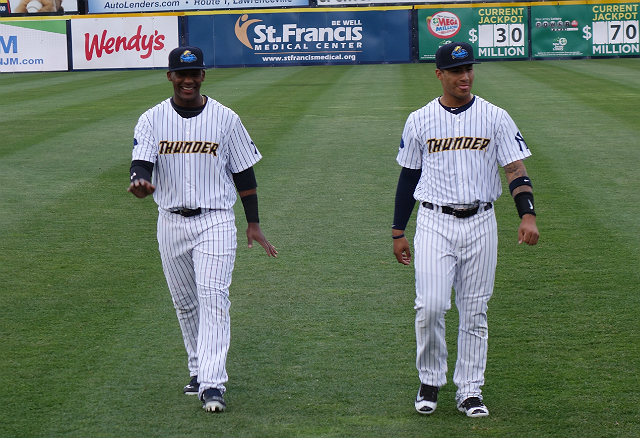 2. Gleyber a pro at the plate: Even though a 1-for-4 day wasn't Torres' best in Double A, he still put together an impressive night. He grounded out softly his first AB and was called out on a questionable third strike his second AB. Portland Sea Dogs lefty Jalen Beeks pounded him with strikes and didn't face Torres after his command collapsed in the fourth inning.
Torres then got two ABs against the Sea Dogs' bullpen, the first one being his best. He worked the count to 2-1 with a solid eye and then pounced on the fourth pitch. With Rashad Crawford trying to steal second, the second baseman covered the bag and Torres lined a ball right where he would have been. Just a solid piece of hitting. He grounded into a double play his last AB.
As for in the field, he wasn't challenged much. He helped turn a DP in the eighth. That was about it for his fielding chances.
3. A tale of two Chance Adams: For four innings, Adams looked like Michael Pineda from Monday. He was getting ahead of hitters, pounding them with his 92-94 mph fastball and putting them away with either his slider or a second helping of fastball. He went to a full count and caught Red Sox' top prospect Rafael Devers looking in an impressive at-bat.
Devers lined a ball up the middle to end Adams' no-hit bid in the fifth inning and things came unraveled in the sixth. An infield hit and an error (more on each in a bit) set up the Sea Dogs and Adams simply didn't look as comfortable in the stretch. He slowed down significantly after moving at a considerable pace in the first few innings. He walked his second batter of the evening, fought back with a strikeout, but then gave up a monster two-run double. He recovered to get another out and his night was done after 5 2/3.
Overall, not a bad outing. He really has some solid strikeout stuff and proved he can put away hitters, flashing his fastball, slider and changeup all night. He's now 10-1 with a 1.89 ERA over 81 innings in Trenton and he may be ready for a new challenge.
4. Rafael Devers is a problem: With Andrew Benintendi in the majors, Devers is now atop the Red Sox' prospect lists. He's considered the top third base prospect in all of baseball by many outlets. He was No. 13 overall in Baseball Prospectus' preseason list, No. 17 for MLB.com and No. 18 for Baseball America. Just two months older than Torres, he won't turn 21 until October.
He put together four impressive plate appearances Thursday night. He worked a full count on Adams when Chance was cruising. He picked up the first hit of the game with a liner that nearly took over Adams' head. With the bases loaded in the sixth, he clobbered an Adams' pitch to deep centerfield. It would have been a three-run double if the runner from first didn't slip rounding third.
Devers added another single in the eighth for good measure. The lefty with some strong power looked ready to go at the plate and showed it with his performance. His swings were strong. He struggled to field a ball to begin the Thunder's five-run fourth (it went as a hit), but he's a prospect known for his bat first.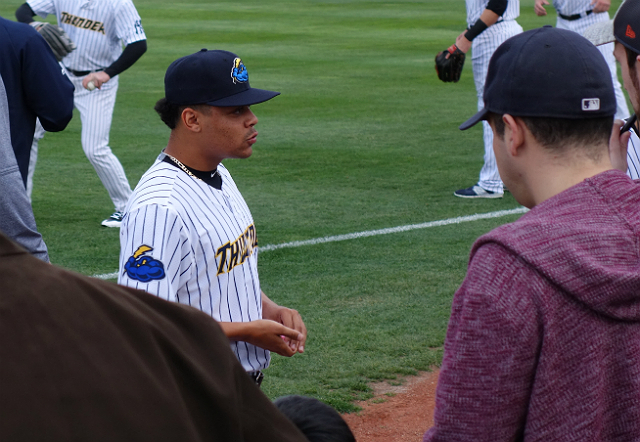 5. Best of the rest: Billy McKinney had a line drive triple to the right field gap and a walk. The triple was perhaps the most impressive hit for a Yankees' prospect during the game. Princeton product Mike Ford had a deep double to right and catcher Jorge Saez had a homer that cleared the high left field wall in left.
Miguel Andujar had an infield single but struggled with the rest of the game. His error in the sixth led to Portland's three-run inning that included two unearned runs. As Mike pointed out in DotF, that's three errors in seven games so far. Yikes.
Portland shortstop Tzu-Wei Lin led off that sixth inning with an infield single. He was easily exploited at the plate most of the night, but his blazing speed gave him the single. For a lot of players, it would have been a routine ground out to second. He beat it out with what has to be at least 65/70-grade speed.