I've got eleven questions in the mailbag this week. RABmailbag (at) gmail (dot) com is where you can send us questions, comments, links, or whatever else throughout the week.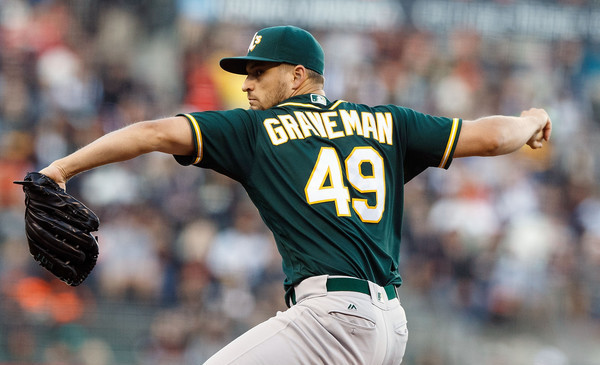 Daniel asks: If the Yankees manage to contend this season, and they are in the market for a young, controllable starting pitcher, who do you think would be a realistic trade target other than the often-mentioned Quintana?
This question comes up every few months and it's always worth revisiting because the Yankees will never not need pitching. And with next year's rotation so up in the air, I'm sure we're going to talk plenty about potential pitching targets in the coming weeks and months. Here are three non-Quintana possible pitcher trade candidates.
LHP Brandon Finnegan, Reds: He probably walks too many guys for the Yankees liking (11.4 BB% in 2016), but a four-pitch lefty who has shown signs of missing bats and getting grounders is always someone worth looking at. Finnegan turned 24 today — he's three and a half months younger than Jordan Montgomery — and he won't be a free agent until after 2021. The big question is whether the Reds consider him a long-term building block, or someone expendable as part of the rebuild.
RHP Kendall Graveman, Athletics: Graveman was part of the Josh Donaldson trade and he's emerged as a solid starter while throwing basically the same pitch in the same spot over and over. If you're going to throw only one pitch as a starter, sinkers at a knees is the way to go. Graveman is 26 and he won't be a free agent until after 2020, but the A's have a history of trading their best players once they start to get expensive through arbitration, and Graveman will be arbitration-eligible for the first time after the season.
RHP Vince Velasquez, Phillies: Supposedly the 24-year-old Velasquez has fallen out of favor with the front office a little bit, and his name popped up in trade rumors over the winter, so I guess he could be available. He throws hard and misses bats (27.6 K% in 2017) and the Yankees love that, but a lack of grounders (34.8 GB% in 2016) and an ugly injury history — Velasquez had biceps and shoulder woes last year, plus other arm issues in the minors — are red flags. Velasquez is under team control through 2021.
The Rockies seem to have more young starters than rotation spots, though they need as much pitching as they can get in Coors Field, so I bet they'll hang onto it all. As always, pitchers on rebuilding clubs like the Brewers (Jimmy Nelson?) and Padres (uh, nevermind) can't be ruled out either. Who knows who will be made available down the line? The Yankees love their prospects, though I expect them to cast a wide net for pitching. They'll check in on anyone and everyone.
Eric asks: Hi – isn't the debate over whether NYC is a Yankee or Mets town tiresome? I think both teams have a solid base and the floating fans go where there is more excitement at the moment.
Yes. It seems to be driven entirely by the media and Mets fans, specifically the 7 Line Army. Whatever floats their boat, I guess. The Mets are finally good again and the Yankees have hit a lull, so if there was ever a time to argue New York is a Mets town, this is it. At the end of the day, the Yankees are the most recognizable brand in sports, and it'll be basically impossible for the Mets to match their popularity, either now or in the future.
David asks (short version): Like you, I find it hard to believe Otani will come to MLB this offseason and forego tens of millions of dollars. But let's assume he does, can you speculate on how it plays out? I would think there's no official announcement until the NPB season is over; will MLB teams trust back-channel info and sit out the Intl signing season to save pool dollars?
With Masahiro Tanaka and Yu Darvish, we were left wondering whether they'd be posted right up until they were actually posted. We only saw rumors they could come over, nothing definitive. There was plenty of "their team might wait because they don't think they'll get enough money now" talk going around. Things might be different with Shohei Otani given the international hard cap, and teams kinda have to hope it is. They'll need advance notice so they can plan their July 2nd activity. Otherwise they basically have to guess.
Because the hard cap makes this a level playing field financially — teams still have to pay the $20M release fee, and every single one of them can afford it, don't believe otherwise — this becomes more of an old fashioned sell job. You'll have to sell Otani on the team and the ability the win, the ballpark, the city, the fans, the whole nine. (And promise to let him hit?) My guess right now is Otani will not come over this offseason and will instead announce he is coming over next year. That gives MLB teams a chance to plan ahead, and it'll also put the Dodgers, Cubs, Cardinals, Astros, Nationals, and others back in the mix. (Those teams are limited to $300,000 bonuses this year due to prior spending penalties.)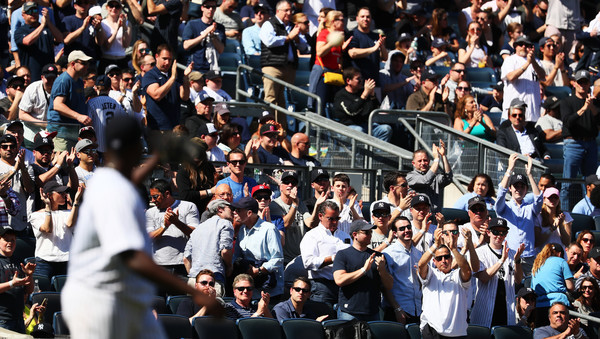 Mike asks: During the home opener, a stat was fed to the booth: Pineda was throwing 20% changeups this time vs. 4% usually. 1) This was certainly not Austin Romine's idea, was it? 2) Does it strike you as a possible magic bullet?
I'll answer the second question first: no. I don't believe there's a magic fix for Michael Pineda or any pitcher for that matter. I think Monday was just Pineda having a great day. Nothing more. I've seen enough of this guy to know better than to read too much into one start. If he does it again, and again after that, and again a few more times after that, I'll start to buy into it. For now, it was just a good day for Pineda.
As for the first question, it's possible the changeups were Romine's idea, though neither he nor Pineda said anything about increased usage of his changeup after Monday's game. Romine caught Pineda six times last season and he had a 3.82 ERA in 35.1 innings. With Gary Sanchez and Brian McCann, Pineda had a 5.00 ERA. Here is last year's pitch selection by catcher:
| | IP | Fastballs | Sliders | Changeups |
| --- | --- | --- | --- | --- |
| McCann | 84 | 52.4% | 39.3% | 8.3% |
| Romine | 35.1 | 51.9% | 41.0% | 7.1% |
| Sanchez | 56.1 | 51.2% | 43.3% | 5.5% |
Romine did call for the changeup more often than Sanchez, but not by much. We're talking roughly three extra changeups every two starts. That doesn't mean Romine won't push the changeup on Pineda this year, of course. Pitching plans and approaches change. Like I said earlier, I've watched this guy pitch enough to know it's not wise to think something clicked because he had a great start. He's done this before. I need to see more before buying in even a little.
Zev asks: Did the Yankees potentially lose an entire year of service time for Jordan Montgomery by pitching him on the 12th instead of the 16th?
Yes, actually. That's assuming he spends the rest of the season in the big leagues, which I don't think is a safe bet given the way the Yankees shuttle pitchers in and out. In the world of baseball 172 days equals a full year of service, though the regular season actually runs 183 days each year, so you have to keep a player down 12 days to ensure they finish the season with 171 days of service time, thus delaying free agency. (Most teams wait a few extra days to be safe and also be less obvious about it.)
The Yankees called Montgomery up on April 12th, the 11th day of the season, so he was kept down for ten days. Two more days in Triple-A this season will push Montgomery's free agency back from the 2022-23 offseason to the 2023-24 offseason. That is a lifetime away in pitcher years. My guess is Montgomery will end up spending those two extra days in Triple-A at some point, probably much more than that, but I wouldn't worry about it. He's ready, let him pitch. I'm not going to sweat a non-top pitching prospect's service time.
Update: The new Collective Bargaining Agreement stretched the season to 187 days. They added some extra off-days at the MLBPA's request. I forgot about that. So that means prospects have to be kept down 16 days to delay free agency, not 12. Not a huge difference, but a difference nonetheless.
Arjun asks: How much do you think minor league versus major league scouting reports affect performance of pitchers who get promoted? I would assume that scouting reports are far more detailed and poured over at the major league level. Is there a lot of adjusting for pitchers to understand how to use those scouting reports to their advantage?
Scouting reports in the minors are pretty detailed. Not as detailed as they are in MLB simply because there's more data available about big leaguers, but clubs get in-depth reports in the minors. I absolutely think having better scouting reports helps young pitchers in the big leagues, but keep in mind this cuts both ways — the hitters have better scouting reports on the pitchers too. And, ultimately, the pitcher still has to execute. You can have the best and most detailed scouting reports in the world, but if you hang a slider, it won't matter.
Mickey asks: Have you noticed a change to the center field camera from last season to this season? It seems to be more center than in years' past. Possibly due to the renovations at Yankee Stadium?
I was hoping we'd get a true center field camera this season now that the center field area has been renovated, but alas, it did not happen. The main YES camera angle is still offset a tad. Here is this year's camera angle and last year's: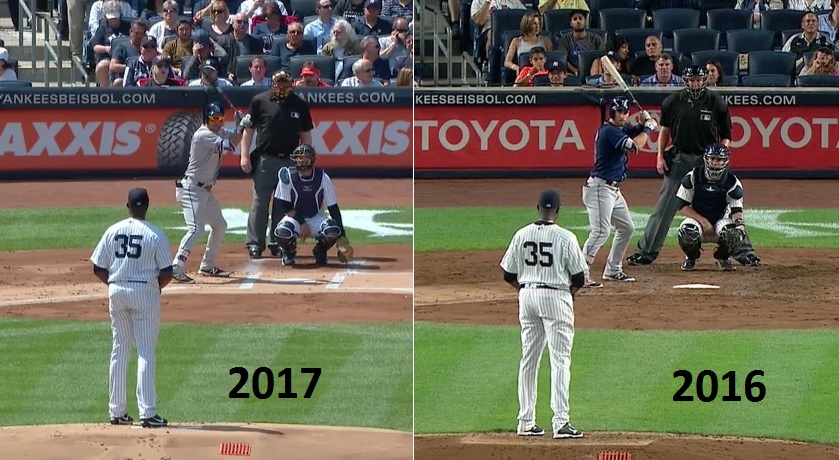 It looks a little closer to true center field, but not quite all away. That's about as close as they can get it anyway. They'd have to get the camera higher up to avoid having the pitcher blocking the plate with a dead center angle, and if they do that, the camera guy is going to be in front of the center field scoreboard. I guess I'll just be envious of all the teams with true center field cameras.
Kevin asks (short version): With today's news that Barbato was released to make room for Jordan Montgomery, it got me thinking about the Jose Quintana decision. I can see he was released on November 2, 2011 with a number of other players. Does that mean he was not included on the 40 man roster for Rule 5? Is it possible to look at who the Yankees kept instead of him?
The Yankees did not release Quintana. He became a minor league free agent. Typically a player needs to play six years before qualifying for minor league free agency, but if he gets released before that, he can become a minor league free agent after every season going forward. That's what happened with Quintana. He originally signed with the Mets, spent a few years in their farm system, then got released after failing a drug test and getting suspended. The Yankees scooped him up and he spent parts of four seasons in the farm system.
Quintana became a minor league free agent following the 2011 season, a few weeks before his 23rd birthday. The Yankees added five players to the 40-man roster to protect them from the Rule 5 Draft that offseason: David Phelps, D.J. Mitchell, Zoilo Almonte, David Adams, and Corban Joseph. All five were top 30 prospects at the time. Brandon Laird was also on the 40-man roster that winter. Who knows whether Quintana would become what he is today had he remained with the Yankees — probably not since joining the White Sox changed his entire career path — but the Yankees goofed letting him go. Plain and simple. No one bats 1.000 in this game.
Mike asks: At what point do statistics become significant? Obviously the answer is "it depends" but when can we start to take success (or struggles) seriously?
It depends on the stat. Some stabilize and become reliable more quickly than others. Off the top of my head, strikeout rate is the fastest one, for both pitchers and hitters. That stabilizes pretty quickly. The FanGraphs Glossary has a good breakdown of reliable sample sizes for different stats. I'd love to see similar info for PitchFX stats like whiff rate for individual pitches, etc. One day, maybe. It's possible to acknowledge a player is having a great start (Aaron Judge) or bad start (Greg Bird) after only a few games without saying "this is who he is now." Ideally, I'd wait until the end of April before digging deeper.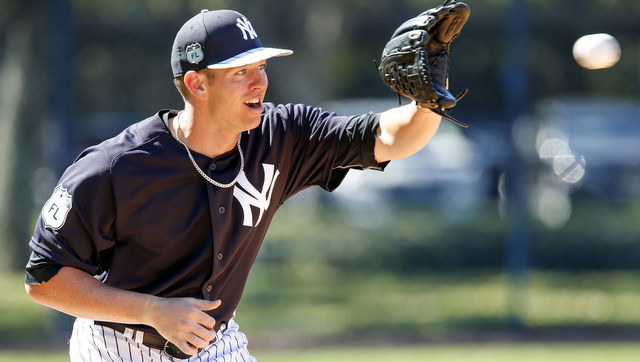 Brent asks: Was dfa ing barbato the best choice? Seemed like he might have upside as a reliever and were starting a project converting him to a starter? Would refsnyder or someone else be a better option and will we permanently lose barbato?
I have no idea what will happen with Johnny Barbato next, though optionable relievers with a history of missing bats tend to get scooped up on waivers. My guess is we see a trade involving cash or a player to be named later in the coming days. I figured Barbato would be a 40-man roster casualty soon — not getting a September call-up last year was pretty telling — and I'm actually surprised he lasted this long. I thought he would go over the winter.
The Yankees have four healthy position players on the 40-man roster and not in MLB right now: Miguel Andujar, Jorge Mateo, Rob Refsnyder, and Mason Williams. Andujar and Mateo aren't call-up candidates yet, so Refsnyder is the infield depth and Williams is the outfield depth. That's it. The Yankees have enough pitcher call-up candidates (Luis Cessa, Dietrich Enns, Gio Gallegos, Chad Green, Chasen Shreve, etc.) but only one infielder. Cut Refsnyder, then you'll have to cut someone else to call-up an infielder should someone get hurt. Simply put, it's much easier for the Yankees to replace Barbato than Refsnyder.
Dan asks: When a minor leaguer gets Tommy John surgery, at what point do we consider him being "back" in the minors versus making rehab starts in the minors? To put it another way if Kaprelian starts a game next June in low-A is he "rehabbing" or is he back? It's not like he has to build up arm strength to help out the big league team. They could theoretically have him pitching no more than 3 innings at a time for several months next year.
Eh, it's hard to say, and I'm not sure it's all that important either. Chances are the Yankees will have James Kaprielian make his first few appearances in Extended Spring Training, so once he pops back up with one of the minor league affiliates, that's when you'll know the team believes he's ready for more intense competition. Those first few starts are going to be rehab starts no matter what. I'm not sure there will be a moment we can say Kaprielian is "back" the way Ivan Nova came back from Tommy John when he returned to the MLB team. Hopefully he gets through his rehab well and comes back a better pitcher. That's all I'm worried about.