There are 15 questions in this week's mailbag. Remember to use the RABmailbag (at) gmail (dot) com email address to send us anything throughout the week.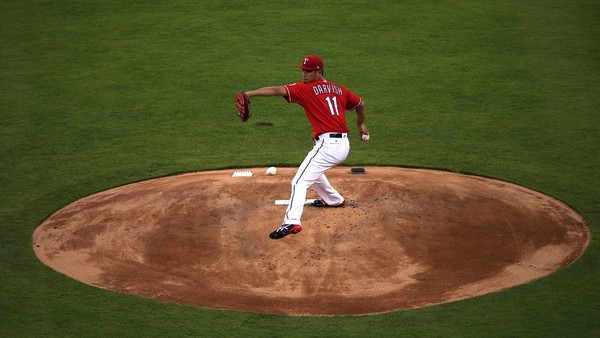 Vismay asks: Cole Hamels is out for at least 8 weeks. Things are going bad for the Rangers, and Darvish is a FA after this season. Could Yankees trade for Darvish? What could the Yankees offer?
There's already been plenty of speculation the Rangers could move Yu Darvish at the trade deadline if things don't turn things around soon. Texas went into yesterday's game in last place in the AL West at 11-17 with a -6 run differential. That's the third worst record in the AL. Last season the Rangers did win 95 games, but they did it with a +8 run differential. +8! There were signs this team is not as good as last year's record indicated, and we're seeing it now.
Two things about Darvish. One, if the Rangers do make him available, it'll be because they don't think they can sign him to an extension, and if that's the case, you have to assume he's dead set on testing free agency. He'll be a pure rental. And two, Darvish returned from Tommy John surgery less than one year ago. He has a 3.30 ERA (3.23 FIP) in 139 innings since coming back, though his walk rate has climbed to 8.5%, which isn't unusual for a pitcher returning from elbow reconstruction. There is some risk here.
Every contender in baseball is going to want Darvish should the Rangers make him available. The Yankees will be competing with the Dodgers, Cubs, Astros, Nationals, Red Sox, etc. Of course, they have the prospects to make a big offer, so that's not a problem. No other team can offer a Gleyber Torres. The Yankees probably aren't going to do that though. As I seem to say every mailbag, if they're going to dip into their farm system to get a pitcher, I think it'll be someone they can control long-term, not a rental. Not even a rental as good as Darvish.
Frank asks: Judge currently has a 1.024 OPS and is on pace for 50 plus homers. Both metrics are most likely unsustainable. However given his outstanding start and very solid defense, what would he need to do (maintain) in order to become a true 4/5 WAR player this year?
This question was sent in early in thes week. Aaron Judge now has a 1.251 OPS and is on pace for 81 home runs. We've seen no signs of slowing down thus far. It's pretty incredible. Going into last night's games Judge led all players, both position players and pitchers, with +2.5 bWAR and +2.2 fWAR. He's on pace for roughly +15 WAR and no, that won't happen. You know it's still early in the season when numbers extrapolate out like that.
Anyway, given his refined approach at the plate and solid defensive work, I don't think a +5 WAR season is out of the question at all for Judge. (I feel like the baseball gods won't let us get through the season without him going through a .125/.200/.250 with 49.0% strikeouts month though.) ZiPS projects Judge at .241/.318/.515 (120 wRC+) the rest of the season, which seems low based on what he's doing now, but is still pretty great. Doing exactly that the rest of the way should be plenty good enough to get him to +5 WAR, possibly even +6 WAR.
William asks: Considering Romine's performance while stepping in for Sanchez, what do you think he has increased his trade value to? What teams might be interested? Does he have more value as the Yankees back-up?
Nah. I don't think 60-something plate appearances are nearly enough to change a team's mind about a player these days. At least not smart teams. This sort of thing happens every year, doesn't it? A fringy player has a great April and folks start saying his trade value has gone up, as if the rest of his career doesn't matter. What did we learn about Austin Romine these last few weeks that he didn't know before? That he can fill-in as a starting catcher for a month? Okay, what's that worth, exactly? Not much. The Blue Jays need a backup catcher, though I can't see an intra-division trade happening. Given their catching depth chart, I believe Romine has more value to the Yankees on their roster than anything he could realistically fetch in a trade. Backup catchers aren't hot commodities, even coming off a good month as a fill-in starter.
Luiz asks: Thoughts on Kyle Higashioka's first big league experience?
Fans in the RAB comments and on Twitter and other spots are running out of players to hate because the Yankees are playing so well. It's kinda funny. The usual suspects (Jacoby Ellsbury, Starlin Castro, Chase Headley, Michael Pineda, etc.) are all playing well, so down the line fans have gone, and apparently they've settled on the temporary backup catcher. Always gotta hate someone, it seems.
Anyway, Higashioka went 0-for-18 with two walks at the plate and several cross-ups behind it in his four weeks as the backup catcher, which hasn't changed by opinion of him at all. Why would it? Twenty plate appearances scattered across 25 days in his first taste of the show? That's nothing. It would have been cool if Higashioka had picked up a few hits, though he had some good at-bats recently and hit some rockets right at people. He'll be fine. Tough debut, no doubt, but Higashioka's been through worse.
Brian asks: If both Yankee catchers are injured in a single game, who goes behind the plate? I have looked at the various depth charts online, and they don't show the third-string catcher. Does this happen very often? I can't remember a position player behind the plate, but it must happen sometimes.
Joe Girardi has said Ronald Torreyes is the emergency third catcher. Greg Bird is injured now, but he started his pro career as a catcher, so I guess that would make him the super duper emergency fourth catcher once he's healthy? As best I can tell, the Yankees have never used an emergency catcher in their history. They certainly have not since 1980. They've had catchers go out an play other positions (Jorge Posada at second base!) but never a player go from another position to catcher without previous experience at the position.
The last time any team used a player as a true emergency catcher was 2013, when the Astros stuck utility player Jake Elmore behind the plate for 4.1 innings. Elmore managed to both pitch and catch in a blowout. Don Kelly, another utility guy, caught six innings for the Tigers in 2011. I remember Pedro Feliz having to catch for the Giants in 2007, though I can't find video. It definitely happened though: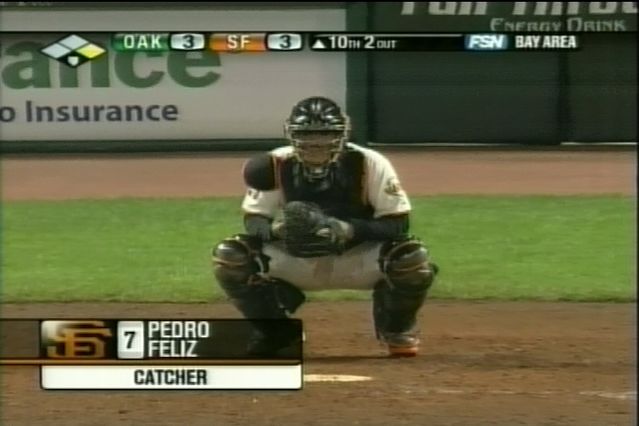 It's very rare that an emergency third catcher actually has to go behind the plate. It is something teams have to plan for, of course. I wish managers would be more aggressive using their backup catcher, either to pinch-hit or to replace the starter after he's lifted for a pinch-runner, that sort of thing, but managers are collectively terrified of running out of catchers.
Chris asks: So if the Pirates do make Gerrit Cole available at the deadline, are we in and at what cost? He's got 2 years of control left so his value is probably at its highest if he is preforming well at the deadline.
The Pirates are in last place in the NL Central at 12-15 with a -17 run differential, and they're going to be without Starling Marte, their best player, for a few months. They're pretty screwed. It's still early enough in the season that they can climb out of it, but yeah. The Pirates are in trouble. They went 78-83 last year and nothing seems to be better this time around.
Cole can become a free agent after the 2019 season, so get him at the deadline and you're getting three postseason runs out of him, not just two. He's the kind of pitcher I think the Yankees would be willing to trade top prospects to acquire. Cole is young (26), really good (3.10 ERA and 3.00 FIP last three years), and not a rental. I can't imagine the whole 2008 draft thing will be an issue. Holding a grudge helps no one. If the Pirates make Cole available, there will be a lot of competition for him, but the Yankees definitely have the pieces to make a substantial offer.
Michael asks: how would you value Gerrit Cole and Sonny Gray as trade targets this July? Both have had serious-ish health issues in the past and Cashman seems to avoid guys like that (CC, Tanaka, Kuroda, Eovaldi, Pineda, etc. all had mostly clean bills of health at the time of acquisition).
I just answered a question about Cole, so I'll focus on Gray here. I'm a big Sonny Gray fan but the injuries are disconcerting. He had lat and forearm problems last season, then started this year on the disabled list with more lat problems. Gray came off the disabled list earlier this week and allowed four runs in six innings, including three homers, in his first start. Eh. I need to see more before getting all gung-ho about trading for him again. More health, more innings, more … uh, better performance. More better performance. Unless the A's give Gray away (why would they?), I'm not comfortable giving up a big package to get him right now. Like I said though, I'm a big fan when he's healthy. Great pitcher, great competitor.
Kevin asks: Profar from the Rangers looks like a classic Cashman buy low player with tons of untapped potential. Cost, value, do you want him as much as I do?
This is where Jurickson Profar's career is at right now: he was send down the other day to make room on the roster for Pete Kozma. Seriously. Profar is still only 24! He also hit .239/.321/.338 (78 wRC+) last year after missing 2014 and 2015 with shoulder surgery, and was hitting .135/.289/.135 (31 wRC+) at the time of his demotion. Also, in 2013, his last healthy season before the shoulder injury, he hit .234/.308/.336 (75 wRC+). We're talking hundreds of plate appearances too.
The Yankees have asked about Profar in the past, and I'm sure they'd love to buy super low on him while his value is down. The last few years have not been good to him between injuries and poor performance. I'm definitely open to bringing him aboard because hey, why not? Maybe Profar just needs a change of scenery. Busted prospect for busted prospect? Say, Mason Williams for Profar? I can't see Texas selling that low though. Might as well hang on to the kid and hope he figures it out rather than trade him while his value is in the dumps.
Bill asks: It was mentioned last week about the team being able to blow games open more, it also feels like the main bullpen guys aren't pitching in more games as a result which could lead to them being more fresh later in the season. Any data to back this up through the 1st month?
It's true for Dellin Betances and pretty much none of the other main bullpen pieces. Here are the workload numbers so far:
| | 2017 Pace | 2016 Totals | 2015-16 Average |
| --- | --- | --- | --- |
| Dellin Betances | 68.5 G and 60.3 IP | 73 G and 73 IP | 73.5 G and 78.5 IP |
| Aroldis Chapman | 68.5 G and 64.4 IP | 59 G and 58 IP | 62 G and 62.2 IP |
| Tyler Clippard | 81 G and 72.7 IP | 69 G and 63 IP | 69 G and 67 IP |
| Adam Warren | 49.5 G and 89.3 IP | 58 G and 65.1 IP | 50.5 G and 98.3 IP |
Keep in mind Chapman was suspended to start last season, so his 2016 and 2015-16 numbers are skewed a bit. Ditto Warren's 2015-16 average since he was starter for a chunk of 2015. Betances is on pace to throw fewer innings than ever before as a full-time big leaguer while Chapman and Clippard are near their averages.
Reliever usage is a weird thing. We'll see Chapman and Betances pitch four times in five days or something like that, then go a week between appearances. I don't always agree with Girardi's bullpen usage — the rigid assigned innings thing irks me to no end — but he tends to be pretty good at keeping guys rested. Perhaps Dellin's low early season workload is part of a plan to avoid having him fade like the last two Septembers?
Pete asks: What is the single most surprising (positive or negative) thing about the Yankees this year? Could be one player, group of players (starting pitching), etc. How about in the majors? Again, overall team production, one player hot/cold start, etc.
My biggest surprise for the Yankees so far is the strength of the rotation over Bird being awful because Bird has apparently been hurting. Pineda, Luis Severino, and also Jordan Montgomery have been better than I expected so far. And I expect Masahiro Tanaka to be better going forward as well. CC Sabathia? Eh. We'll see. The early effectiveness of Pineda, Severino, and Montgomery has been the biggest surprise for me. I wasn't too comfortable with that back of the rotation at all coming into the new season.
As for the rest of the majors, Ryan Zimmerman is the biggest surprise to me for sure. I thought he was toast last year after hitting .218/.272/.370 (67 wRC+). He'd been declining steadily for years and it seemed like he'd fallen off a cliff. Instead, Zimmerman is hitting .424/.468/.859 (238 wRC+) with eleven home runs. I mean, what? He has eleven homers in 109 plate appearances after hitting 15 in 467 plate appearances last year. Did not see this coming. At all. Not even close.
Joe asks: Castro's been great this year. Besides looking at his walk rate, is it possible to check the amount of hits that have come in a hitters count and see if he is raising that rate compared to last year? That may show that he's swinging at better pitches even if he isn't taking more walks.
Castro is hitting .362/.402/.543 (167 wRC+) overall this season, though eventually that will come back to Earth because he's not a true talent .407 BABIP hitter. No one is. Not even peak Ichiro. That doesn't mean Starlin has not improved as a hitter, however. He sure looks better to me. Here are the numbers Joe asked about:
2016 Castro when ahead in the count: .351/.438/.649 (116 OPS+)
2017 Castro when ahead in the count: .435/.567/.565 (137 OPS+)
2016 Castro with pitcher ahead: .207/.209/.286 (91 OPS+)
2017 Castro with pitcher ahead: .171/.171/.229 (60 OPS+)
OPS+ is the number to focus on because it tells you how Castro has performed relative to the league average. That .435/.567/.565 line in hitter's counts this year looks great! And it is! But the league average in hitter's counts is .283/.467/.488, not your standard .250-ish/.310-ish/.410-ish batting line.
Anyway, Castro has been better in hitter's counts and worse in pitcher's counts so far this year, though I wouldn't read too much into it at this point. The season is still young and we're talking only a handful of plate appearances here. Maybe Starlin really is doing a better job attacking in hitter's counts. That'd be cool. I think it's still too early to say that definitively though.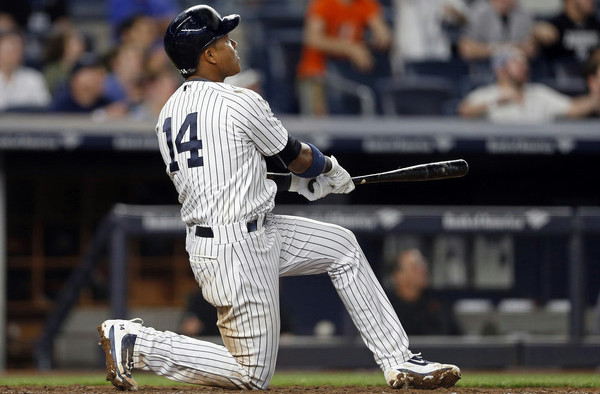 Nathaniel asks: Whose first two months in the majors do you find more impressive? Gary Sanchez who came up and dominated, or Aaron Judge who struggled tremendously in September, adjusted and has been one of the best Yankee hitters early on this season?
They're both very impressive accomplishments, obviously. Sanchez did what he did despite the physical demands of being a starting catcher. Judge made some big time adjustments to get to where he is today. I'm going to go with Judge because I'm a sucker for a redemption story. He's heard for years his size is a detriment to making contact, failed miserably last year, but still worked hard and turned himself into a monster. Lots and lots and lots of folks were down on Judge over the winter. Lots. He's worked hard to get to where he is. So has Gary! But I think making the adjustments Judge has is more impressive than playing through more bumps and bruises like Sanchez did a year ago.
Steve asks: I know it is only 14 home games but attendance is down about 3,600 people a game from last year. Stadium is only be filled to about 74% capacity. With a winning and exciting team I was surprised to see this continued downward trend in attendance.
Attendance does not change nearly as quickly as so many people seem to think. When the Yankees win three straight games, a flock of 7,000 people do not rush out and buy tickets. There is always a lag between team performance and attendance changes, and it's usually months. It takes time for teams to reel fans back in and also create new fans willing to spend their money on baseball games. The Yankees were bad and boring the first four months last season. Ditto the entire 2013 and 2014 seasons. One great month — as excited as I am, that's all this is right now, one great month — isn't enough to bring everyone back. A few more months like this will create more excitement and get people back to the park.
Joseph asks: What kind of package would it take to land somebody like James Paxton? He's still under team control until 2021 and obviously has great stuff. However, his injury history should obviously bring down his value as well.
A year or two ago I said a Gardner-for-Paxton trade didn't make sense for the Yankees — it was rumored the Yankees asked about Paxton at the time, but were rejected — and welp. Shows what I know. Paxton has a 1.43 ERA (1.53 FIP) with a 30.0% strikeout rate and a 7.3% walk rate this year. He's also a lefty who throws hard and can't become a free agent until the 2020-21 offseason, and that's pretty cool. Paxton's injury history is very ugly though. That's the drawback.
Trading for Paxton would be a wonderful idea. But why would the Mariners do it? Unless they're planning to start a rebuild while guys like Robinson Cano and Nelson Cruz and Kyle Seager are productive and owed big money, Seattle is more likely to add pieces that subtract their best pitcher. (Sorry, Felix.) Their window to win is right now and they have baseball's longest postseason drought. I can't see them throwing in the towel now. They're trying to win and need Paxton to do that. And, if the Mariners do dangle Paxton, they wouldn't be wrong to ask for Torres and more.
Michael asks: Do you think there's a realistic chance the Yanks re-sign Pineda? Assuming he has a good 2017 (it's still early), is there a precedent set for someone with 5 years of underwhelming performance and inconsistency who figures it out one year before FA?
Yeah, I think there's a chance because Pineda is still on the right side of 30 and it shouldn't cost an arm and a leg to sign him. Ivan Nova got three years and $26M this past offseason. How much more will it take to bring Pineda back, realistically? I guess that depends how the rest of his season plays out. The Yankees know Pineda better than anyone. They know his stuff, the statistical info, his personality, his health, everything. All of that will factor into the decision. The Yankees do need pitching, so I imagine bringing Pineda back at the right price will be on the table.