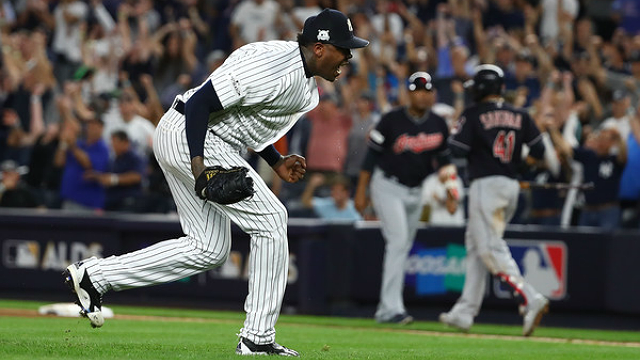 The Yankees will play on Wednesday just their sixth game of the postseason, yet it will be their second winner-take-all. Unlike the first one, this game will likely ride more on the starting pitchers with the performances of CC Sabathia and Corey Kluber looming large.
However, with the way Joe Girardi has managed his bullpen over the last eight days, we have seen a variety of different game options after the starter. In their last two wins, it's been 'Rely on the starter and then go to the big guns.' The win over the Twins was the routine 'Get 26 outs of top four relievers' game. You know, basic stuff we see all the time.
And we've also gotten a taste of every reliever in this series outside of Jordan Montgomery, who will likely be the long man in late extra innings on Wednesday.
So with that in mind, here's my take on the optimal use of the pen.
1. Make the same decision with CC as in Game 2: Girardi caught flak for many things after Game 2. Rightfully so. But pulling Sabathia early wasn't as big a mistake. You only have to go back to the last Monday of the regular season for a game where Sabathia was left in a little too long and let the opposing team back in the game.
And this time, the Yankees have a more rested bullpen to get the final few innings, especially if Sabathia can get two times through the order. Once you're into the fifth or the sixth, CC should probably be batter-to-batter except in the extremely unlikely case of a 6+ run lead.
2. If Chad Green warms up early, he needs to come in early: This one is simple and worked to a tee in the Wild Card Game. Girardi got Green hot in the first and then went to him and rode him into the third. With four days off, Green should be able to do something similar if the situation calls for it.
But if Green gets hot in those first few innings, he better come in or he likely goes to waste. Green warmed up in the second and third innings in Game 2 but didn't come in until the sixth. That's a good 80-plus minutes or so after sitting down. It's no wonder he seemed off.
We saw the same thing with Alan Busenitz in the Wild Card Game. I know, I know, not nearly as reliable a reliever. But the Twins got him warm in both the first and second inning and he didn't come in until there were bases loaded and two outs in the seventh. That's a lot of downtime and it thus makes sense that he threw four straight balls to walk in a run.
So hopefully Girardi doesn't repeat this mistake. It's better off skipping Green if he warms while CC gets out of early trouble than having Green warm, throw a ton of warmup pitches over the course of a few innings and then sit, just to come in off of his game.
3. Ride Robertson, Kahnle and Chapman (duh): At this point, I have no idea what the Yankees can get out of these three, but they need to seize every last drop in Game 5. A Houston series or beyond is irrelevant right now.
Here are their lines through five games:
Robertson: 3 G, 5.1 IP, 4 H, 1 R, 1 BB, 8 K, 87 pitches
Kahnle: 3 G, 5 IP, 0 H, 0 BB, 6 K, 59 pitches
Chapman: 3 G, 4.2 IP, 5 H, 1 BB, 9 K, 81 pitches
Kahnle's thrown fewer pitches (and those numbers!) but also pitched most recently. Are two days off enough for full throttle Robertson and Chapman? You have to figure Chapman can get you at least three outs. Robertson, too. Between the three, they should be able to get the last four innings. Maybe five.
How do you tell who's up for what? That's gotta be a gut feel for Girardi, who needs to be willing to pull them too early rather than too late. You've still got Adam Warren, Masahiro Tanaka and Sonny Gray after them if needed. But we should see at least Chapman at some point and probably all three of these big guns.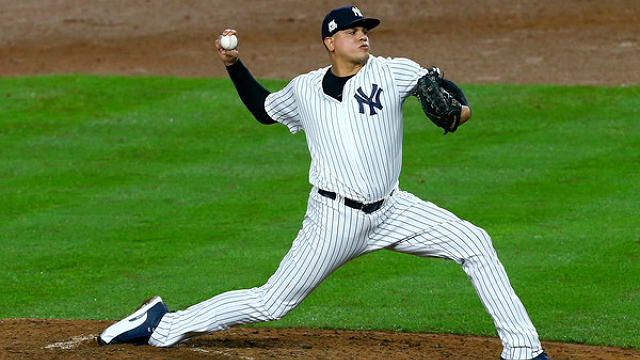 4. Avoid Betances: Dellin Betances can't come into this game. He just can't. It's tough to see Betances struggling like this. His command just isn't there and he needs to be at the very back of the bullpen. Probably behind Montgomery and Jaime Garcia. Would you feel comfortable with him in extras? Not ahead of Warren or one of the starters.
The Baseball America podcast brought up the question of whether he should even be on a possible ALCS roster and it's unfortunate that it's a valid question to raise. But until the ALCS roster is something worth discussing, Betances shouldn't be pitching, even in a blowout.
5. Get by without the starters until extras: It's really tempting to go with Tanaka after how he looked on Sunday. However, you never know how someone who hasn't relieved will react to that situation. With the depth of this bullpen, the Yankees can survive without finding out what they can get from Tanaka or Gray (or Severino) until extra innings. If Sabathia struggles, Green and Warren are fine long men to get you to the fourth/fifth. Once you're in extras, it's all hands on deck in a pure scramble.