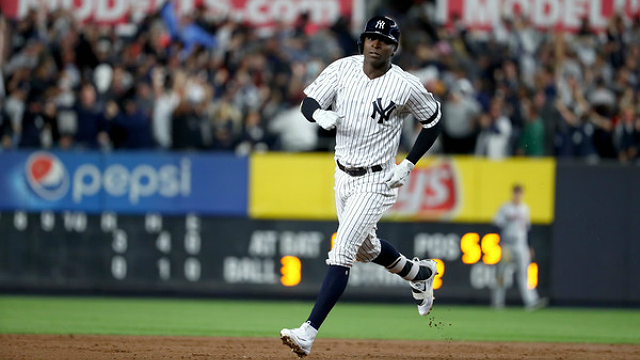 After a strong 2016 season, it wasn't certain whether Didi Gregorius was going to maintain his powerful breakout or return to Earth. Well, he maintained … and then some. The Yankees' shortstop put together the best offensive year of his career to go with a defensive bounceback, culminating in career-year.
Strong from the start
Gregorius injured his shoulder while preparing for the last round of the World Baseball Classic and missed all but three games in April. The Yankees were forced to fill in with Ronald Torreyes and Pete Kozma (remember him?) for a few weeks until Didi was back in the fold.
In his first game back — which just so happened to be the crazy 14-11 comeback vs. the Orioles — Gregorius reminded everyone of his defensive prowess by making a diving stop in the second inning.
He hit for very little power in his first few weeks back, finally hitting a home run in his 11th game.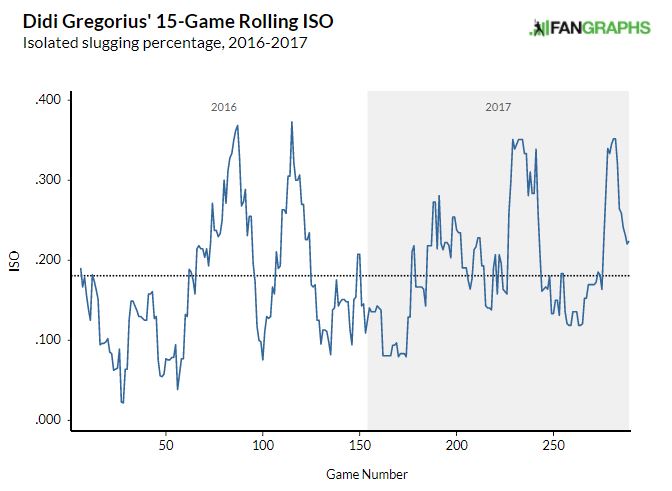 Whether there were lingering effects from his shoulder strain is unclear, but he maintained a high average, batting .307 through the end of May. He had begun to pull the ball more and had some balls fall in, but it was unclear how sustainable his success was.
Heart of the lineup again
As the temperature heated up, so did Didi. He primarily batted in the bottom third of the order up until the end of June, when injuries and his solid performance prompted a move towards the middle.
This wasn't necessarily expected despite him finishing 2016 by often hitting cleanup. Yet he justified it with his powerful bat. I detailed just before the postseason how he adjusted to lift the ball more and take advantage of Yankee Stadium as well as the potential juiced baseball.
You can see in the ISO chart above that he really peaked near the trade deadline and at the very end of the season. At the end of July, he had four home runs in a three-game span and followed that up in September with homers of three consecutive days against the Orioles. He finished the year with a career-best 25 home runs and .191 ISO while having just two fewer extra-base hits than 2016 in 17 fewer games.
Improvements in the field
Defensive metrics were down on Gregorius in 2016, but they rated him as a strong fielder again in 2017. It seemed like he made fewer mistakes on routine balls while still making some of the spectacular plays he usually gets.
Overall, in about 130 fewer innings, he committed six fewer errors. Not bad! Ultimately, outside of Brett Gardner, he's probably the guy to whom you want the opposing team hitting the ball. While he wasn't a Gold Glove finalist, he was still as sure-handed as ever. Perhaps more so.
Tweets and sideline reporting
Just a quick aside, but how much fun was it watching Didi when he wasn't playing? He's a delight. The post-win tweets were the perfect cap to all 98 wins in 2017 and it became an intriguing guessing game to figure out how each emoji represented each new player.
However, the best thing may have been the post-home run interviews in the dugout. The team took the lead of the Cubs and others and took it the stratosphere, making the interviews complexly laid out with a YES microphone flag to boot. Gotta love The Toe-night Show.
While Gregorius may not be an 80-grade celebration specialist like Yasiel Puig, he's high up there. At least a 70.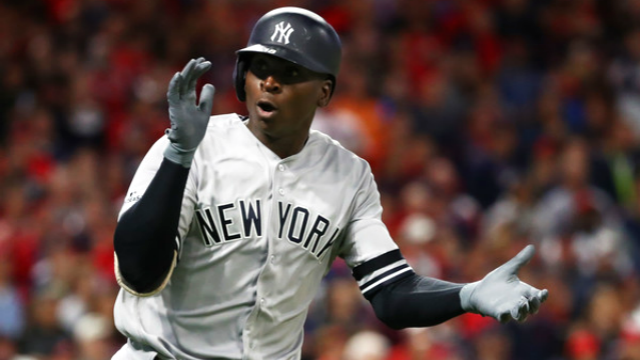 Three homers in October
Gregorius had some big moments in the regular season sprinkled among his defensive gems, 25 home runs and myriad of multi-hit games. But he shined brightest by arguably hitting the three biggest home runs of the Yankees season. If not THE biggest, then certainly three of the top five.
It's pretty hard to forget the three-run homer in the first inning to tie up the Wild Card Game. He fought back against Ervin Santana to force a 3-2 count and pounced on a fastball over the heart of the plate and drove it into a raucous Yankee Stadium crowd.
Honestly, that would have been enough out of him for the postseason. That hit propelled the Yankees into the ALDS and avoided a shameful offseason of rehashing a loss to a lesser Twins squad. It's the type of hit that justified his spot in the order.
But he wasn't done. He hit a pair of homers off inside pitches from presumed AL Cy Young winner Corey Kluber in ALDS Game 5 — another winner-take-all masterpiece. (Side note: AL pitchers, stop going inside on Didi. He'll burn you to a crisp.) That was enough to put the Yankees into the ALCS in remarkable fashion.
The trio of homers leaves a perfect imprint on Didi's season, announcing loud and clear his transformation into a middle-of-the-order hitter. He came up clutch in the ALCS (the triple and single in the Game 4 comeback come to mind), but in the fashion of 2017 baseball, his home runs stand out.
2018 Outlook
He's shown his power is sustainable as long as current environment holds together. But more importantly, he's displayed that he'll be a key part of the core. He doesn't have to be looking over his shoulder at Gleyber Torres and has probably cemented himself as the shortstop for a while, meriting consideration for a contract extension.
As crazy as it may have sounded before this year or when the Yankees acquired him, he could be a 30-HR SS in 2018. Get excited. We may not have seen peak Sir Mariekson Julius Gregorius yet.