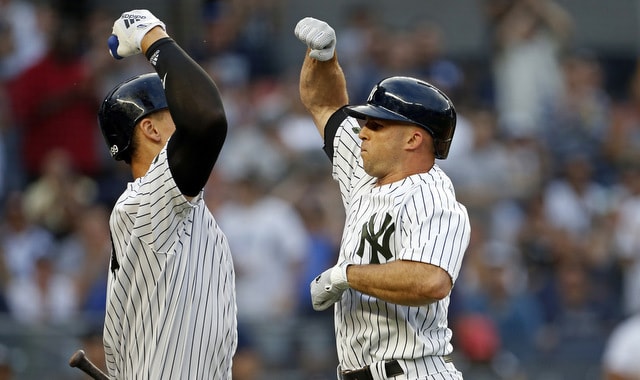 The bad news: Last night's game happened. What a stinker. The good news: There's another game today. The best and worst thing about baseball is that they play every single day. You can't enjoy wins too long and you get a chance to bounce back from losses quick. The Yankees and Angels split the first two games of this three-game set, so today's winner takes the series.
The name of the game right now is run prevention, specifically the need to get better at it. The Yankees have allowed 35 runs in their last five games and they've walked 30 (!). Too much. Way too much. After sitting in the 8-10 range in runs allowed per game in the first six weeks of the season, the Yankees have sunk to 14th, a touch better than the league average (4.35 to 4.38). Need to do better than that, dudes. Here are the starting lineups:
New York Yankees
1. LF Brett Gardner
2. DH Aaron Judge
3. RF Giancarlo Stanton
4. C Gary Sanchez
5. SS Didi Gregorius
6. CF Aaron Hicks
7. 1B Greg Bird
8. 3B Miguel Andujar
9. 2B Neil Walker
RHP Masahiro Tanaka
Los Angeles Angels
1. 3B Zack Cozart
2. CF Mike Trout
3. SS Andrelton Simmons
4. DH Shohei Ohtani
5. 1B Luis Valbuena
6. 2B Ian Kinsler
7. C Martin Maldonado
8. RF Kole Calhoun
9. LF Chris Young
RHP Garrett Richards
It is raining in New York but it is supposed to stop fairly soon, soon enough that we might get an on-time start this afternoon. If not, there's still a big enough window to get a full nine innings in today. This is the Angels' only trip to New York this year, so you can be sure they'll wait out the rain as long as necessary. Today's game is scheduled to begin a little after 1pm ET and you can watch on YES locally and MLB Network out of market. Enjoy the game.
Injury Updates: Gleyber Torres is a little banged up — his knee, specifically, after attempting a diving catch the other night — so he's sitting out the day game after the night game. It's nothing serious and he is available, if needed … Jordan Montgomery (elbow) played catch for the second straight day yesterday. He made 50-60 throws and is progressing on schedule. Montgomery is still a few weeks away though. He has to go from playing catch to bullpen sessions to live batting practice to rehab games, and he has to get stretched back out. I am extremely skeptical of post-elbow injury Jordan Montgomery solving the team's rotation woes. They need a starter.