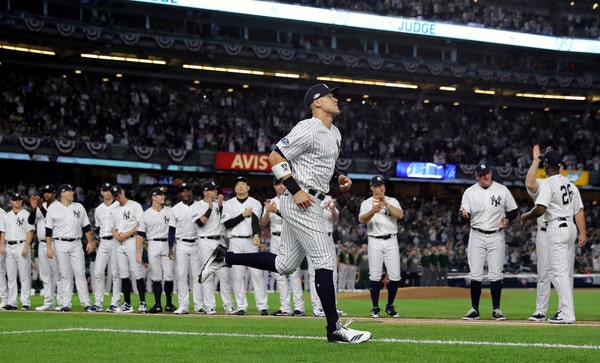 This morning was the deadline for the Yankees and Red Sox to submit their 25-man ALDS rosters to MLB, and, shortly thereafter, the two clubs announced them officially. Yesterday Aaron Boone more or less confirmed the entire roster and it is as expected. No surprises.
Here is each team's 25-man active roster for the ALDS, which begins later tonight:
NEW YORK YANKEES
Pitchers (12)
RHP Dellin Betances
LHP Zach Britton
LHP Aroldis Chapman
RHP Chad Green
LHP J.A. Happ (Game 1 starter)
RHP Jonathan Holder
RHP Lance Lynn
RHP David Robertson
LHP CC Sabathia
RHP Luis Severino
RHP Masahiro Tanaka (Game 2 starter)
LHP Stephen Tarpley
Catchers (2)
Austin Romine
Gary Sanchez
Infielders (6)
Miguel Andujar
Didi Gregorius
Adeiny Hechavarria
Gleyber Torres
Luke Voit
Neil Walker
Outfielders (5)
Brett Gardner
Aaron Hicks
Aaron Judge
Andrew McCutchen
Giancarlo Stanton
BOSTON RED SOX
Pitchers (11)
RHP Matt Barnes
RHP Ryan Brasier
RHP Nathan Eovaldi (Game 4 starter)
RHP Joe Kelly
RHP Craig Kimbrel
RHP Rick Porcello (Game 3 starter)
LHP David Price (Game 2 starter)
LHP Eduardo Rodriguez
LHP Chris Sale (Game 1 starter)
RHP Brandon Workman
RHP Steven Wright
Catchers (3)
Sandy Leon
Blake Swihart (UTIL)
Christian Vazquez
Infielders (7)
Xander Bogaerts
Rafael Devers
Brock Holt (IF/OF)
Ian Kinsler
Mitch Moreland
Eduardo Nunez
Steve Pearce (1B/OF)
Outfielders (4)
Andrew Benintendi
Mookie Betts
Jackie Bradley Jr.
J.D. Martinez
The Yankees dropped Kyle Higashioka and Tyler Wade from their Wild Card Game roster and added Sabathia and Tarpley. They're carrying four starters, eight relievers, and a four-man bench. Normally, eight relievers in a postseason series is overkill, especially since they're not going to play more than two days in a row. Yanks vs. Sox games tend to get wild though. The extra reliever could come in handy.
The five-man bench: Gardner, Hechavarria, Romine, and Walker. It's worth noting Gardner (left field), Hechavarria (third base), and Walker (first base) all came in for defense in the late innings of the Wild Card Game. I wonder if that will continue to be the case going forward. I guess it depends on the score. The Yankees might hold Gardner back for a pinch-running situation in a close game. We'll see.
Middle relief has been a season-long problem for the Red Sox and they're going to try to patch that up with Rodriguez this postseason. Also, Eovaldi was told to prepare to pitch in relief in Game One. Wright is a starter by trade as well. Red Sox manager Alex Cora was the Astros bench coach last year, when they expertly used starters like Lance McCullers, Brad Peacock, and Charlie Morton in relief in the postseason. I suspect he'll look to do the same with the Red Sox this year.
ALDS Game One begins tonight at 7:30pm ET. As expected, the Yankees and Red Sox games drew the primetime slots. All five ALDS games will begin somewhere between 7:30pm ET and 8:10pm ET. The entire series will be broadcast on TBS.