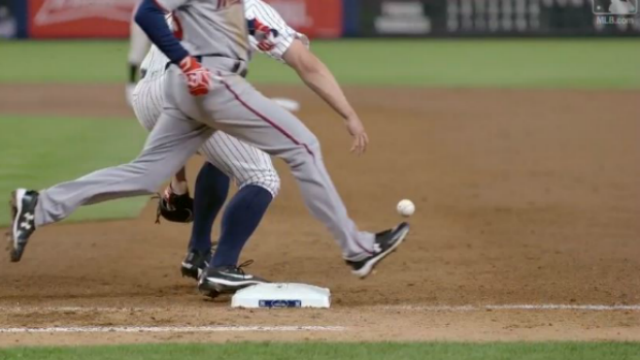 There are plenty of memorable plays from Tuesday night, but a play from the 1-2-3 top of the eighth sticks with me more than it should.
The Yankees had the game under control. Tommy Kahnle had already gotten five outs, escaped from the worst jam he would face when Joe Mauer flew out in the sixth, and Joe Girardi had Aroldis Chapman warming up in case a new jam arose.
And better yet, the soft underbelly of the Twins' lineup was up. After Max Kepler popped out, it was Zack Granite's turn at the dish. Granite had taken over for Byron Buxton, who injured himself making another of his signature catches that physics tells us should be impossible. Too bad to see a great competitor exit early, but it was to the Yankees' gain.
Yet Granite proved pesky. The Staten Island native who tore up the ball at Seton Hall singled off David Robertson in the sixth — creating the aforementioned jam — and was able to utilize his speed. Perhaps most players who entered in the middle of a do-or-die game less than three months after their major league debut would be shaking in their boots. But not Granite.
Already 1-for-1, Granite made his best effort to remain unblemished at the plate. The 25-year-old outfielder fought off a 98-mph fastball on a 1-2 pitch and chopped it to the right of Greg Bird. With Bird fielding the ball, Kahnle would have to cover and Granite was motoring to first, utilizing his best tool, his speed.
If he gets on, the Yankees probably still win. Let's say Kahnle has trouble with Ehire Adrianza. Then Girardi simply turns to Chapman who gets five outs instead of three and the Twins likely go down with a similar whimper. But who knows. There's an alternate set of events where this could have been the start of something.
Bird fielded the ball cleanly and Kahnle covered, perhaps a bit awkwardly. Kahnle dropped Bird's flip as Granite passed the bag and the ball trickled down the first base line. Shades of Chuck Knoblauch? Ugh. Granite appeared to 2-for-2 or perhaps 1-for-2 while reaching on an error.
But Granite didn't touch the bag. I'll repeat that. Granite didn't touch the bag! First base. The goal of the batter, in case baseball is foreign to you, is to reach base safely, which entails, you know, touching the base. You can use your hand, your feet, your sternum or your head, but you have to touch the base.
"I felt his momentum was taking [Kahnle] through the bag, and I was afraid I was going to step on him. And I just missed the base," Granite said after the game. "It was stupid. I should have stepped on him."
And he didn't do it! Starlin Castro, the unsung hero of the play, was backing up, saw Granite didn't touch the base, and tagged him as he made his way back to the base. Granite realized his gaffe and tried to return to the base to no avail. He returned to the dugout, realizing no replay could save him from this out.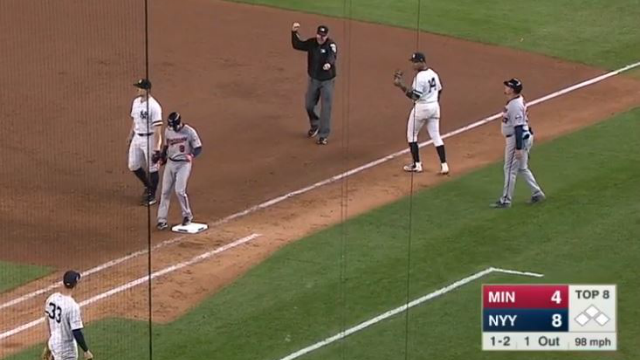 At first glance, it's confusing as to why he was out. Did he try and round the base and was caught stretching? That seems to be what manager Paul Molitor thought happened as he went out to discuss with first-base ump Mike Winters. The discussion was over quickly. (Side note: Well done by Winters to not rule him safe. It's a simple thing, but touching first is so basic that I feel it could be easy to miss in the moment.)
The scoring of the play was a 3-4 putout on a grounder. But that doesn't reflect Kahnle's role in the play and barely touches on how Granite's actions decided its outcome after the ball hit his bat. It was a bizarre scoring decision on an even more bizarre play.
"I've never done anything like that in my life," Granite said. "It was freakish."
Freaking indeed. That play may have ultimately meant nothing. But those are the gaffes that can also decide a playoff game or series and change the fortune of a team. The Yankees were on the right end of it last night and hopefully a few more will go their way over the course of October.